Looking for a new pair of glasses, but don't know where to start? Read on for a fun and easy approach on how to choose the perfect frames for an oval-shaped face!

The best glasses frames for an oval face shape are… almost any at all! Whether you're drawn to round, square, rectangle or cat eye – most frame shapes will complement an oval face.
An oval face has long been regarded as the 'ideal' face shape for both men and women.

Known and loved for having a balanced look, where no feature is more prominent than the other, those with an oval face shape have the best luck when it comes to style options. Lucky you – you can be more adventurous when it comes to choosing frames!

What is an oval-shaped face?
Whilst most people fall in-between categories of different face shapes, it can be helpful to identify your strongest facial features, and use them to work out which face shape you have.

Considered the 'universal' face shape, an oval face is characterized by softly curved lines around the jaw and forehead. Similar to an upside down egg, this type of face typically doesn't have any hard or sharp features, and is also a bit longer as opposed to wider.

Here are the most telling signs of an oval face:

Rounded jawline

Unlike the diamond or heart shape, those with oval faces have a slightly curved jawline and chin, giving the face a softer appearance.

High cheekbones

Making up the widest part of the face, individuals with this face shape usually have rounded cheekbones located higher on the face.

Wider forehead

Typically, an oval face would have a tall forehead that's only slightly broader than the jaw.

While knowing your face shape is a great way to determine which frames would best flatter your face, what's most important is to choose a pair of glasses that you'll feel most confident in.

Remember: your face shape should only serve as a guide, not a rulebook. If you love how a certain pair looks on you, go for it! There are no rules to expressing your individuality.

But, if you'd like some pointers along with some tried-and-tested pairs that'll always be flattering on oval face shapes, here's everything you need to know:

The most flattering glasses for oval-shaped faces
If you are blessed with an oval face, consider yourself very lucky! Thanks to your versatile features, you can have lots of fun with your eyewear choices.

Whether you keep it classic with some rectangular frames, or make a statement with a bold cat-eye, the key is to always go for a frame size that is just as wide as the broadest part of your face.

Here are some stylish frames you can try out:

1. Round frames


Walking the line between playful and polished, round frames hit the sweet spot for those looking for a smart casual pair. Not everyone can rock this style as easily as oval faces, so be sure to take advantage of it!

2. Square frames

Mouqy's
Nori
in tortoise.

Square frames are an excellent choice if you're looking to add more definition to your oval-shaped face. With sharp and symmetrical angles, these frames provide contrast to your face's softer features, and also complement the natural symmetry of your face shape.

3. Rectangle frames

Mouqy's
Famed
in black-silver.

Similar to square frames, rectangular frames give structure to an oval face by adding more angles to its delicate features. Being wider than square frames, rectangular frames also have a unique slimming effect on the face.

4. Cat eye frames


Cat eyes are a fun and flattering shape, especially if your face is on the longer side. The upswept style does a fantastic job in emphasizing your cheekbones, and also gives them a more contoured appearance.

The best sunglass styles for oval-shaped faces
As with any face shape, you'll want to follow the same principles for eyeglasses when choosing a pair of sunglasses. For oval faces in particular, you can either emphasize your face's natural balance with a round style, or add angles to its soft curves with a more geometric frame.

Here are our top recommendations:

Wayfarers to add structure and definition.
Cat eyes to enhance your high cheekbones.
Round sunglasses for a playful and trendy look.
Aviators for an edgy yet timeless aesthetic.
Frames you might want to avoid
In general, most glasses will look good on an oval face shape. Our only advice is to be careful with oversized styles or frames wider than your cheekbones, as this may disrupt the natural balance of an oval face. If you have a longer face in particular, you may want to steer clear from glasses that are too narrow, as they may highlight your face's length.

Celebrities with oval-shaped faces
Wondering who your celebrity twin is? Rihanna, Bella Hadid and George Clooney are some of our favorite stars with oval-shaped faces.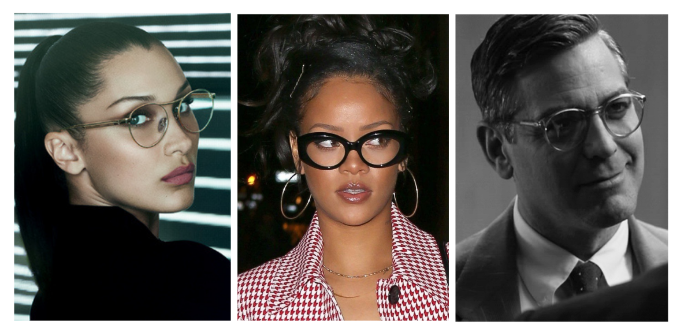 Images from Pinterest, Bvlgari and Warner Bros.
Still not sure if you have an oval-shaped face?
If you're still having doubts of whether or not you fall under this category, you can always verify your face shape by checking your face's measurements with a measuring tape.

To start, you'll need to measure four areas of your face, namely:

Forehead width

the distance across the center of your forehead from hairline to hairline.

Cheekbone width

the distance from the highest point of one cheekbone to the other.

Jawline width

the distance from the bottom of your ear to the tip of your chin, multiplied by two.

Face length

the distance from the top of your hairline to the lowest part of your chin.

Note: For the most accurate results, be sure to keep the measuring tape flat when measuring your forehead, cheekbones and face length. Conversely, when measuring your jawline, it's best to bend the tape such that it sits on top of your skin.

After you've found your measurements, you can now determine your face shape. For oval-shaped faces in particular, you'll want to confirm if:

Your cheekbones are the widest part of your face.
Your forehead is slightly broader than your jawline.
Your face length is longer than your cheekbone width.
The angles of your jawline and chin are slightly curved.

If the traits above match your measurements, then you indeed have an oval face shape. But if the numbers don't add up, don't worry! This just means that you have one of many other equally beautiful face shapes. We've also got a wide selection of frames to choose from here at Mouqy, so rest assured that you'll be able to find the perfect pair for your face shape.

Check out our full face shape guide for more pointers.

Other considerations when choosing glasses
Another factor to consider when choosing a pair of glasses is the color and/or print of the frames themselves. While there are no rules to the patterns that you can wear, you'll want to be extra careful when it comes to frames with heavy design elements, as this can easily overwhelm an oval face's soft features.

Knowing your skin's undertone can also give you a lot of insights on what colors will look best on you and streamline your search.

For those with higher prescriptions, you'll also want to check if your lenses are compatible with the frames you select, as thicker lenses will have an impact on your overall look.

Making sure your glasses fit your face properly
Once you know what types of frames will 'fit' your face shape, it's important to also make sure that they'll truly FIT and feel comfortable on your face!

To make sure your Mouqy frames will fit you, be sure to get your correct glasses measurements and compare them to the dimensions of the frames you're interested in.

Still need help in finding the perfect frames?
We get that shopping for glasses online can be a bit tricky. That's why our team has developed a Virtual Try-On feature, so you can see how our glasses look on you in real time. Choose from our wide selection of frames and try them out for yourself!

Frequently asked questions
1. What shape of glasses go on an oval face?

Those with oval faces are blessed with evenly proportioned features, and can pull off almost any type of frames. Go for round shapes to highlight your face's natural curves, or try a square or rectangular frame to add definition and structure.

2. Who looks good in rimless glasses?

Rimless glasses are a universal style that looks good on all face shapes. Due to the lack of frame elements, a rimless style is able to bring out your face's natural beauty.

3. Do square glasses look good on an oval face?

Absolutely! Square glasses have a symmetrical aspect that complements an oval face, while its pointed edges add more definition to the soft lines of an oval face.