This guide will help you find the perfect glasses to flatter your face shape. Whether your face is round, angular or anything in-between – there's a perfect pair of glasses out there for you and we're here to help you find it!

The 6 different face shapes
Let's start by looking at the different face shapes out there. It's very likely that your face falls into one of the following 6 categories:
Wait – but which face shape am I?
Psst – want to know a secret? Practically nobody just belongs to just ONE of the above categories.

Most of us are a combination of a few different face shapes. After all, we're fleshy human beings, not cartoon characters.

For example, you may have a heart-shaped forehead but a squarish jaw.

Don't worry if you don't fit cleanly into one face shape category. The trick is to look at the face shape that sounds the most like yours, and to use the corresponding tips to guide you along the path to your perfect pair of glasses.

Let's go through the structure of each of these face shapes, and see which glasses classically look best on each type.

1. Glasses for the round-shaped face

Characteristics of a round face

A round face is generally as wide as it is long. People with round face shapes have a wide forehead and jaw structure, with soft angles and wider cheekbones. They usually have full, healthy cheeks with a rounded chin. Because of all the curves, a round face often stands out and is very recognizable. Famous round faces include Chrissy Teigen and Leonardo DiCaprio.

Glasses to try on a round face shape

When picking out frames for a round-shaped face, choose frames that add angles to the face with strong and straight lines and edges. These will contrast with the round outline of your face. Try:


You might want to avoid round frames or undersized frames, which can make a face look larger or rounder.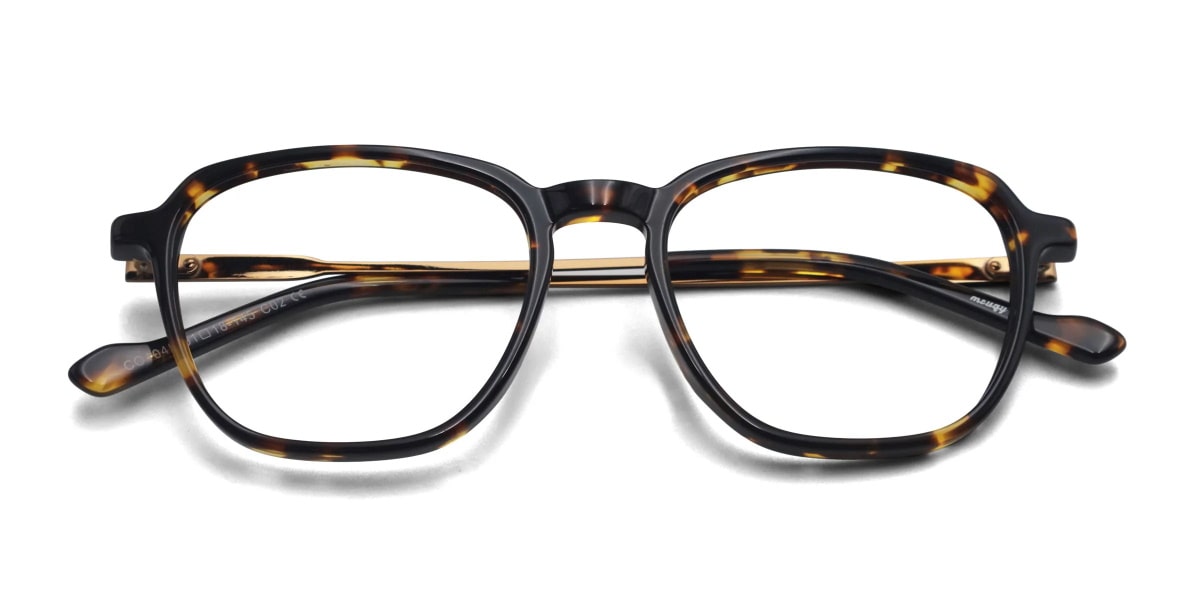 Try
Billie
on for round faces!

For more tips, check our expert guide to the round face shape.

2. Glasses for the square-shaped face

Characteristics of a square face shape

Square-faced people typically have equally wide cheekbones, foreheads and jawlines. Their faces are boxy, bold and angular. Many people with square faces have a prominent jawline that sits flat at the bottom of your face. Famous square faces include Brad Pitt and Angelina Jolie.

Glasses to try on a square face shape

Opt for rounded, thinner frames that are slightly wider than the face to create a balanced and harmonious look. Frames that are round and oval-shaped can also help to soften hard angles and edges. Try…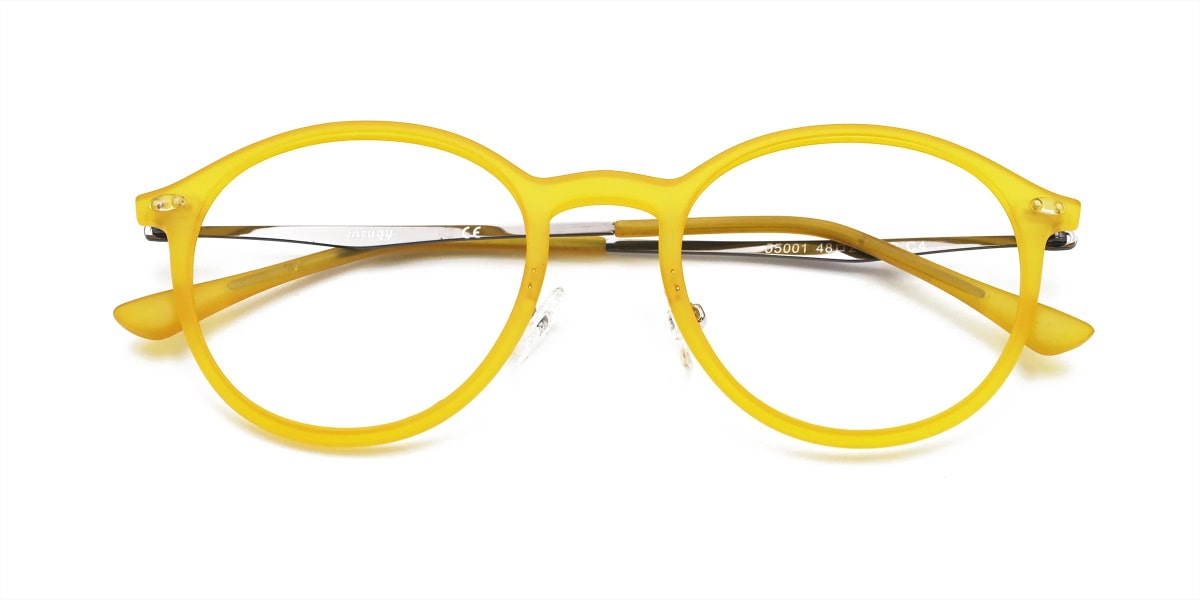 Mouqy's
April
with a strong yellow and round frame.

For more tips, check our expert guide to the square face shape.

3. Glasses for the oval-shaped face

Characteristics of an oval face shape

An oval face is the most universal face shape. Characterised by a rounded jawline and chin, curved cheekbones high on the face, and a tall forehead, those with oval-shaped faces will find themselves happy with almost any pair of glasses they put on! Famous oval faces include Rihanna, Bella Hadid and George Clooney.

Glasses to try on an oval face shape

We have great news for oval faces – you'll tend to look good regardless of the frames you pick! However, this doesn't mean that you can't pick out frames that place more emphasis on your strong points and draw attention away from the weak ones.

Geometric, rectangular or square frames should flatter your face, keeping it perfectly balanced, while adding sharp angles to soft curves. Select frames that are as wide as the widest part of your face, which are your eyes.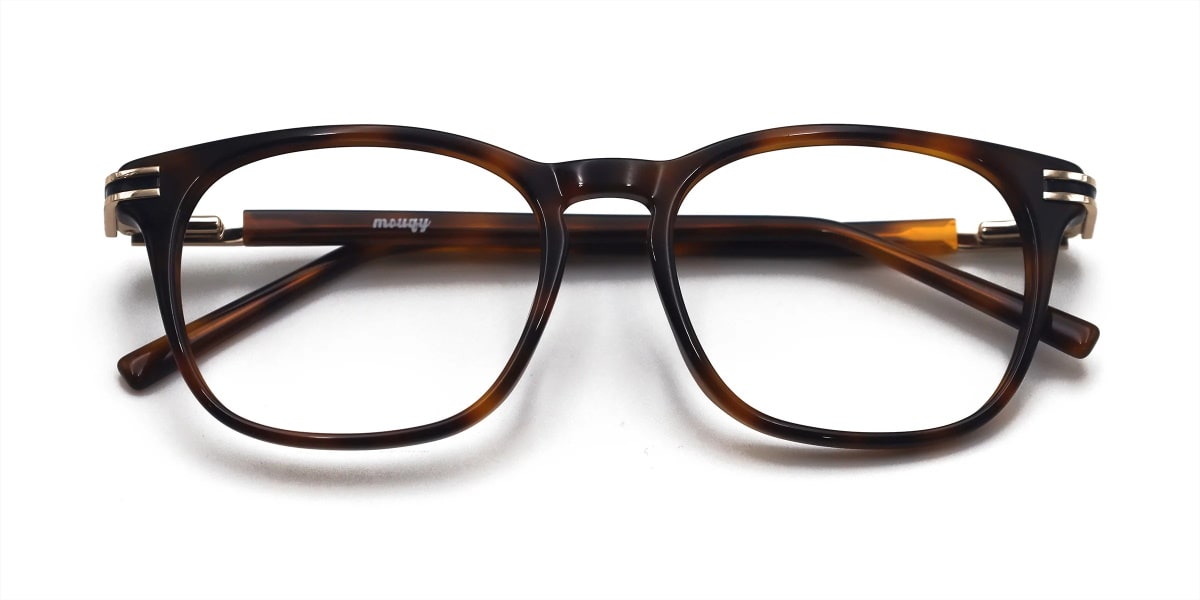 Can't go wrong with
Nori
with a square frame.

For more tips, check our expert guide to the oval face shape.

4. Glasses for the diamond-shaped face

Characteristics of a diamond face shape

Triangular or diamond-shaped faces tend to be narrower at the forehead and jawline, with high, striking cheekbones. It's a gem of a face – the rarest of all face types! These faces are usually longer than they are wider, with the forehead and jawline being of similar width. You may have a sharper and more angular appearance.

Glasses to try on a diamond face shape

People with diamond-shaped faces have a lot of leeway when it comes to trying on frames. You'll find that most glasses frames can look amazing on you and compliment your face shape. But to be especially striking, explore the frames that play up your features—especially those cheekbones! Try: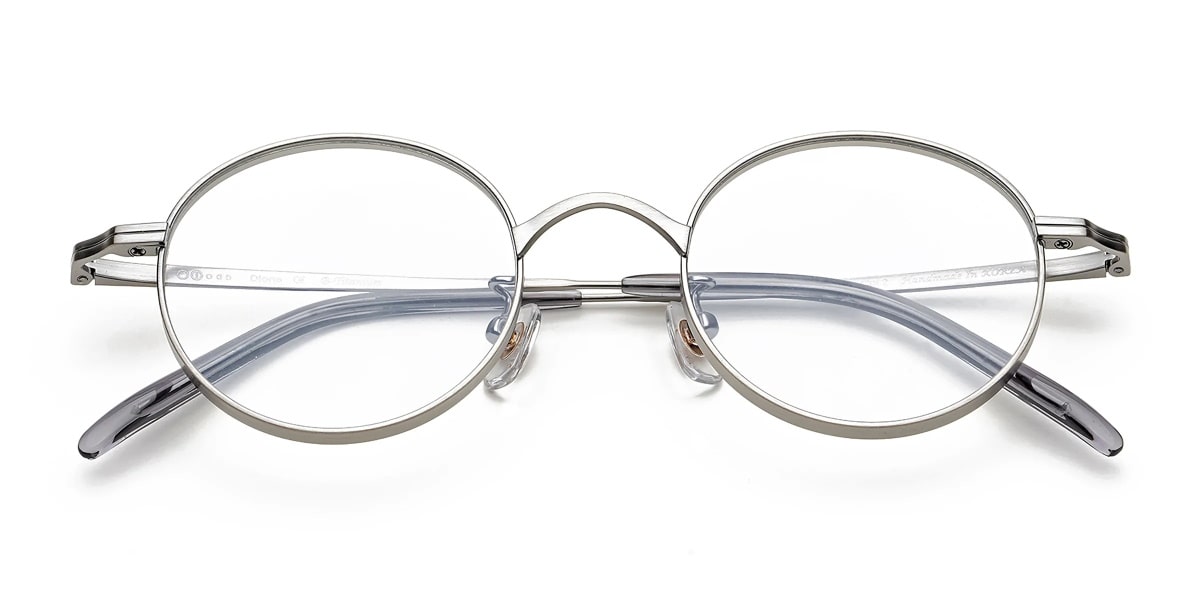 How about
ODD Dione
with a classic round frame?

For more tips, check our expert guide to the diamond face shape.

5. Glasses for the heart-shaped face

Characteristics of a heart shape face

You can usually spot a heart-shaped face by the visibly broader forehead and hairline, high cheekbones, and a face that tapers down to a pointier chin. Many people with this face shape have widow's peaks, though you can still fall under this category without one. Famous heart-shaped faces include Scarlett Johansson, Reese Witherspoon and Nick Jonas.

Glasses to try on a heart-shaped face

If you've got a heart-shaped face, opt for frames that play with proportions and balance out the varying widths of your face. Frames that jut out a bit wider than your forehead, or with a more rounded base are great for accentuating angles and your best features. Try: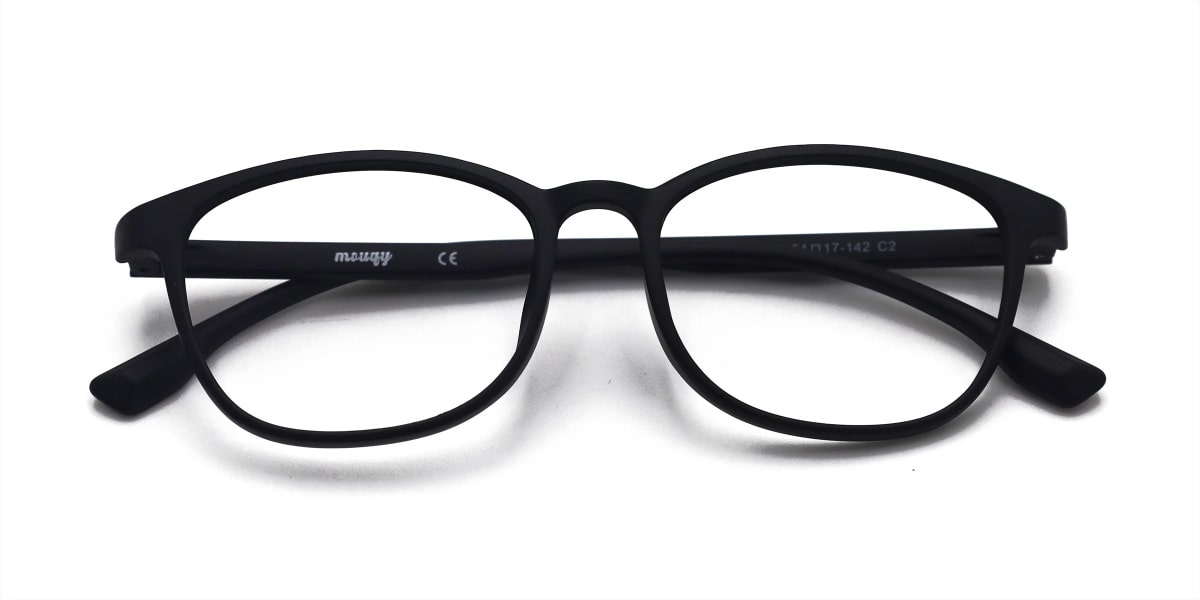 Mouqy's
Playful
with a timeless rectangle frame.

For more tips, check our expert guide to the heart-shaped face.

6. Glasses for the triangle-shaped face

Characteristics of a triangle face shape

There are two forms of a triangular face shape: the regular triangle (with the triangle base at the bottom), and the inverted triangle (with the base at the top).

A regular triangle face shape can be identified by a tight forehead, tapered cheekbones moving outwards, and a wide jaw line. An inverted triangle simply has this in reverse: the chin is pointy and the forehead is broader. Famous triangle faces include Minnie Driver & Ian Somerhalder.

Glasses to try on a triangle face shape

The best glasses for a triangle face will help to balance out the proportions of your face. For a regular triangle face, you'll want to try frames that add width to your forehead. These will help balance your stronger jawline. Try…


You might want to avoid narrow circular frames, unless you're a reverse triangle – in which case these may be perfect!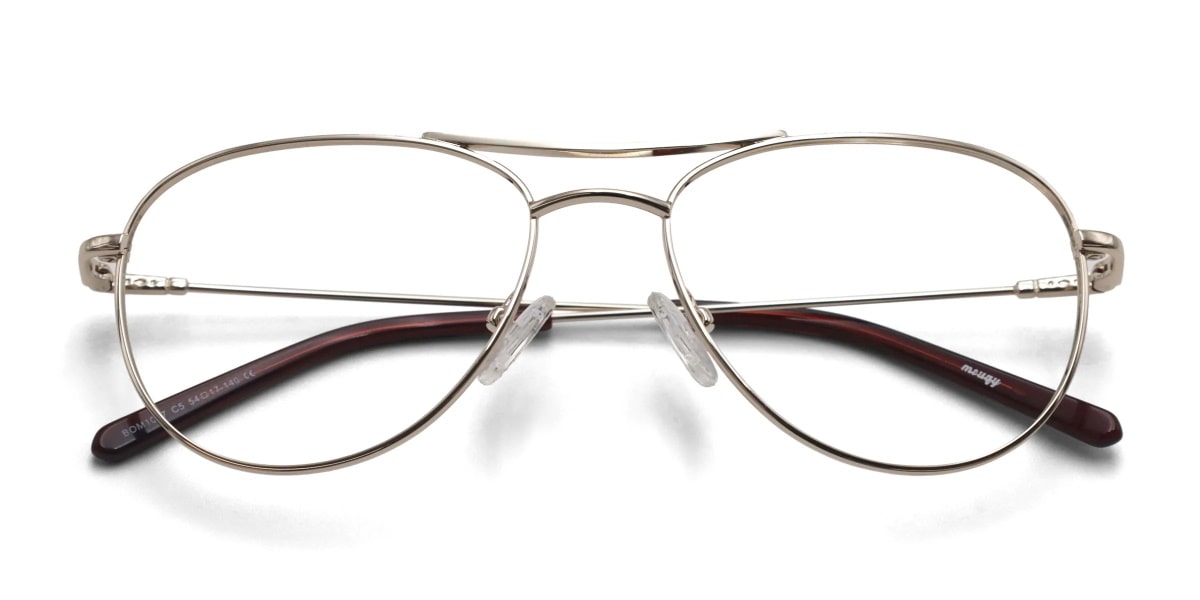 Turn heads with the
Denica
aviator.

For more tips, check our expert guide to the triangle face shape.

The best glasses will balance your face shape
Balance and proportion are the two things to think about when looking for flattering glasses. A frame should complement your facial contours without overpowering it.

Generally speaking, the best glasses will bring harmony to your face by providing a contrasting shape. For example, if you have very round features, you will want to add angles using your frames. If you have an angular jaw, you can soften this with curved glasses frames.

Still unsure which frames to choose? Try them on!
We hope this guide has given you lots of inspiration on your search for the perfect eyeglasses. You should now know how to choose a pair of glasses according to your face shape.

However, even if you've read this far – you may still have some doubts. After all – it can be hard to truly know if a pair looks great on you without seeing how it looks on your face.

We get it – that's why our Mouqy team has developed a fun Virtual Try-on feature, which will let you see how a particular frame will look on your own face, in real time. It's the best way to try out a range of Mouqy frames and pick out your favorites! Try it out for yourself here.

Ready for your perfect pair of eyeglasses?
When you've decided on a frame you want and are excited to go, just make sure to check that it fits your face properly. For that, you'll want to read our guide on getting your glasses measurements.

And lastly – remember that matching your frame shape to your face shape isn't an exact science, but more like an art. There are no hard-and-fast rules. The only rule is that you need to love your glasses, and that they make you feel like your best self.

So what are you waiting for? Discover the Mouqy collection today.