We get it – ordering a new pair of prescription glasses online sounds complicated. But we're here to prove otherwise!

See – we love shopping online for glasses. It opens a whole new world of eyewear beyond the dusty storeroom of your local spec shop. It's fun, more affordable, and the only thing you'll need is your prescription!

We've created this 5-step guide to show you how to order prescription glasses online from any eyewear retailer. We've also included important considerations to help you fully understand eyewear shopping, so you can make an informed decision before placing an order.

But if you're in a hurry – here's a cheat sheet of how to do it.
How to order glasses online
Step 1. Pick a frame that fits & flatters your face



Everything starts with the frame shape of your glasses. Do you want to go square, rectangular, round, or something unusual? Remember – a good pair of glasses will last a long time. So, you're gonna want to pick a frame that makes you look and feel your best!

Before you get lost in the sea of stylish frames online, it's helpful to know what frame styles will suit your unique facial features.

How to pick a frame for your face shape

The right frame shape should complement your facial features and bring balance to it. A lot of this will depend on your face shape. Most of us have some sort of dominant face shape, which you can help identify by doing the following:

Step 1: Snap a photo of your face straight on, with your hair pulled back from your face.

Step 2: Print out the picture or open it on an image editing software.

Step 3: Draw dots at the top, bottom, and sides of your face and trace between them to get an idea of your face shape. You can then match them up to the description below.


Once you know your face shape, you can start browsing the types of frames that usually flatter this type. For example, rounder faces often look fabulous in rectangular glasses, whilst heart shaped faces look great with cat eye frames.

We've written plenty of in-depth guides on how to find the right frame shapes for your face shape, so make sure you check them out!

Even better, some retailers offer some sort of digital try-on feature where you can use your webcam to see how the glasses might look on your face. This is a great way to play around and decide what kinds of frames suit you. If you like the look of any frames from our Mouqy collection, just look for the 'Try Now' button under the frame. Feel free to try on the crazier ones too – you might be surprised!

How to pick a color for your frames

Frame color also makes a huge difference. The right colors will make your eyes pop and complement your everyday style, while some colors may wash you out, or overpower your face. Most good eyewear retailers will offer frames in many color variations. If you need some help choosing, check our guide on how to choose the color of your frames, which has some tips from our fashion experts.

Step 2. Check your glasses measurements



Ill-fitting frames aren't much fun to wear. If they're too large, they'll be prone to slipping. If they're too small, they'll be uncomfortable. While you may have a reason to pick oversized or smaller frames, it's generally best for most people to pick a frame that fits their facial dimensions just right.

The easiest way to get the right glasses measurements is to check an old pair of glasses that still fit you well. Most glasses have their measurements printed on one of the temple arms, but you can also measure it manually with a ruler. If you don't have glasses lying around, you can take measurements directly from your face. Just check our guide on how to get your glasses measurements for details on all these methods.

When you have your measurements, make sure to check the product description of your online eyeglasses to see if they'll fit you comfortably.

Step 3. Input your eyeglass prescription



Once you've picked your frames – you'll need to input some details about your specific visual needs. At Mouqy, you can either upload your prescription as an image or PDF or key them in manually!

For this – you'll need to refer to your most recent (within the last 1-2 years) eyeglass prescription. That's the document that your optometrist or ophthalmologist gives you after an eye exam – we've written more on getting one here.

Make sure you have this information at hand as we'll need this to make sure your glasses will help you see perfectly!

How to input your eye prescription

Eye prescriptions can be a little tricky to decipher because they're filled with numbers and abbreviated codes. We've written a guide on reading your eye prescription but here's a quick shorthand to the acronyms:

Rx: Your prescription
PD: Pupillary Distance*
O.D: Right eye
O.S: Left Eye
SPH: Sphere
CYL: Cylinder
AXIS: Axis, needed to correct astigmatism
PRISM: Values needed to correct eye alignment
Base: Another set of values to correct eye alignment
* In rarer cases, your eye prescription may include 2 numbers for PD. That means it's using Dual PD.

Once you input the relevant information from your eyeglass prescription, double check that everything is correct before you proceed.

Step 4. Choose lenses for your prescription glasses


You're almost there! The next step is to choose the type of lens that you want. The right lenses will provide optimal vision correction, prevent eye strain, and fit right into your lifestyle.

If you need prescription glasses, you'll either require single vision lenses, or multifocal lenses.

Single vision lenses contain only a single prescription to help the wearer – typically to fix nearsightedness, farsightedness, or astigmatism. Multifocal lenses incorporate a range of different prescriptions within a single lens. This allows users to see things clearly at different distances.

At Mouqy, we currently cater for non-prescription and single vision lenses. You'll simply need to pick your lens type:

Blue light blocking lenses offer advanced blue light blocking technology that will automatically shield your eyes from harmful blue light that's emitted from sources like device screens.

Clear lenses are standard lenses without blue light blocking technology.
4.1 Understanding lens material and lens index

When you buy glasses, you'll usually get a choice between different materials. Some common examples for online prescription glasses are plastic, Trivex polycarbonate and high index plastic.

Why all the choices? Because different materials have their own special qualities that affect the lens' durability, optical performance, and – very importantly – lens index!

Lens index is a number that indicates how effective the lens material is at bending light, and can indirectly determine the thickness of your prescription lenses. Many people prefer the look and feel of thinner lenses, and may want to opt for 'high index lenses', which are able to cater for strong prescriptions whilst being thin-cut and stylish.

Our Mouqy prescription glasses come in 4 choices of Lens Index:

Index 1.53 Trivex
Index 1.59 Polycarbonate
Index 1.60 Aspheric or Tribrid
Index 1.67 Aspheric

Here's a little more info on them below:

Index 1.53 Trivex (for clear lenses only)

Impact-resistant and durable, these are an excellent lens choice for those with lower prescriptions. They offer good optical performance that's superior to the 1.59 Polycarbonate lenses.

Index 1.59 Polycarbonate (for blue block lenses only)

These polycarbonate lenses are cut slim, yet built to be tougher than a bear. Polycarbonate is an impact-resistant material that offers full UV protection and is ideal for those with active lifestyles. This lens is a thinner option to the 1.53 Trivex lens, and can complement all types of frames.

Index 1.60 Aspheric (for clear, blue block, and plano lenses)Slim and lightweight, these lenses are a fantastic choice for people with moderate to strong prescriptions. Aspheric lenses offer good optical performance and are slim, making them ideal for full frame, half-frame and rimless frame glasses.

Index 1.60 Tribrid (for clear lenses only)

Slim and stylish, these lenses are a fantastic choice for people with moderate to strong prescriptions, but who prefer thin and lightweight frames. The Tribrid material is highly impact-resistant, making it a strong and durable option that can be paired with full rim, half-rim and rimless frames.

Index 1.67 Aspheric (for clear and blue block lenses)

Lightweight yet powerful, these ultra-thin cut lenses grant people with very strong prescriptions the option to wear eyeglasses without having to suffer from distorted looking eyes. The lens is thinner than 1.60, 1.59 and 1.53 index lenses and can suit all types of frames.

To learn more about Mouqy's lenses and which are best suited for you, check out our lens index guide.

4.2 Some prescription glasses come with extra superpowers

Some prescription glasses have additional functionality or lens coatings added to their lenses. These can help to protect the wearer's eyes, or the lenses themselves. Many online eyewear retailers will charge extra for this.

Mouqy, we prefer to enhance all our lenses with functional multi-coats, to improve their durability.

All of these attributes come with every pair of Mouqy glasses so you won't need to tick any boxes or pay any extra fees.

Step 5. Review your details and complete your order!



Now that you've selected your frames, entered in your prescription and picked out your lenses, you're only a few clicks away from actually making your purchase!

Before you pull the trigger, here are a few things you might want to double check:

Review the return policy

There's always a small chance that you're going to have to return the glasses you ordered. Make sure to go through the fine print so you're aware of any exchange, return or refunds.

Double check your order

There's nothing worse than waiting patiently for your glasses to arrive only to find that the frame doesn't fit, or the prescription is wrong. Spend 2 minutes double-checking your order to ensure that everything is in order, and you'll be a happy, satisfied owner of a new pair of glasses.

Review your shipping and payment information

You don't want your order to be going to the wrong address! Make sure that all your details are in order and you'll have no problems during checkout.

Check your vouchers and couponsEverybody likes a discount, and most retailers provide vouchers to give customers that extra value. Check to see if the brand you're purchasing from has any coupons or vouchers.

Once you checkout and make your payment, all you have to do next is to wait for your shiny new glasses to arrive! Most good eyewear retailers will offer a system where you can track the delivery status of your shipment. At Mouqy, you can track your delivery here.

Why ordering prescription glasses online is so awesome
Gone are the days where buying online seemed like risky business. There are actually a ton of benefits to buying prescription glasses online.

Firstly – it's convenient! You won't need to step outside your door, drive to a shop and deal with pushy sales staff who are trying to upsell you the latest trend. You can instead take your time to browse through styles and try them on digitally as slowly or as quickly as you like.

Secondly – buying glasses online is often much more affordable. Since online retailers don't need to pay middlemen or set up physical optical shops, they can usually pass on these savings to the customer. And that means way more affordable glasses for you!

What kind of glasses are available online?
Another big plus to buying prescription glasses online is the incredible range of options.

You can find a huge selection of stylish shapes in every color under the sun. Here are just a few different categories of frames and lenses that Mouqy offers:

1. Plastic and acetate frames

Plastic frames are a popular material that can be found in a huge range of fashion-forward styles. They're beloved for being affordable, durable and light-weight. Acetate is another popular ​​plant-based alternative that offers excellent durability and flexibility.

2. Metal frames

Metal eyeglasses or frames are a popular choice for many people looking for a sleeker, more modern appearance. They can be more delicate but are often easier to adjust than plastic glasses.

3. High index

High Index lenses are made of a material with a high refractive index. Because they are more effective at bending light, they are a great option for anyone who needs a strong prescription but prefers a thin-cut.

4. Blue light glasses

Blue light glasses use a specific type of lens technology to filter out the blue light that's emitted from our daily digital devices. They're very useful for anyone who works long hours in front of the computer and can help prevent digital fatigue and help the wearer get better sleep.

5. Rimless and semi-rimless

Rimless glasses are an excellent option to consider if you prefer glasses that are lightweight and minimalist. As these types of glasses are more delicate, they work best with thin cut frames.

All you need to order Mouqy glasses online is your prescription!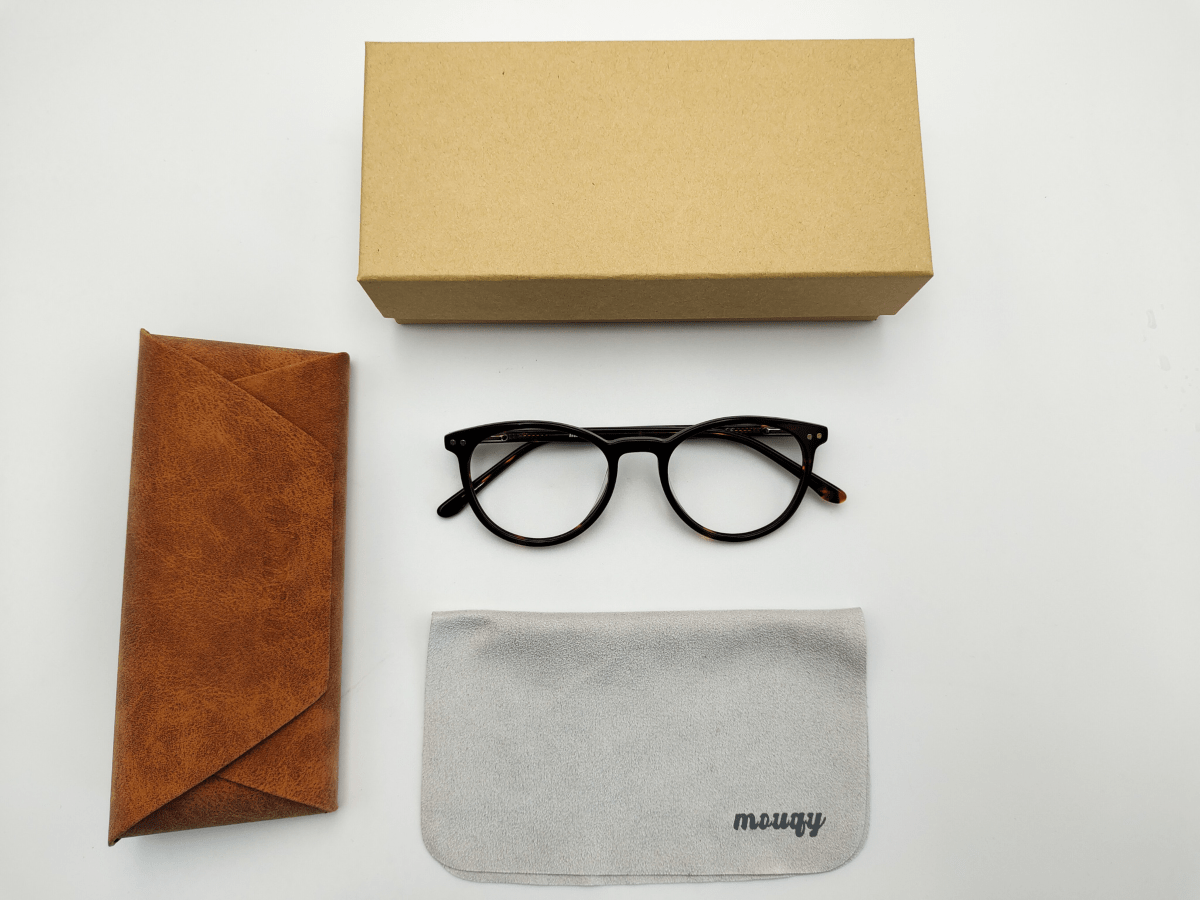 You now know exactly how to order your next pair of prescription glasses online! We hope we've shown you how easy it really can be.

Ready to start eyeglass shopping? Browse our collection and try them on virtually with our Virtual Try On now!