Your softly-angled face lights up any room the moment you walk through the door. If you're looking for the perfect pair of glasses for a round face shape, you're in the right place!

The best glasses for people with a round face are:
A round face is a stunning face, so why not show it to the world at its best? Today, we'll guide you through how to find the perfect glasses to flatter your features.

As a rule, your eyeglasses should work in harmony with the outline of your face. They should compliment your curves, all while adding a little spark of style. Let's dive into the details…

What is a round face?
If you want to see some beautiful round faces they're only ever a click away online. Why? Because the world loves the natural beauty a round face brings to the table.

Similar to a square face shape, a round face is generally as wide as it is long. However, it has softer angles. It's also important to note that its 'roundness' has nothing to do with weight – it's all about the proportions of the face and how it takes shape.

Here's the key characteristics of the round face shape:

It's all about the curves

There's no straight lines on show here, folks, just soft curves. Even the sides of the face curve out slightly rather than going straight down like most other face types. Round faces also tend to be slightly shorter than other face shapes.

A small, flat chin

A round face usually has a round chin.

The cheeks set the size

Last but not least, round faces tend to have full cheeks. The cheeks are always the widest part and help add the cheery charm that only you round-faced folk can really pull off

Don't quite see yourself ticking those three boxes? Honestly, we're not worried if you're not. There's a whole host of different face shapes, and many people have a combination of various ones. If in doubt, you might want to check out our article on the 6 main types of face shape.

If you think you may have a round face shape, how about we talk about all things style?

The most flattering glasses for round faces
A round face may be a beautiful face, but if you want it to also be a fashionable face, there are a few simple rules you can follow.

When picking glasses, you want to veer towards frames and colors that compliment your face rather than camouflaging or clashing with it. Here are some general guidelines to follow:

Do pick frames that have strong, straight lines and edges. These will add angles and contrast with the round outline of your face.

Generally avoid round frames – they'll add unwanted size and curves to your face

Steer clear of undersized frames because they may make your face look larger and won't quite work and— plenty else will though.

Here are our top style recommendations for round faces:

1. Square frames

Mouqy's
Nori
in tortoise.

The beauty of opting for a square frame is that the simple straight lines and geometric corners will complement rather than overpower your face. Ideal when you want to instantly add a touch of style!

2. Geometric frames

Mouqy's
Ashley
in purple- and black-silver.

Angular frames that showcase geometric shapes are a great way to add some contemporary style to your look in a way that compliments your round face. They provide balance and angles which contrasts beautifully with the curves of your face – everything fits effortlessly.

3. Oversized frames


Make the most of your soft and delicate features with a bold and bright pair of oversized frames and you'll be wondering why you didn't treat yourself sooner. All you have to do now is try to narrow things down to your favorite color!

4. Cat-eye frames


These upswept little beauties work wonders when set against those full cheeks. They're also ideal if you want some retro or vintage style – after all, that's never going out of fashion.

The best sunglass styles for round face shapes
The summer months are all about sourcing a pair of sunglasses you never want to be seen without. Aviators with a flat top edge or a pair of thick and chunky wayfarers would both be well worth looking into here. The choice is yours!

Frames you might want to avoid
No one wants to hear that they don't look good in something, but the truth will set you free. We'd recommend you steer clear of undersized frames, circular or oval frames, and anything that makes your face look a little too much on the large side for your liking.

That said, just make sure you don't listen to the experts too much and you put your own style preferences first. At the end of the day, if you love it, nothing else matters.

Celebrities with round faces
One of the most famous round face wonders out there has to be Chrissy Teigen. She's known around the world for her beauty and her glamor. And if you're looking for a round-faced man to look up to, look no further than Mr. Leonardo DiCaprio!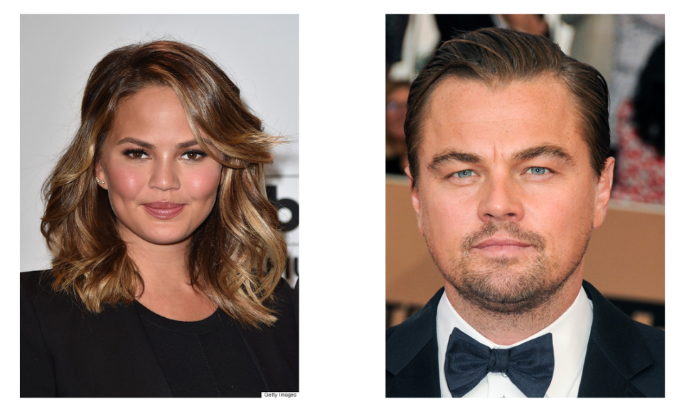 Photos from Refinery29 and Pinterest
Not sure if you have a round face?
The very roundest faces out there are so quick and easy to spot, but that doesn't mean you'll be so lucky. You might feel like you're someone in the middle of a couple of categories, and you'd probably be right. So, what can you do?

To make sure you're following the right style advice for your face shape, make a quick measurement of your face in the mirror. If it's roughly as wide as it is tall, with your cheeks occupying the widest point, it's safe to say you're the proud owner of a charmingly round face, my friend.

Other considerations when choosing glasses
The key here is to be as free and creative as you like when it comes to the colors of the frames and to instead focus on frame thickness. Frames that are too thin will look even smaller on a round face, so find something thick or chunky if that's what you're after and you'll be well suited.

Making sure your glasses fit your face properly
Once you know what types of frames will 'fit' your face shape, it's important to also make sure that they'll truly FIT and feel comfortable on your face!

To make sure your Mouqy frames will fit you, be sure to get your correct glasses measurements and compare them to the dimensions of the frames you're interested in.

Still wondering how to find the perfect frames?
We want to make looking and feeling great as easy as clicking a button, so why not come and take a look at our Virtual Try-On feature?

Have a browse of our collection for round faces, and you'll be able to try on any Mouqy style without leaving the house. Have fun!

Frequently asked questions
1. What shape glasses suit a round face?

If in doubt, go for straight lines, angles and geometric designs that will contrast with your rounder face shape. Square, rectangular and angled frames will all do the trick.

2. Are oversized glasses good for round faces?

They sure are! In so many ways, oversized and larger frames tend to be very flattering when you're blessed with a round face.

3. How can I make my face thinner with glasses?

Oversized frames that hang outside the line of your face will work wonders here. How much they overhang depends on how much thinner you want your face to look.

4. Do glasses look good on round faces?

Round faces can look fantastic when paired with the right frame shapes. If you follow our words of wisdom, you won't be able to help looking good in your new glasses.

5. Are cat eye glasses good for a round face?

Cat eye glasses are a great choice for a round face, and will make you look stunning because of the way they balance your face and help bring out your best features.