Struggling to choose a pair of glasses for your heart-shaped face? Don't worry, we're here to help! Here's a guide to choosing the most flattering frames.

The best frames for people with a heart-shaped face are:
Considered 'mathematically beautiful' by scientists for its unique proportions, a heart-shaped face often gives its owner a sweet and youthful aura. As a heart has both soft and angular features, this face shape is also typically thought of as the most versatile of the bunch, and can easily pull off a variety of frame styles.

While there are only a few people who have perfect examples of a singular face shape (most will have a combination of two or more shapes), here are some distinguishing features of those with heart-shaped faces:

What is a heart-shaped face?
Just like the ubiquitous Valentine heart, the defining traits of this beautiful face shape include a more prominent forehead (usually with dual arches), and a face that tapers down to a pointier chin. Here are some more facts about the endearing shape:

Broad forehead

Making up the widest portion of the face, individuals with this face shape are known to have a visibly broader forehead and hairline. For the most part, people with heart-shaped faces also have widow's peaks, though you can still fall under this category even without one.

Wide cheekbones

Owners of heart-shaped faces have fuller and rounder cheekbones, giving them a cheerful appearance. Their cheekbones are also usually placed a bit higher compared to other face shapes.

Narrow jawline

Similar to the diamond face shape, heart-shaped faces have an angled jawline and a small chin that finishes to a point.

While one's face shape is a sure-fire way to figure out which styles suit you best, what's most important is to choose a pair of glasses that you'll feel most confident in.
Your face shape should only serve as a guide, not a rulebook. If you love how a certain pair looks on you, go for it! There are no rules to expressing your individuality.
But, if you'd like some pointers along with some tried-and-tested pairs that'll always be flattering on heart face shapes, here's everything you need to know:

The most flattering glasses for heart-shaped faces
For individuals with heart-shaped faces, opt for frames that play with proportions and balance out the varying widths of your face. Frames that jut out a bit wider than your forehead, as well as have a more rounded base are great for accentuating angles and putting your best features forward. You can also add some visual interest with two-toned frames or a half-rim style.

Check out some of these stunning frames:

1. Oval frames


Oval frames are a stylish way to soften an angular jawline and pointed chin, while simultaneously playing down the width of the upper half of the face. As the frames are wider as opposed to taller, they also don't risk overemphasizing your cheekbones.

2. Rectangular frames

Mouqy's
Famed
in black-silver.

When in doubt, always go for frames that provide contrast to your face's natural features. That being said, a rectangular pair of glasses will be able to balance out the curved features of a heart-shaped face nicely without drawing attention to its width.

3. Semi-rimless frames


If you're going for a more understated look, consider getting yourself a pair of semi-rimless frames. Thanks to the lack of frame elements, this style is able to keep your look light without underscoring your face's stronger features.

4. Wayfarers


Wayfarers are another popular choice for those with heart-shaped faces, as the style features a tapered, trapezoid-shaped frame that gives the illusion of a narrower forehead and balances out a sharper jawline.

The best sunglass styles for heart-shaped faces
When it comes to selecting sunglasses, the same philosophy follows. Frames with subtle wing tips wider than the forehead will always look good on a heart-shaped face, as well as styles that draw more attention towards the lower half of the face.

Look for:

D-frame sunglasses that give the illusion of a narrower forehead.
Classic aviators to add width to the bottom half of the face.
Oval sunnies to downplay angular features.
Frames you might want to avoid
While this face shape is revered for being able to pull off a wide selection of styles, there are still a few frames to be wary of. Narrow or square frames, for instance, may sometimes look awkward, as they tend to add more angles to a heart shape's already sharp features.

Celebrities with heart-shaped faces
Curious to see which stars share your face shape? Scarlett Johansson, Reese Witherspoon and Nick Jonas are some celebs known for their charming heart-shaped faces: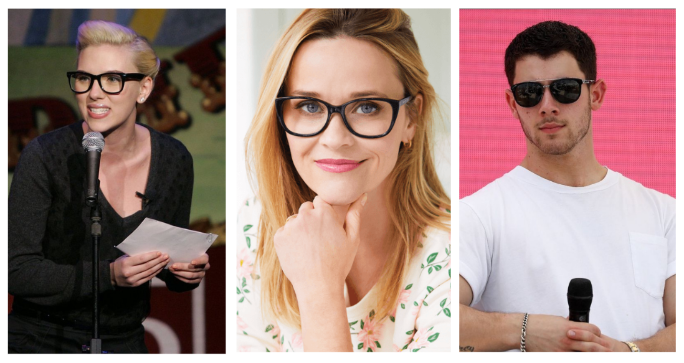 Photos from Draper James, Getty Images and Pinterest
​​Not sure if you have a heart-shaped face?
If you're still having doubts of whether or not you fall under this category, you can always verify your face shape by checking your face's measurements with a measuring tape.

To start, you'll need to measure four areas of your face, namely:

Forehead width

the distance across the center of your forehead from hairline to hairline.

Cheekbone width

the distance from the highest point of one cheekbone to the other.

Jawline width

the distance from the bottom of your ear to the tip of your chin, multiplied by two.

Face length

the distance from the top of your hairline to the lowest part of your chin.
For the most accurate results, be sure to keep the measuring tape flat when measuring your forehead, cheekbones and face length. Conversely, when measuring your jawline, it's best to bend the tape such that it sits on top of your skin.
After you've found your measurements, you can now determine your face shape. For heart-shaped faces in particular, you'll want to confirm if:

Your forehead is the widest part of your face, followed by your cheekbones.
Your cheekbones are significantly broader than your jawline.
Your face length is longer than your forehead width.
The angles of your jawline are narrow and your chin comes to a point.

If the traits above match your measurements, then you indeed have a heart face shape. But if the numbers don't add up, don't worry! This just means that you have one of many other equally beautiful face shapes. We've also got a wide selection of frames to choose from here at Mouqy, so rest assured that you'll be able to find the perfect pair for your face shape.

Check out our full face shape guide here.

Other considerations when choosing glasses
Another factor to consider when choosing glasses is the colors of the frames themselves. While there are no rules to the colors that you can wear, it's best to avoid pairs with dark or heavy upper rims, as this can emphasize the width of your forehead and make the lower half of your face look more narrow.

Knowing your skin's undertone can also give you a lot of insights on what colors will look best on you and streamline your search.

For those with higher prescriptions, you'll also want to check if your lenses are compatible with the frames you select, as thicker lenses will have an impact on your overall look.

Making sure your glasses fit your face properly
Once you know what types of frames will 'fit' your face shape, it's important to also make sure that they'll truly FIT and feel comfortable on your face!

To make sure your Mouqy frames will fit you, be sure to get your correct glasses measurements and compare them to the dimensions of the frames you're interested in.

Still need help in finding the perfect frames?
We get that shopping for glasses online can be a bit tricky. That's why our team has developed a Virtual Try-On feature, so you can see how our glasses look on you in real time. Choose from our wide selection of frames and try them out for yourself here.

Frequently asked questions
1. What does it mean to have a heart-shaped face?

A heart-shaped face is distinguished by a wider forehead, full cheekbones, a narrow jawline, and a pointy chin. Many people with this type of face shape also have a widow's peak, mimicking the topmost portion of a heart.

2. What shape glasses are best for a heart-shaped face?

A heart-shaped face can pull off many frame shapes, but look especially good in oval, rectangular, and trapezoid-shaped frames such as wayfarers.

3. Can heart-shaped faces wear round glasses?

Of course! Round glasses are great for softening the sharper angles in a heart-shaped face. Just be sure that the frames aren't too small, as this may emphasize a broader forehead.