You were blessed with the straight lines and Hollywood jawline most of us can only dream of, but need advice for picking out a new pair of glasses. Check out our top tips for finding the best glasses for your unique square-shaped face!

The best frames for people with a square-shaped face are:
Everyone knows a square-shaped face when they see it, and yet it's hard to put your finger on why they catch the eye so effortlessly.

Is it the striking lines around the edges, the way the jaw sits, or those sharp cheeks? There's a reason so many of Hollywood's elite have this oh-so special face shape, and there's even more reasons why you should love yours.

And if we know about one thing – it's eyeglasses! Your glasses should compliment your features and bring balance to your face. Today, we'll be pointing you in the direction of the perfect frames. Let's go.

What is a square-shaped face?
Good question! There's a reason it's so easy to spot a celebrity with a stunning square-shaped face. Each square face has the same key ingredients:

A broad forehead

At the top of your face is a broad, bold and beautiful forehead.

A balanced faceSquare faces are typically as long as they are wide. In this way, they're similar to the round face shape, but more angular.

Striking cheekbones

It's common to see prominent cheekbones that catch the light and break up the smooth contours of your face.

A strong jawline

The finishing touch is a prominent jawline that sits flat at the bottom, bordering the rest of your features. It's the classic hallmark of a square-shaped face and the envy of the rest of us mere mortals.

However – these might be the classic building blocks for a square face, but you don't need to tick every box to use the advice in this article. At the end of the day, the most important thing is that you love how your glasses look on your own face.

However, here's what the fashion experts usually have to say…

The most flattering glasses for square-shaped faces
We've scoured the design studios, studied trends and consulted the experts on how to match your frame to your face shape. But first – some dos and don'ts!

Do go for round, soft edges which you can use to help break up the striking lines you have to offer the world.

Don't go for square frames or anything with thin outlines and angular lines that are too similar to your natural shape.

Do make sure you feel comfortable with what you pick and don't let anyone else put you off!

Take a look at some of our frame recommendations below:

1. Aviators

Mouqy's
Maiden
in transparent-gray.

Not only look as cool as cool can be, they're also the perfect compliment to the striking lines of a square face.

2. Classic rounded glasses


Rounded glasses are a great option for those of you looking to turn on the style the right way.

3. Cat-eye frames


If you want to add some smooth lines with a touch of retro style, look no further than the unique look that only cat-eye or pear-shaped frames bring to the table.

4. Oval frames


And don't forget oval frames if you want something a little retro and eye-catching that will work wonders set above your jawline.

The best sunglass styles for square-shaped faces
There's sunshine, there's long summer evenings and there's a whole host of style tips for those of you who want them. If you have a square-shaped face, we would recommend looking into aviators, classic rounded shades, and oval frames.

Frames you might want to avoid
Whilst we think you'll probably look great in anything, there's a few frames that might take the shine off the way you look, in comparison to the ones we've just listed.

Classic rectangular shades are in fashion in some quarters, but they are too similar to the natural shape of your face to really bring the best out of the way you're styling yourself. Opt for smooth curves and aviators instead and you'll be on the right track.

Celebrities with square-shaped faces
Think Angelina Jolie for women and Brad Pitt for men and you'll be in good company! They certainly know a thing or two about turning on the style and making the whole world turn their way.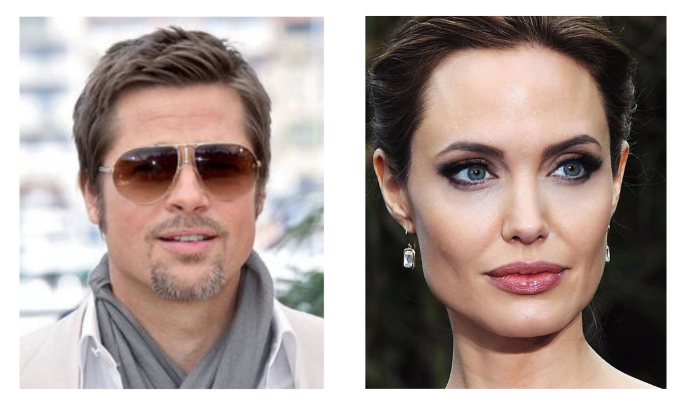 Photos from Pinterest
Still not sure if you have a square-shaped face?
You might feel like you're stuck between categories here, which is why we want to offer a simple trick.

It's obvious if you have a round face or an oval face, but figuring out whether you're square or rectangular is a little tricky. Rather than trying to guess, do a rough measurement of the width and height of your face. The closer those two numbers are to one another, the more square your face shape is.

Don't worry if you find you're not square-shaped after all — at Mouqy we sell eyeglasses for all face shapes. Check out our full guide on the 6 different types of face shape that you might fall into.

Other considerations when choosing glasses
A good thing about square shaped faces is that you're free to pick any colors you like. This is great news if you want to get really creative! The one thing you might want to consider is opting for thicker, bolder outline frames instead of the thin wire style ones. That way, you'll find something that really works in harmony with your face shape.

Making sure your glasses fit your face properly!
Once you know what types of frames will 'fit' your face shape, it's important to also make sure that they'll truly FIT and feel comfortable on your face!

To make sure your Mouqy frames will fit you, be sure to get your correct glasses measurements and compare them to the dimensions of the frames you're interested in.

Still wondering how to find the perfect frames?
Hopefully you've found our words of wisdom useful and you're ready to show the world your new signature style on your stunning square-shaped face.

If you want to take the next step with nothing but a quick click, why not come and take a look at our virtual-try on feature so you can see yourself transform in real time? Come on, you know you want to!

Start shopping our collection today!

Frequently asked questions
1. What shape glasses go with a square face?

If you have a square face and want to look your best, consider going for curved frames such as round frames, aviators and oval designs to contrast with the angles of your face. If you can't find a pair you love from those choices, take a look at pear-shaped frames.

2. Are cat eye glasses good for square faces?

Absolutely! Cat eye glasses look great on square faces. If you can find nice round lines to go with the winged edges, you'll have the perfect way to put your face in the spotlight.

3. Do square or round glasses look better?

A great rule of thumb is to contrast the shape of your glasses with your face shape. If you're blessed with a square face, you'll want to highlight it with round glasses rather than try and camouflage it with square glasses.