If you're blessed with a triangle-shaped face then why not show it off in all its glory? Read on to discover the most stylish frames for this face type.

The best glasses frames for people with a triangle-shaped face are:
This article is aimed at the lucky few with a triangle-shaped face. It's one of those striking face shapes that's never gone out of style, and with good reason!

If you want to bring the best out of your signature face shape, you need to get your accessories right. This article will explain the important dos and don'ts for picking your perfect glasses.

Let's start with the questions we know are on your mind…

What is a triangle-shaped face?
The name says it all really! However, it's worth noting that there are two forms of a triangular face shape: the triangle (with the triangle base at the bottom), and the inverted triangle (with the base at the top).

We'll be talking mostly about the more common triangular face shape – wide at the bottom and narrow at the top. Here are some common characteristics:

A tight forehead

The base of the triangle is usually at the bottom, with a tight forehead at the top.

Tapered cheekbones

As you move down the face the cheekbones gradually move outwards.

A wide jawline

Last but not least, the chin and jawline come to a point in a way that projects past your cheekbones

For an inverted triangle, these characteristics are reversed: the chin is pointy and the forehead is broader.

Not quite sure you tick all these boxes? Honestly, face shapes are not an exact science so there's really nothing to worry about. Keep reading and you're sure to find some helpful advice that you can put into practice.

The most flattering glasses for triangle-shaped faces
Balance and proportion are the two things to think about when looking for flattering frames. You want to find a fit that brings out understated features like the upper half of the face while slightly toning down more prominent assets like the lower half of the cheeks and the jaw.

Not sure what we mean? There's a few tried and tested Do's and Don'ts to follow…

Do go for frames that add width to your forehead – these will help balance the presence of your jawline and create a look that's elegant and eye-catching.

Don't go for narrow circular frames – these can accentuate a tight forehead by bringing it in, which might make you feel like your jawline is taking too much of the limelight.

Do go for larger sweeping frames – they're ideal when you want to compliment the narrow upper cheekbones you've been blessed with. They'll even help smooth the transition to your jawline for real balance.

Take a look at some of our frame recommendations below:

1. Rectangular frames

Mouqy's
Famed
in black-silver.

The beauty with this style of rectangular frames is they work with just about any outfit. Use the extra width of these frames to bring balance and poise to your features and you'll be catching the eye like never before.

2. Aviators

Mouqy's
Maiden
in transparent-gray.

The broad style and gentle curves of aviator frames will really compliment the shape of the top half of your face while helping to soften the base of the triangle.

3. Cat-eye frames


Thanks to the swept edges you can add a little bit of extra width and depth to your forehead. Cat eye frames are for balancing the striking jawline your friends and family know you for.

4. Browline glasses


If in doubt, opt for browline glasses. These are a strong look that's all about balancing out the strength and striking qualities of the jawline that only you triangle-shaped masterpieces bring to the table!

The best sunglass styles for triangle-shaped faces
Here's a few style tips that will be worth their weight in gold when there's sunshine out and about:

Aviators are a retro throwback that won't be going out of fashion anytime soon.

Clubmasters have it all on top, which is exactly what you want to balance out the lower half.

Anything oversized has to be worth a look too because, once again, it's all about balancing out that striking jawline of yours.
Frames you might want to avoid
Small, round, and tight oval frames are all worth leaving on the sidelines. They can amplify a tight forehead by artificially narrowing it and putting too much of a spotlight on your jawline.

Don't worry – we have plenty of styles at Mouqy for you to still fall in love with!

Celebrities with triangle-shaped faces
If there are two triangular-shaped A-listers we all want to take our style inspiration from, it has to be Minnie Driver and the one and only Mr. Ian Somerhalder. Trust us, you're in good triangular shaped company!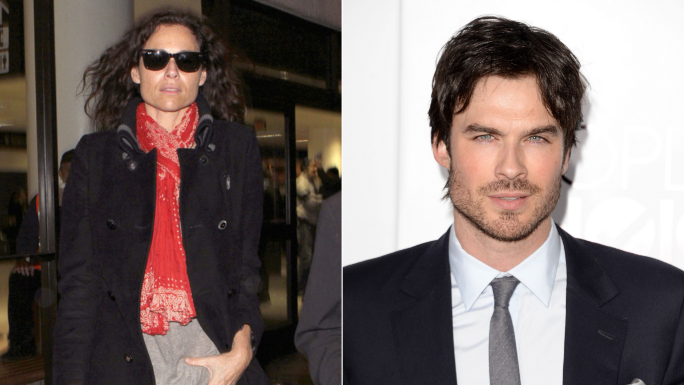 Photos from StyleBistro and Cosmopolitan
Not sure if you have a triangle-shaped face?
The key is to check that you have a forehead that's narrower than your jawline, with your cheekbones sitting somewhere in the middle.

You might also find you're the lucky owner of the lesser spotted inverted triangle-shaped face where the forehead is the widest part with the jawline coming in last. Congrats if you're one of the lucky few!

And if you're not as close to a triangle-shaped face as you thought, here at Mouqy we stock eyeglasses for all shapes and sizes. Check out our guide on the 6 different types of face shape if you need some help figuring out what category you fall into.

Other considerations when choosing glasses
If you follow the tips above, you really can't go wrong. How retro or contemporary you go is really up to you, which means you're free to run wild and let your signature style loose on the world.

You may also want to check out some contrasting frames to help add a little more presence at the top of your face. If you have light colored hair, black and dark gray frames will stand out, allowing you to balance the lower portion of your face with a striking presence up top. If you have darker hair – you might want to play around with vibrant shades. We've written more about choosing a frame color here!

Making sure your glasses fit your face properly
Once you know what types of frames will 'fit' your face shape, it's important to also make sure that they'll truly FIT and feel comfortable on your face!

To make sure your Mouqy frames will fit you, be sure to get your correct glasses measurements and compare them to the dimensions of the frames you're interested in.

Still need help in finding the perfect frames?
After reading this article, you should have a better idea of what frames will suit your triangle-shaped face shape. However, there's nothing like seeing how they look on your own face!

That's why we've created a Virtual Try-On feature that lets you see how you'll look in our frames, in the comfort of home. All you need is a webcam or a photo of yourself!

Have fun shopping and trying on our frames and we hope you find your new favorite pair!

Frequently asked questions
1. What is the rarest face shape?

The rarest face shape probably has to be the diamond face shape. You don't see them all that often, but when you do they sparkle with the light just like their namesake!

2. What glasses look good on a triangle face?

If you have a triangle face, we'd recommend going for larger, prominent frames such as clubmasters or aviators. It's the best way to provide balance so your strong jawline doesn't feel that little bit too prominent.

3. What is a triangular shaped face?

A triangular shaped face tends to be narrow at the top, wider in the middle and even wider at the bottom. If you can group your features in a neat little triangle, the chances are you're a proud member of the triangle-shaped face category.