Wondering what glasses frame color will suit you best? Torn between a neutral or a pop of color? No sweat, we've got you covered!

Read on for a comprehensive guide on how to pick the best glasses colors that will flatter your unique features and personality. We'll soon have you looking your best!

What should you consider when picking your glasses color?
Whilst your face shape is a good way to determine what frame shape looks best on you, choosing the best glasses color is all about looking at your own coloring.

You'll want to focus on your eye color, hair color, and skin tone for this!

There are two routes you can take here: either:

Pick a similar hue that blends harmoniously with your natural coloring, or;
Find a contrasting shade to make your features stand out.

Having a good grasp of color theory can also help you narrow down your choices.

With this in mind, here are the main things you'll need to take note of for each category:

Using eye color to choose your glasses color
They say you can tell a lot from a person's eyes, and we think this definitely holds true when it comes to choosing a frame color!

To know what shades suit you the most, just take a close look at the color of your iris, and decide if you'd like something that blends in or stands out.

For a subdued look, go for neutrals or a color similar to your iris, but for a bold statement, opt for a shade that's contrasting but complementary to your eye color. Here are some popular combinations you can try:

1. Hazel eyes

Consisting of brown, green and gold hues, those with hazel eyes are considered chameleons, and have irises that shift colors depending on the clothes they wear or the time of the day. Owners of this mystifying eye color often choose a nuance that they'd like to draw out, and select a similar color to echo them.

For example, an amber or honey colored frame would bring out the gold flecks unique to hazel eyes, while a moss or emerald color will make them appear greener. Conversely, you can also try a dusty pink or berry hue to contrast your unique irises.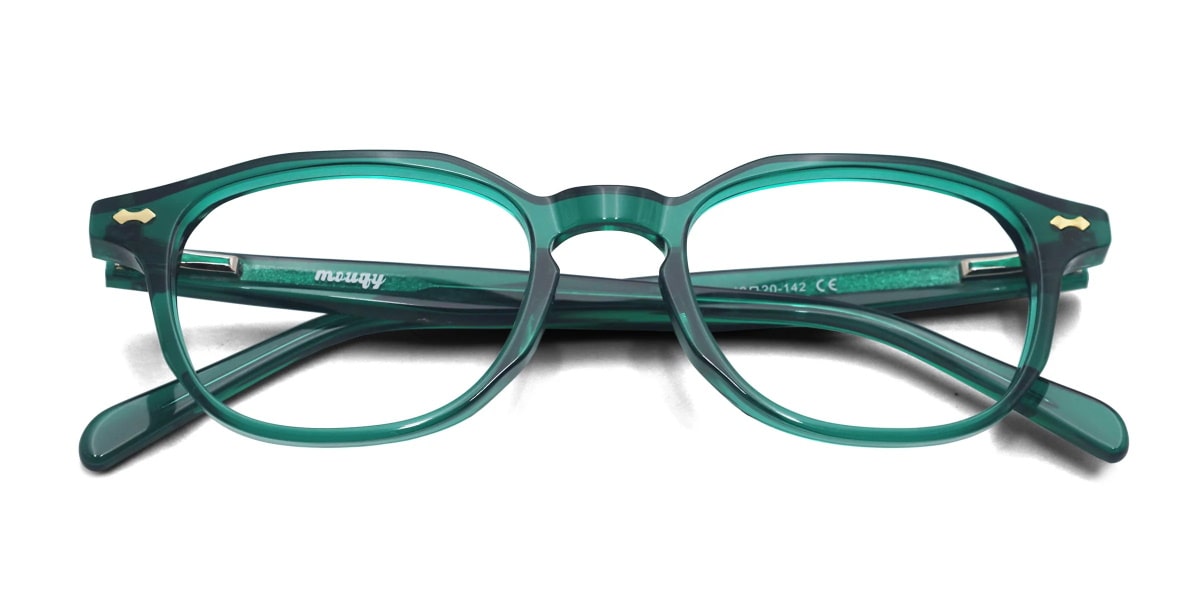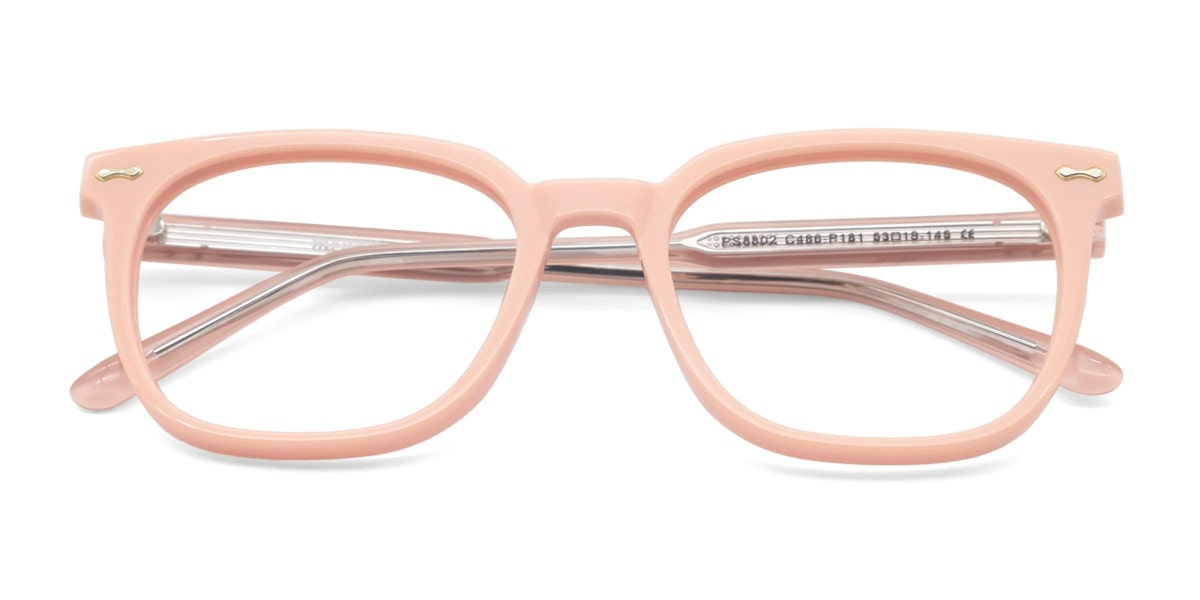 2. Brown eyes

Brown eyes are the most common and versatile of the bunch, giving those with this eye color a lot of room for creativity. But for individuals who prefer neutral colors, black will always be a timeless staple, while warm browns like sepia and brandy bring out the natural earthy colors of brown eyes beautifully.

Moreover, you can also go for a tortoiseshell frame to give your eye color more depth. For more adventurous folks, we recommend an olive or lavender shade for a striking yet flattering juxtaposition to brown colored eyes.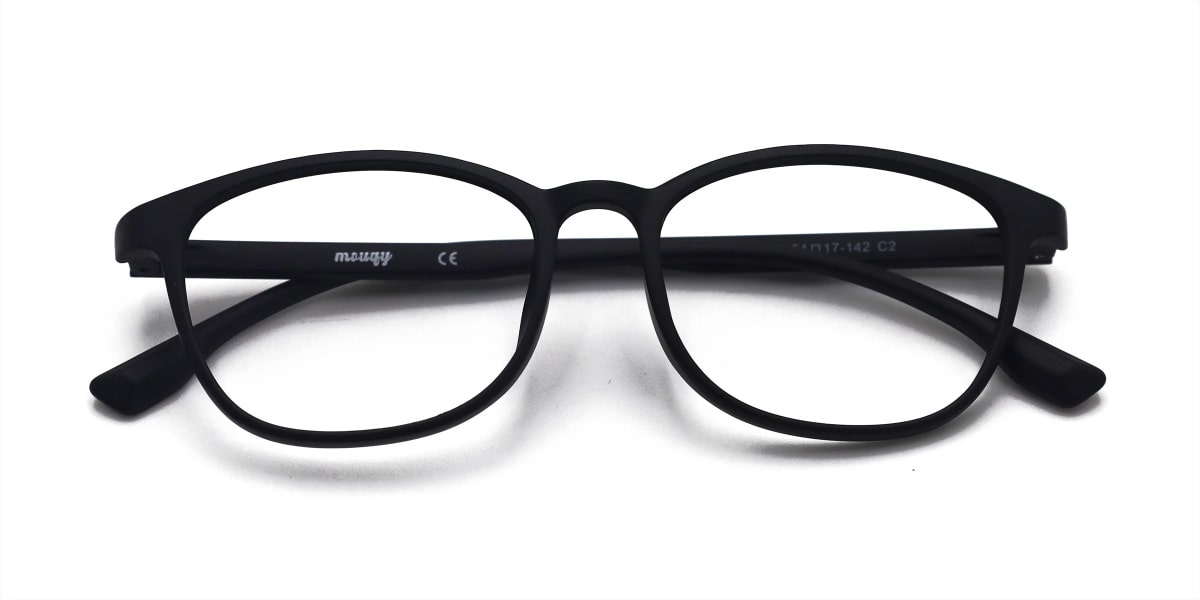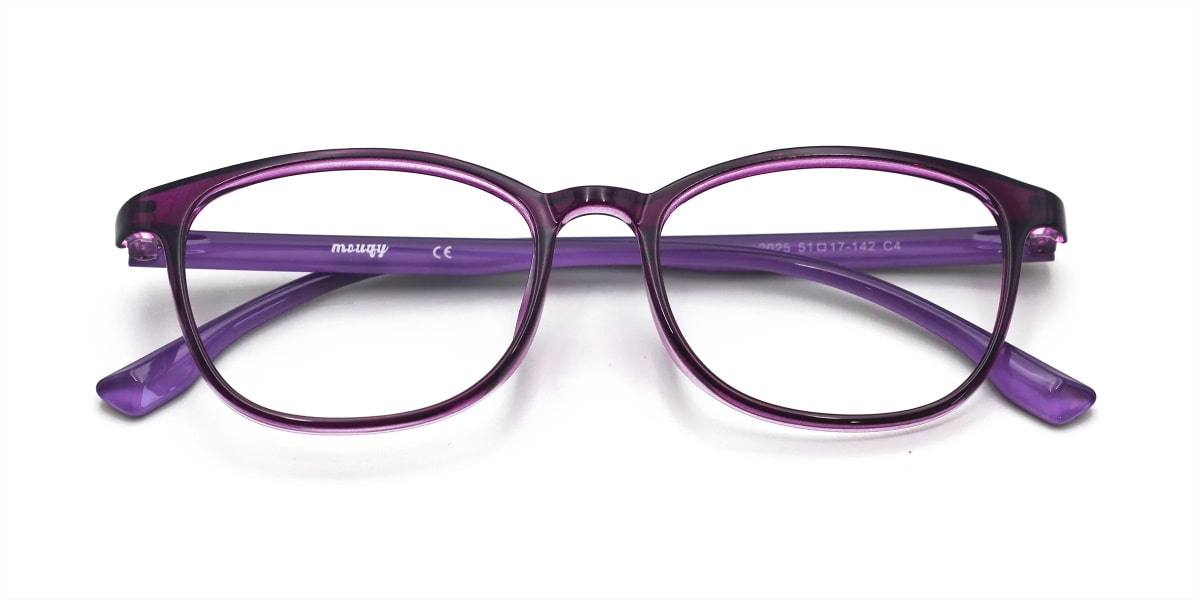 3. Green eyes

Green eyes are quite special, and those with this eye color usually gravitate towards warm earth tones to accentuate the distinctively verdant hue. Subdued colors like brown, caramel, and even a tortoise pattern will always be flattering on green eyes, while golden metallic frames can make them sparkle like no other. But, if you really want to turn heads with your new glasses, go for a dusty pink, lilac, or an opalescent frame for a beautiful contrast.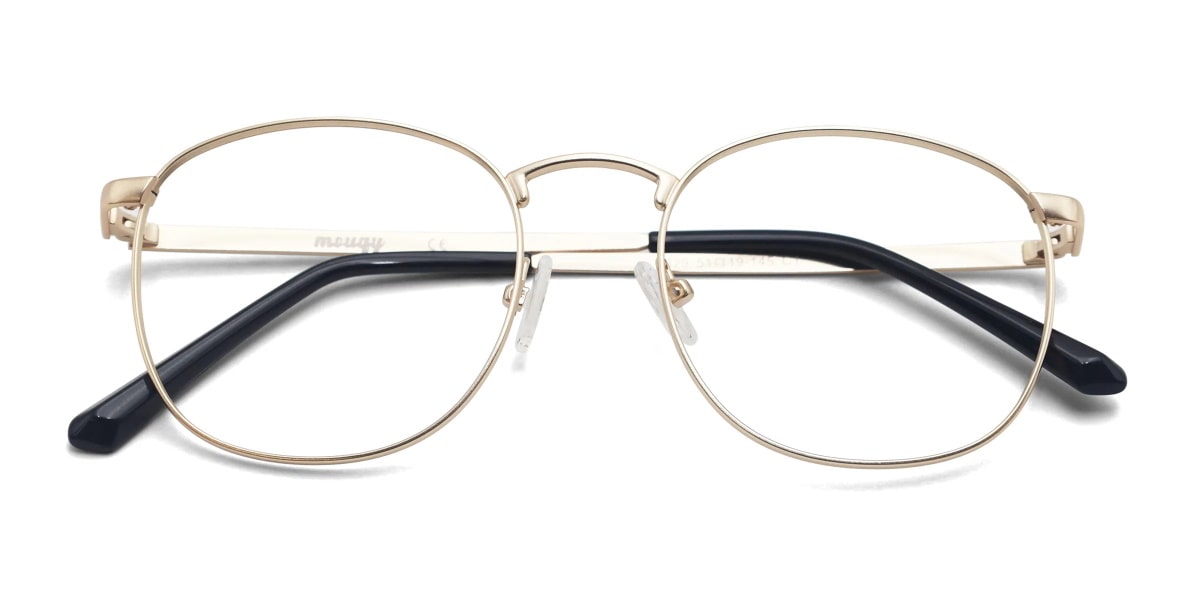 4. Blue eyes

Blue eyes pair beautifully with shades from the same color family. Opt for a slate gray frame for a minimalist look, or go for a cobalt or bright blue to really play up those baby blues. If you prefer more neutral colors, you can also choose a tortoise or brown colored frame for a bit of contrast. A classic black frame is another good way to subtly draw attention to blue eyes, while warm tones like reds and oranges make blue eyes look even bluer.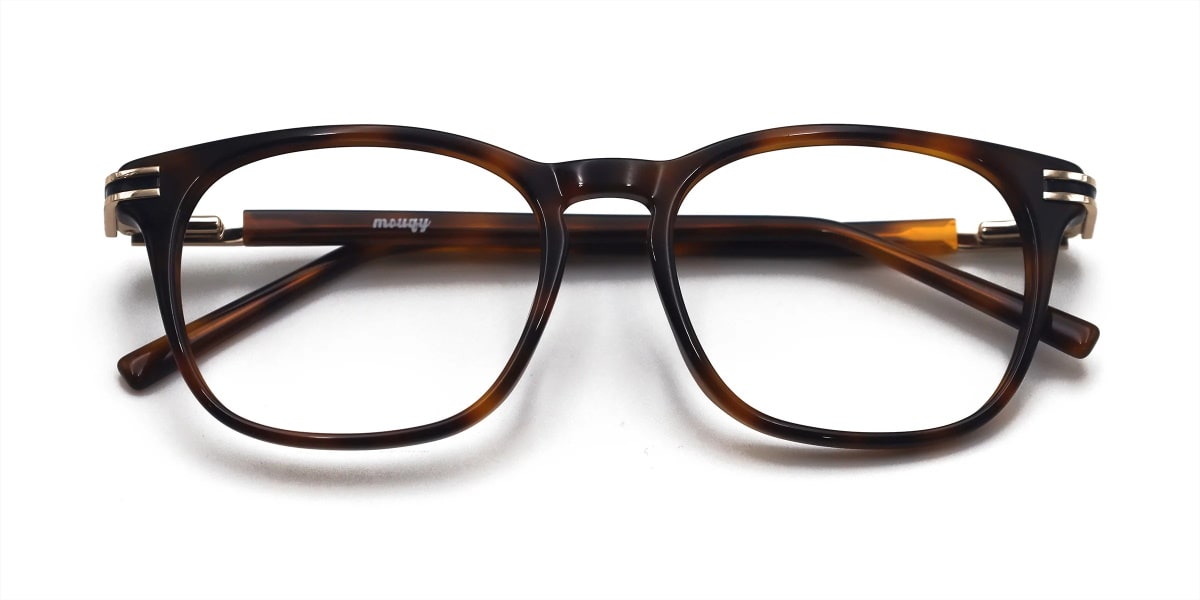 5. Gray eyes

Gray is one of the rarest eye colors in the world, with a unique paleness that is best emphasized by deep colors like black, midnight blue, plum or burgundy. Since gray eyes tend to be on the cooler side, any gray, silver or blue frame can make them sparkle like no other. But, if you really want to turn heads with your new glasses, go for a dusty pink will also be flattering, giving a subtle accent to this one-of-a-kind color.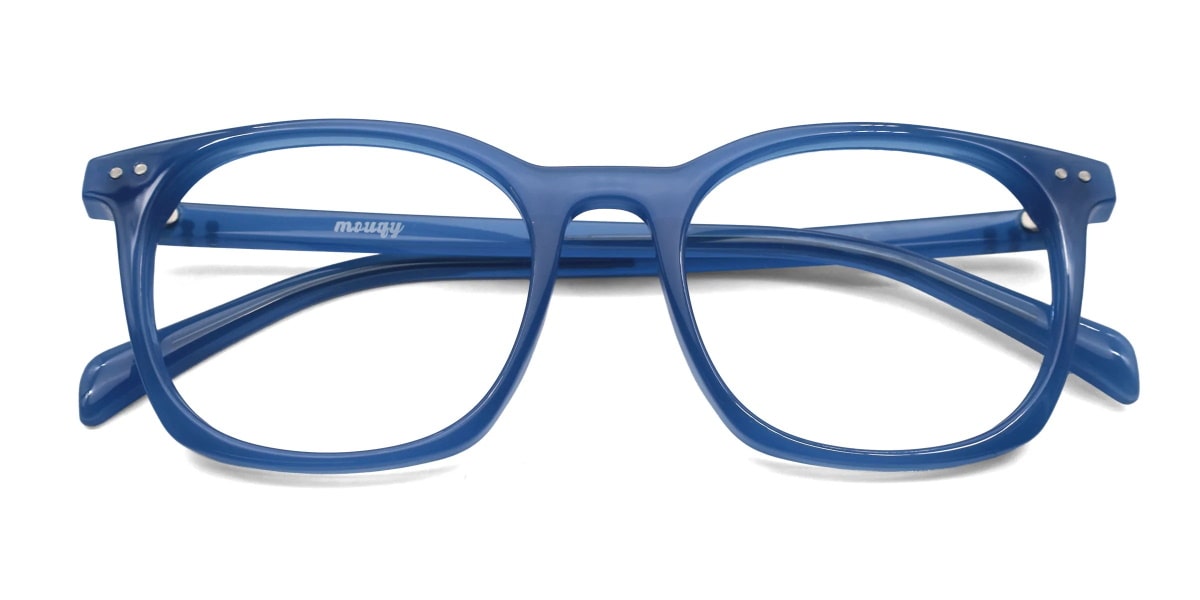 Using your hair color to choose your glasses color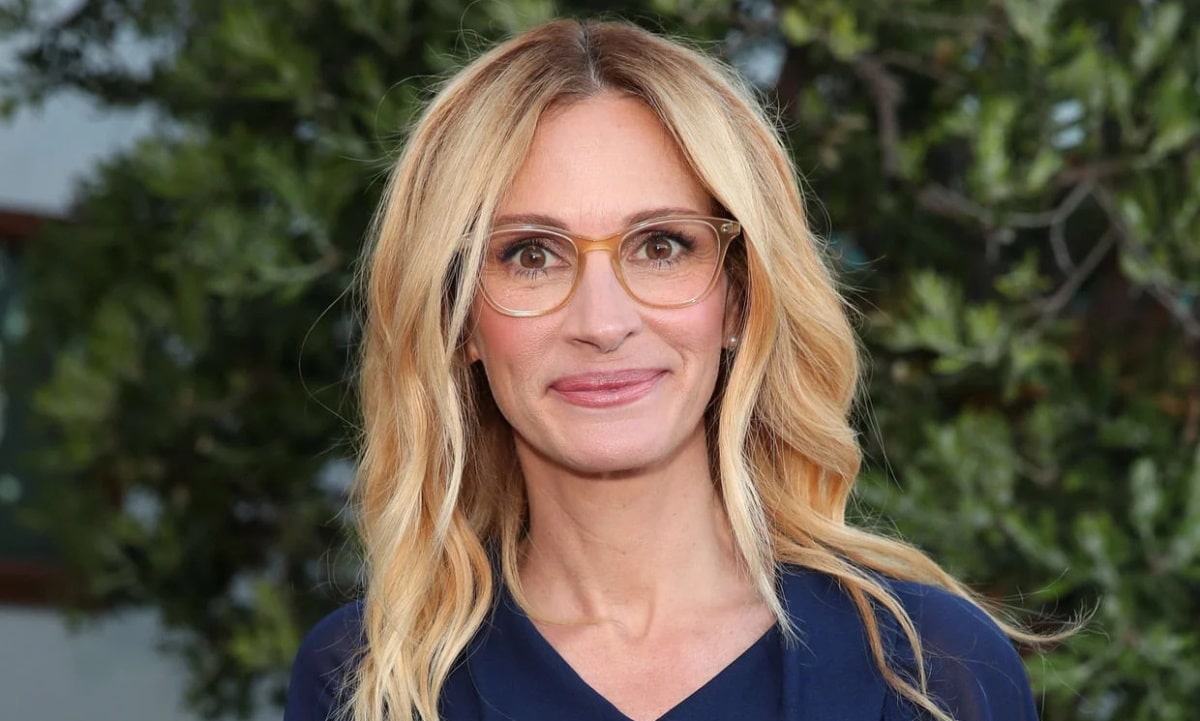 Credit: Shutterstock

Tailoring your frames to suit your hair color is another way to elevate your overall look. Depending on the vibe you're going for, you can either make a subtle statement with similar colored frames, or show off your unique style with a bold and contrasting hue.

As our hair naturally varies in shade and tone, here are some things you should know when selecting frames based on hair color:

1. Black hair

If your hair is more brown-black, you'll find that warm shades, such as rich browns and other earth tones, may suit you better. But if your hair is more blue-black, you may be more drawn to cool tones like greens and violets. Of course, for minimalists at heart, a classic black or tortoiseshell frame will always be a sleek and sophisticated choice.

2. Brown hair

For those with brown hair that's more golden or auburn, go for warm hues like reds, browns, and tortoiseshell patterns. Earth tones like green and gold also pair well with warm brown hair. As for brunettes with ashy undertones, cooler browns and beiges will complement your hair's natural coloring beautifully. Furthermore, pinks and blues are also excellent choices for brunettes looking for a fun pop of color.

3. Blonde hair

If you're a warm blonde with a honey or bronze undertone (golden or dirty blondes usually have these characteristics), you'll look great in pink, peach, and amber hues that mimic your unique coloring. But for strawberry, platinum and ash blondes with cooler undertones, go for blues, purples and cool pinks to complement your hair's icy hue. Read our guide on glasses for blonde hair for more in-depth information!

4. Red hair

Redheads will always look good in earth tones as well as red frames that mimic their fiery locks. If your hair is on the more orange side, opt for golds and greens. But, if your hair is on the darker and cooler side, blacks and blue-greens will contrast your hair nicely. Jewel tones will also play up a redhead's distinctive coloring.

5. Gray hair

Individuals with this hair color usually opt for jewel tones and other vibrant colors to brighten up their look. Those with salt-and-pepper and white hair tend to go for cool colors, while those with gray hair stick to warm shades. But for those looking for a neutral color, black, gray or white frames are always a safe bet. Our only advice is to be careful with beige or brown frames, as they could clash with your natural coloring and have a dulling effect.

Choosing glasses color based on your complexion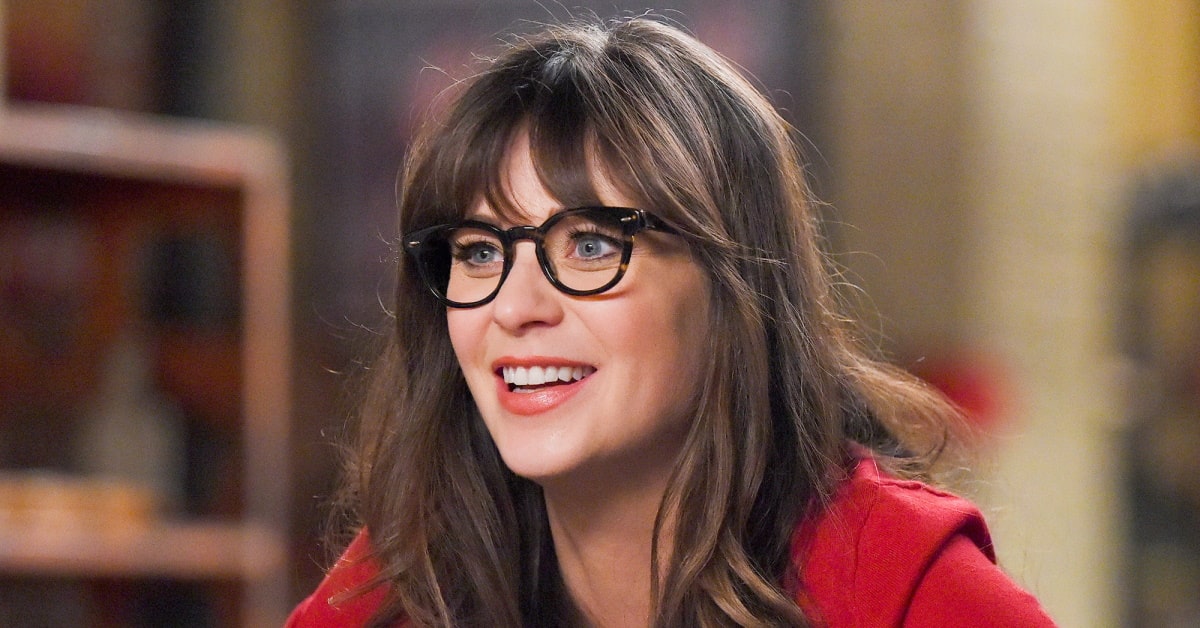 Credit: Getty Images

Everyone's complexion is unique, and depending on your skin tone and undertone, you may be more inclined to pick certain colors to complement your distinct characteristics.

There are 6 main classifications for complexion:

1. Light skin with cool undertones

Those who fall under this category usually have blue undertones and a pink cast on their skin. Pastels and light neutrals will work best on this skin tone, especially baby pinks, blues and cool beiges. On the other hand, try to steer clear from yellows and greens, as they may clash with your natural coloring.

2. Light skin tone with warm undertones

If you have a fair, peachy complexion with green and yellow undertones, then you're considered to have a light skin tone and warm undertones. Toasty neutral shades, such as deep browns and tortoiseshell frames, and saturated colors like reds and corals are popular choices for those with this complexion, while blues are generally avoided as they tend to wash out the skin.

3. Medium skin tone with cool undertones

Those with a medium cast and pink and blue undertones fall under this category, and look stunning in jewel tones—especially blue, purple, and burgundy colors. For those who prefer neutrals, blacks and gunmetal frames also work well for this skin tone. On the flip side, individuals with this complexion generally avoid warm hues and very muted shades.

4. Medium skin tone with warm undertones

Earthy colors and warm browns are fool-proof options for those in this group, as the shades blend seamlessly against a medium cast combined with green and yellow undertones. Those with this complexion usually go for ambers, browns, as well as tortoiseshell patterns, though some also enjoy an olive or metallic gold frame. Conversely, cooler jewel tones have a tendency to clash with this particular skin tone.

5. Deep skin tone with cool undertones

For darker skin with cool blue undertones, mimic your skin's beautiful coloring by sticking with blue and gunmetal shades. Smokey purples and black frames will also complement your distinct skin tone.

6. Deep skin tone with warm undertones

Those with deep complexions and yellow undertones can easily pull off darker browns, cognacs, and amber frames, but will also look great in rich golds and greens.

Choosing glasses colors to suit your occupation
As you'll be wearing your new frames regularly, another factor to consider is if it'll match your lifestyle and work environment.

1. Formal business settings

For those who work in a more corporate setting, opt for classic styles in neutral colors such as black, navy, and brown for a professional appearance. Metallics like silver and champagne can also give off a sophisticated aura, while tortoiseshell prints are a good way to add flair and personality.

2. Creative industries

Those in creative industries can show off their individuality by selecting fun frames in trendy colors. There are also several patterns you can choose from, from two-toned frames to floral and animal prints.

Choosing colors based on personal style
Your glasses should be a reflection of your authentic style, so don't be afraid to experiment with unique color combinations and eye-catching hues!

If you're all about the minimalist lifestyle, you'll be happy to know that neutrals (and even clear frames) are very much on trend, and go with just about any outfit. But for the more eccentric shopper, there are also tons of vibrant shades and fashion-forward prints that's sure to suit your one-of-a-kind aesthetic.

Tips for choosing sunglasses colors
Since sunglasses are made to shield your eyes from the sun, you'll simply need to apply the same guidelines for hair and skin color when selecting a flattering frame and lens color.

For example, a darker hue can provide a nice contrast to fair hair and/or skin, and give their delicate features some added edge. On the other hand, pastels and brighter shades give a whimsical touch when paired with anything light.

As for those with deeper complexions, they generally can pull off both light and dark lenses, as long as the tones are complementary to their hair and skin's undertones. However, those with black hair tend to favor richer colors and avoid pale or pastel shades, as these colors tend to get lost when paired with dark hair.

3 eyeglass color trends we're loving this year
1. Warm neutrals

Beiges, tans, and taupe colors are the latest neutrals taking center stage. Those who gravitate towards light color palettes will absolutely love this trend, as these frames will be able to seamlessly blend the rest of your wardrobe.

2. Back to nature

As consumer desire for more sustainable products continues to grow, so will demand for nature-inspired shades and textures. These natural colors evoke a calm and welcoming aura, and give a sense of comfort and familiarity to its wearer.

3. Precious stones

Also rising in popularity are frames influenced by our favorite gems and crystals, and it's pretty easy to see why. They add a playful yet sophisticated touch to any look, and also come in a variety of shades and patterns to suit every personality.

Frame shape matters too!
When it comes to finding the perfect frames, it also pays to know which of your facial features you'd like to highlight or de-emphasize.

That being said, your face shape can also play a vital role in the selection process. Though if you're still unsure about your face shape, feel free to read through our guide here.

One final word when picking glasses color
While individual traits are a good way to figure out which frames suit you, we would like to stress that style is subjective, and should ultimately depend on what makes you feel your best.

We at Mouqy offer a wide selection of frames for every mood, personality, and occasion. Browse through a range of stylish and functional eyewear that won't break the bank, and try them out with our virtual try-on feature today!