Are you looking for a statement piece to complete your outfit? A pair of blue glasses can do the trick.

Blue glasses can be easy to match if you know what shade and design can work for you. Here's a comprehensive guide on how to rock them.

The psychology of blue glasses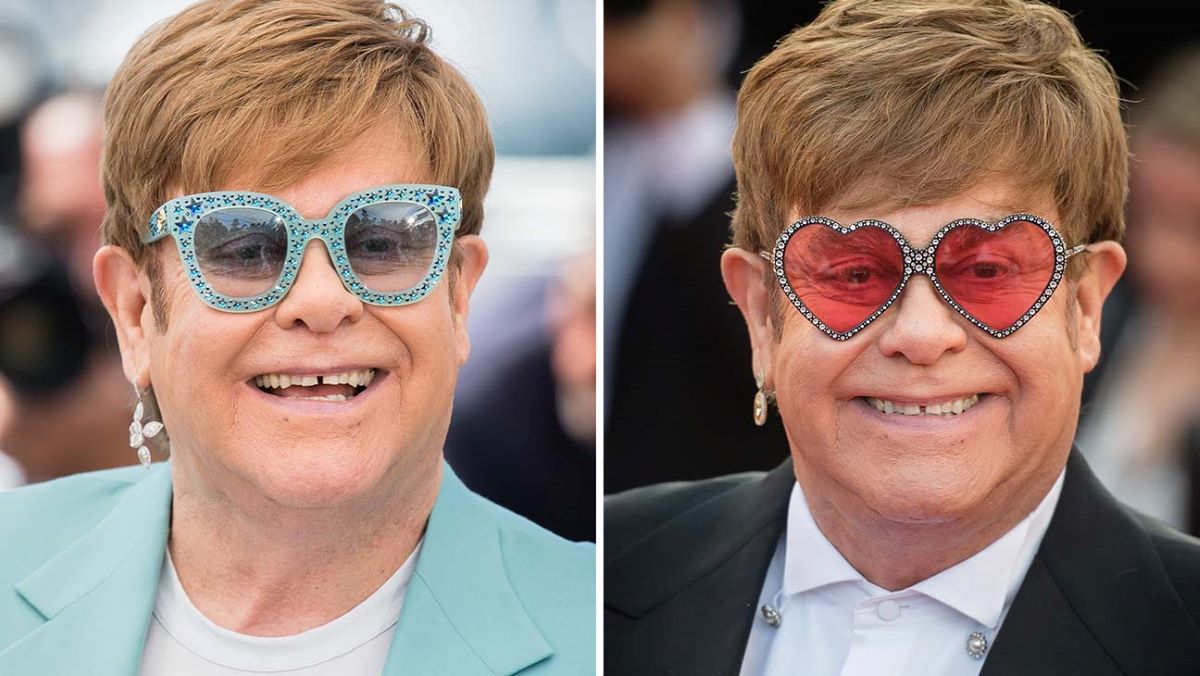 Elton John rocks frames in many colors – including turquoise blue. Source: The Hollywood Reporter

Look at the color of the sky and the sea. What do you feel?

The color blue is associated with calmness, serenity, and relaxation. When you gaze at this color, you'll probably feel at peace. It's a universally appealing, non-aggressive color.

There's also a sense of authority and orderliness in the color blue. It's often seen as a sign of reliability and stability. That's why it's no surprise to see many schools and government agencies incorporate this into their official color schemes and uniforms.

Due to how it can make people feel, many businesses usually embrace blue in their marketing efforts. Especially if they want to establish an image of trust and security; for instance, banks will often feature navy blue in their posters.

In a 2018 study, researchers found that people tend to be more productive and creative while working in blue rooms. It can also be a form of an appetite suppressant since the color blue is one of the least appetizing colors for food.

Incorporating this color in your glasses can give your daily wear a touch of elegance and harmony. You also have a ton of shades to choose from, such as:

Navy blue for a boost of work-ready confidence
Sky blue to get that chic coastal vibe
Teal to add a touch of luxury to your outfit
Indigo represents quiet strength
Turquoise symbolizes a fresh burst of creative energy
Picking the right blue glasses for different face shapes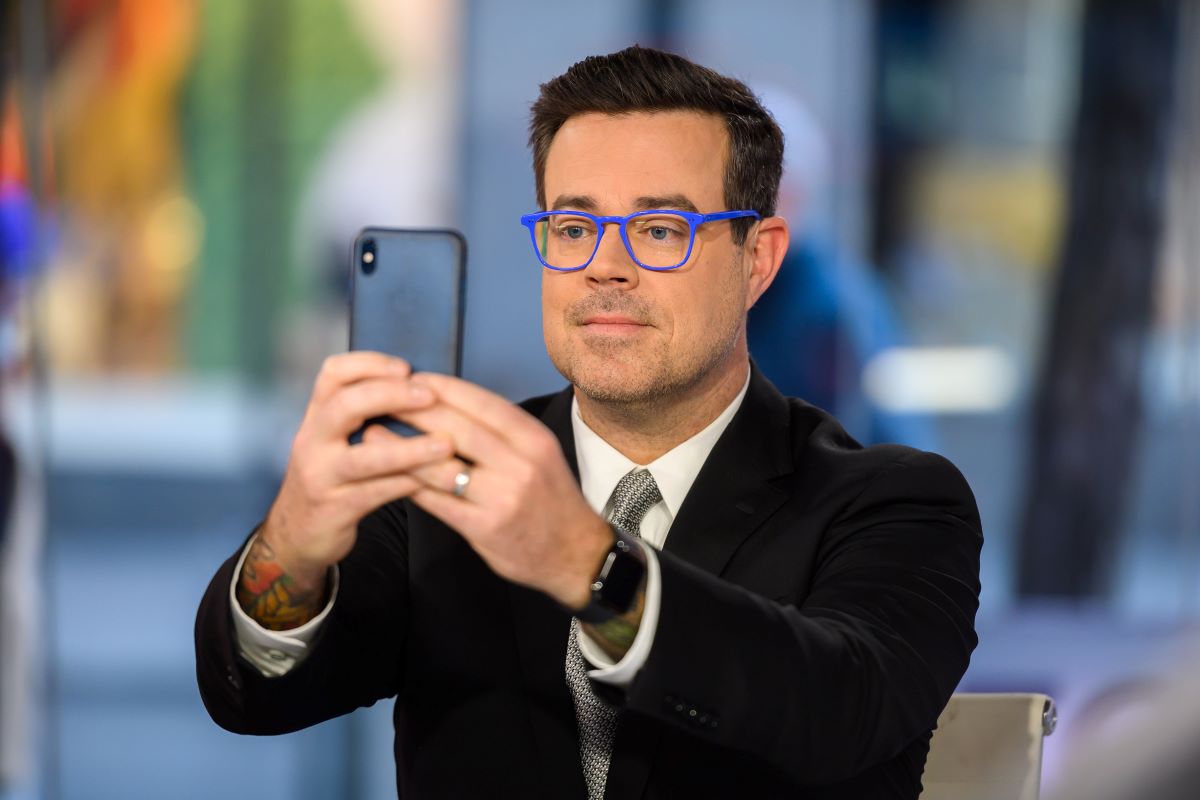 News Anchor Carson Daly impresses with stunning rectangular blue frames. Source: Today

Before you shop for your new specs, you need to consider how they can fit your face shape. Blue eyeglasses come in a wide range of different styles, shapes, and sizes. Here are some essential tips on how to wear glasses for your face shape.

Round faces will benefit from thick-rimmed blue glasses with straight lines. Go for something square, like the Beyond frames, to add more angles to your face.


Oval faces are universally accepted for any type of glasses. However, if you want to step out of your comfort zone, a pair of blue geometric frames – like the Gem frames – can add a bit of spice to your look.


Square faces have hard angles that need to be balanced out. Thin, cat-eye frames in light blue (such as the well-loved Embrace glasses) can soften your features and create a harmonious look.


If you have a diamond-shaped face, let your cheekbones shine with round frames. Something in cool blue, like the Gala glasses, can work wonders for your features.


Heart-shaped faces are destined for playing up proportions. You need a pair of blue oval frames to accentuate your angles and best features. The August frames are our favorite!


And of course, we can't leave out those with triangle-shaped faces. If you have this face shape, bring harmony to your proportions with oversized frames, such as the Deluxe glasses.

How to wear blue glasses with confidence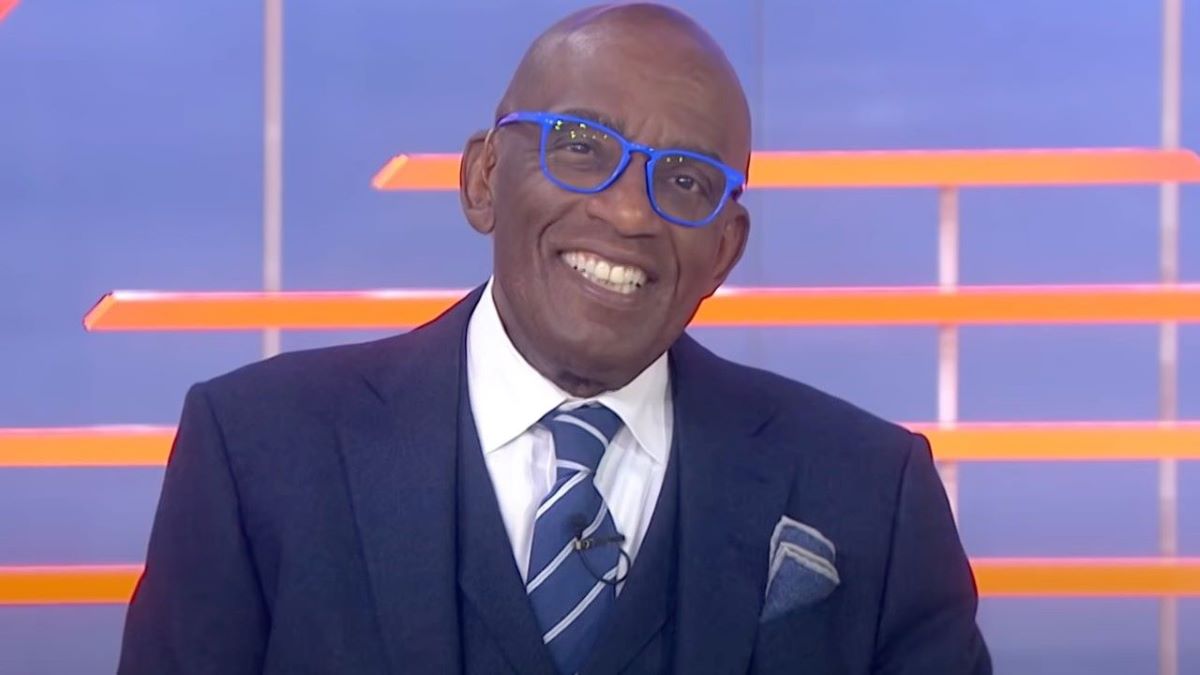 Blue frames and a smile shows famous weather presenter Al Roker brimming with confidence. Source: CinemaBlend
Go beyond color and match the tone of blue

Aside from focusing on which shade of blue glasses you get, consider how it'll match the rest of your outfit. Many people often go the monochromatic route and match everything in color.

Try matching the tone of blue from head to toe. For instance, if you're wearing our light blue June frames, pair them with a light blue top and bottom as well for that harmonious vibe.

You don't need to match every piece of your outfit

In contrast, play with shades of blue to add a dynamic edge to your outfit. So, if you're wearing the deep blue Chord frames, go for a light blue dress and shoes. Remember, you don't have to look too "matchy-matchy," or you might get overwhelmed.

Accessories help make an agile fit for blue glasses

Every fashionista knows how essential accessories can be, whether a pair of glasses or some jewelry. Sometimes, it can make or break your outfit.

If you're wearing blue eyeglasses already (such as the Champ frames), match them with other blue accents in your outfit. A scarf or a pair of earrings in the same shade and pattern will create an effortless, cohesive look in no time.

Consider your hair color

While contemplating which pair of glue glasses you should get, consider your hair color too. Have you recently dyed it? What's the tone of your hair color right now?

If you have warm-toned hair like bronze or honey blonde, go for blue glasses with a slightly yellow or green undertone. Something like cerulean or turquoise (like our Glamour glasses) will look perfect on you.


Conversely, cool-toned hair like ashy brown or platinum blonde matches well with deep blues. Shades like sapphire and navy are great options for your glasses (the Gentle glasses are an excellent example of this).

Blue glasses for different occasions
Blue spectacles can match any occasion, especially with the right outfit. If you're planning to buy a pair, consider what your usual schedule looks like.

If you're always at work, get a classic navy blue pair with a few subtle accents. Something like our Zion frames can elevate your work persona.


For formal events and vacations, why not play up your personality? Wear something fun and cute, like the patterned blue Vow glasses.


And, of course, if you're gunning for outdoor activities, check if you have the right blue glasses for the task at hand. You'll need something lightweight with nose pads (like the Euphoria glasses), so they won't easily slip off your face.

Blue glasses will bring you calm and peace
Blue glasses might be the necessary touch of calmness you need in life. It lends a sense of relaxation and harmony, making your outfit more cohesive and put-together.

If you're still unsure of how blue glasses can fit your face, try wearing them now with our free virtual try-on tool.