Been wondering which glasses best suit your long face?

You'll be happy to know that long faces are one of the most attractive face shapes around, thanks to their slimmer facial features. Think the likes of Bella Hadid and Keanu Reeves; they too, wear glasses and look sexy in them!

In this article, we'll explore what the best frames for long faces are and recommend flattering designs for you that will turn heads wherever you go.
What is a long face?
How do you know if you have a long face? A long face is a general term to describe a face shape with a lengthier bottom half. Heart-shaped faces, oval faces, and diamond face shapes may also fall under the long face category based on these few key traits:

A large forehead

The broad forehead is a common trait of long faces and typically regarded as an attractive feature.

Narrower face width

A long face has a length greater than the width of the face. It also has a lower half that's longer than its upper half.

A pointy chin

Long faces usually feature sharp, pointy chins.

High cheekbones

High cheekbones are yet another common trait of a long face that are considered desirable.

So, what are the best eyeglass frames for long faces? Let's find out!

The most flattering glasses for long faces
With help from our in-house style consultants, we've picked out the best glasses from Mouqy for long faces. But before that, here are some tips to keep in mind before you start shopping:

Go for oversized frames as they will give an illusion of a smaller face.

Choose wider frames that go past your cheekbone area to balance the proportions of a lengthy face.

Most importantly, go with your gut feeling and purchase what you feel most comfortable with. Anyone can give you advice but only you can make that decision.
1. Rectangular frames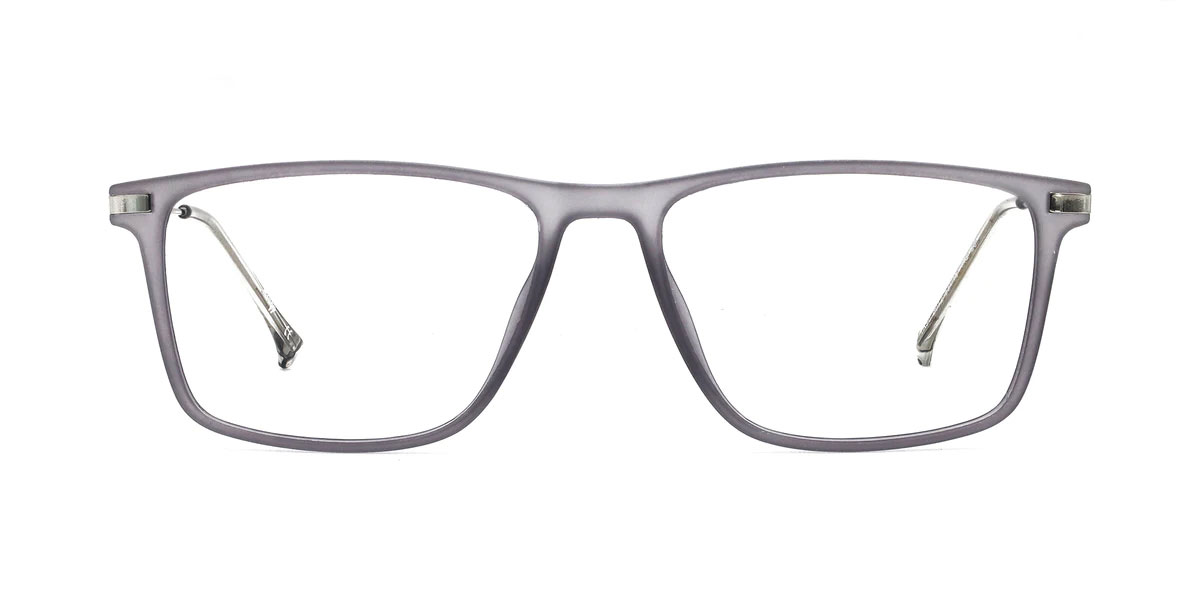 Go for an effortlessly modern look in Mouqy's rectangular gray
Nick
frames.

Rectangular frames are the best shape for long-face individuals as they draw attention to your high cheekbones and shift attention away from the face's length. Avoid getting narrow rectangular lenses as that will make your face appear even more elongated.

2. Square frames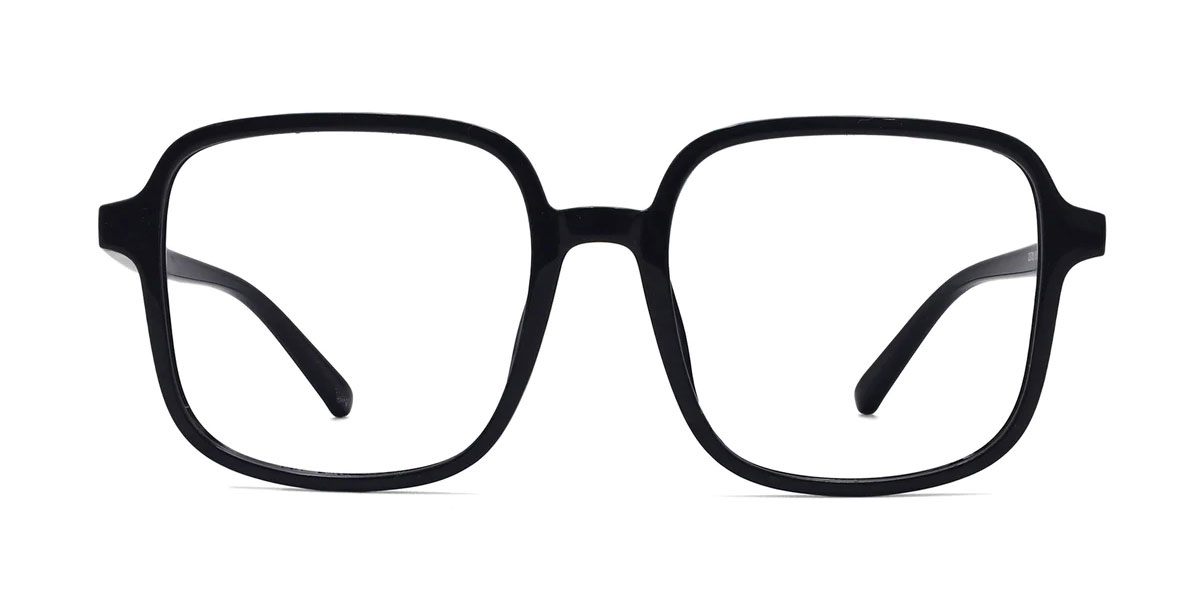 Be bold in Mouqy's square black
Navy
frames.

These boxy square frames have angular features that balance out the proportions of long faces. Not everyone can pull off a square frame, so consider yourself blessed to be among the lucky few.

3. Aviators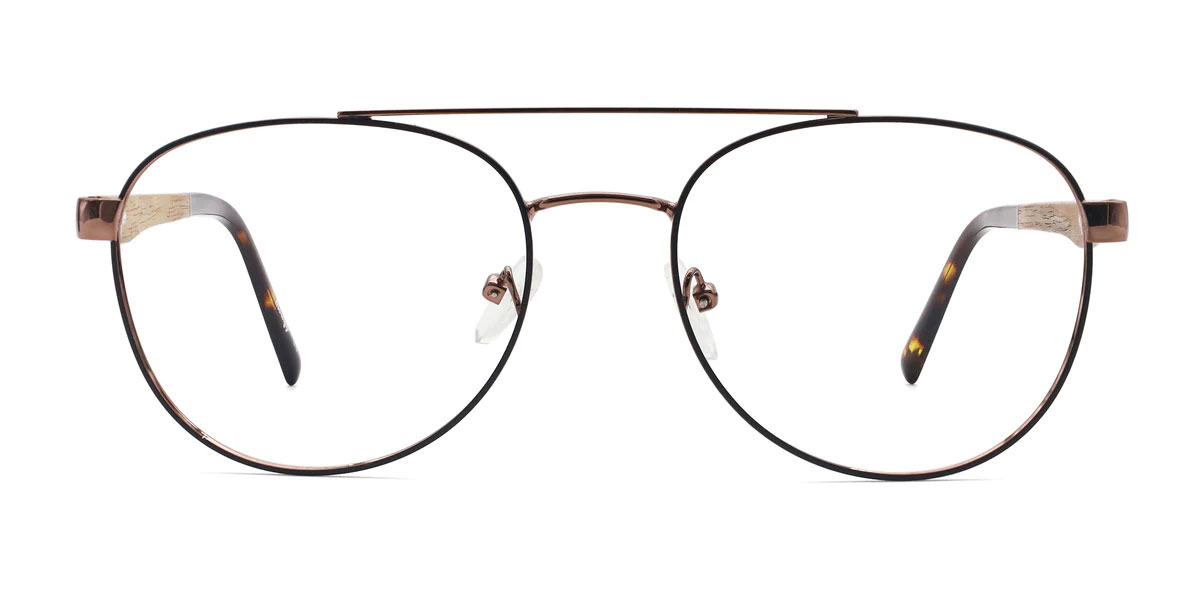 Look and feel sleek in Mouqy's aviator
Burgundy
frames.

Aviators are one of the best glasses for long-faced men, whether worn as a pair of sunnies or anti-blue light glasses. The elevated straight top bar creates a nice facial symmetry and looks best on individuals with long oval faces.

4. Cat eye frames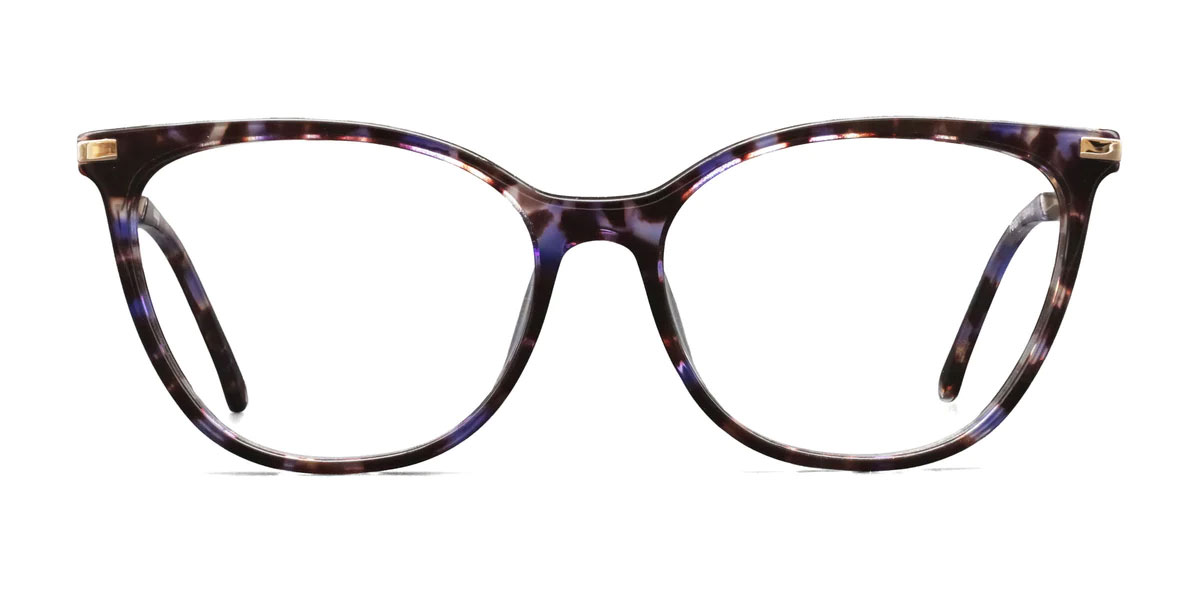 Bring out your
purr-fect
eyes in Mouqy's cat eye
Reiki
frames in purple.

Another ideal choice for long faces, cat eye frames add a chic air of mystery to your look. If you choose a slightly pointier frame, your glasses can give your eyes a lifted look without the need for makeup. That said, avoid choosing a design with overly pointy corners as it might overshadow your natural beauty.

5. Two-toned frames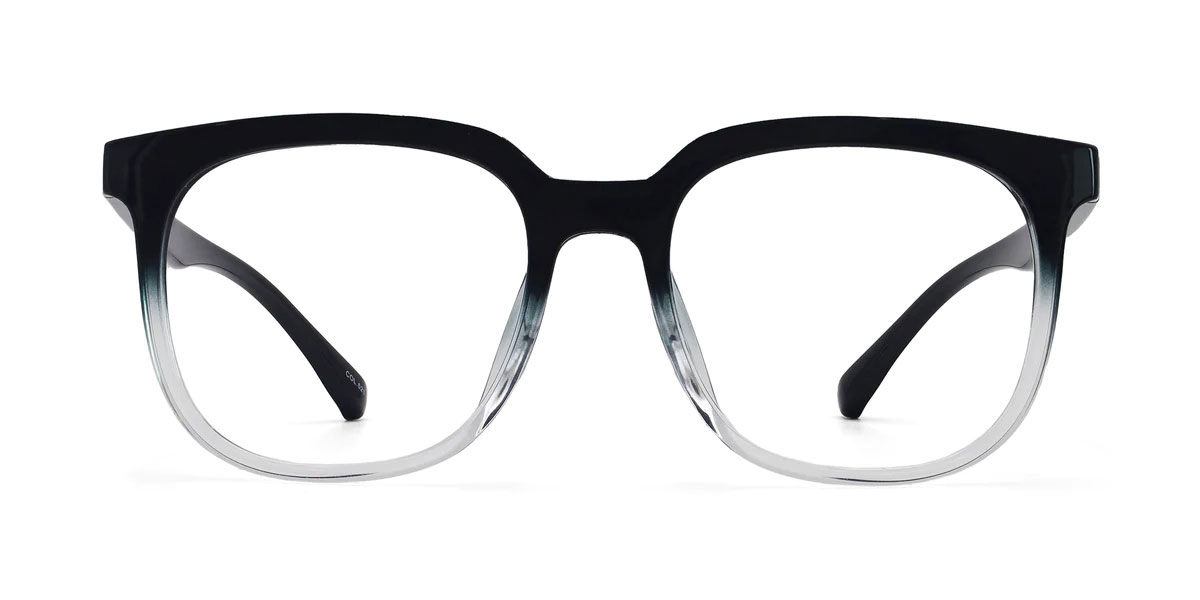 Stay ahead of the curve with Mouqy's two-toned
Dazzling
frames in blue.

Also known as ombré glasses, this type of frame features a darker shade of color at the top of the frame and works well to accentuate your eyes. These frames are commonly found in acetate material.

The best sunglasses styles for long faces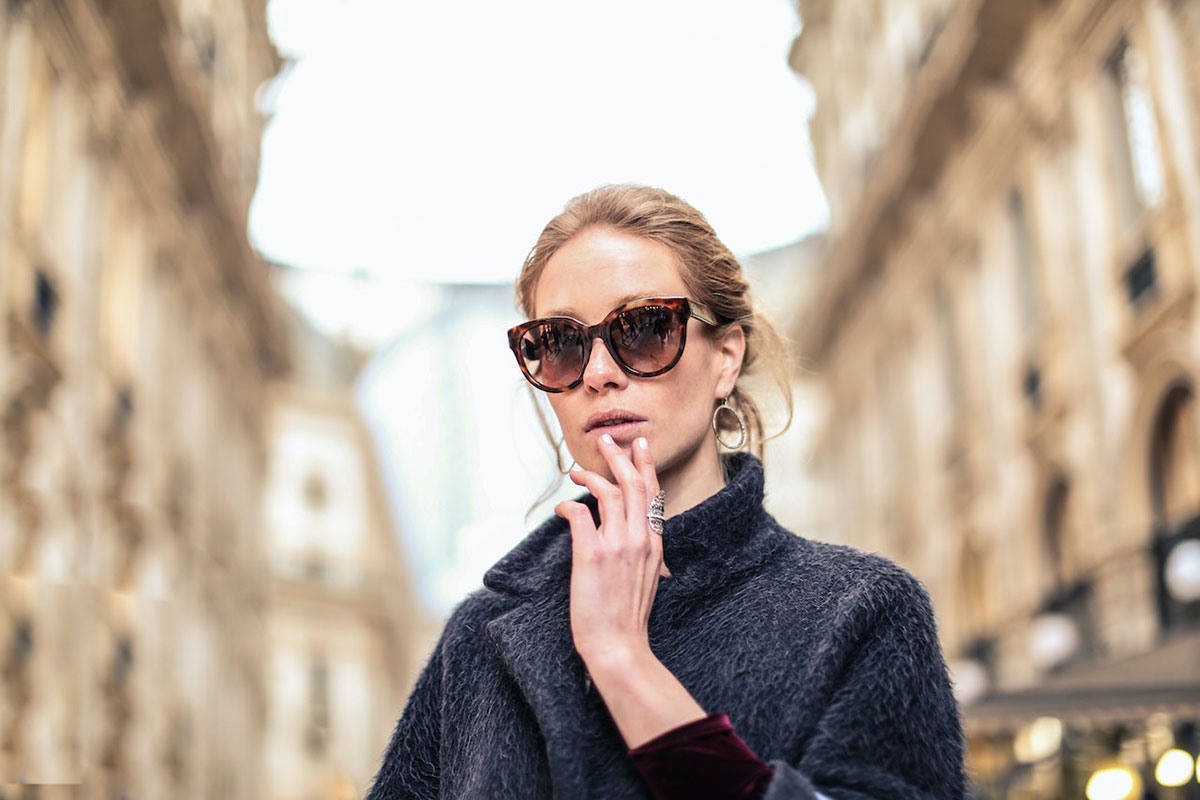 Long faces are one of the few face shapes that suit oversized sunframes.

Set sail for a killer look by opting for oversized rectangular sunglasses or aviators! Long faces have the ideal proportions for oversized sunglasses as they won't drown out your face, and you can never go wrong with aviators or rectangular frames as they're classic styles.

Frames you might want to avoid for a long face
While your facial features are versatile enough to pull off most designs, there are also certain frames you'd want to avoid if you don't want to stand out the wrong way.

Narrow frames and round-shaped frames are two designs that may lengthen your face, creating a less ideal look as they don't add symmetry to your features.

In addition, avoid frames that are narrower than your face (the distance between your left and right cheekbone). These frames will make your face appear larger.

Nevertheless, what matters most is choosing the frames that you can feel confident and attractive in. Go with what you love!

Celebrity with long faces in their favorite specs
Glasses are not just functional eyewear; they make great accessories on the red carpet too. Celebrities like Liv Tyler, Jake Gyllenhaal, and Megan Fox have proudly worn theirs in public and look great doing it.

If they can capture the paparazzi's attention with a pair of bold frames, so can you!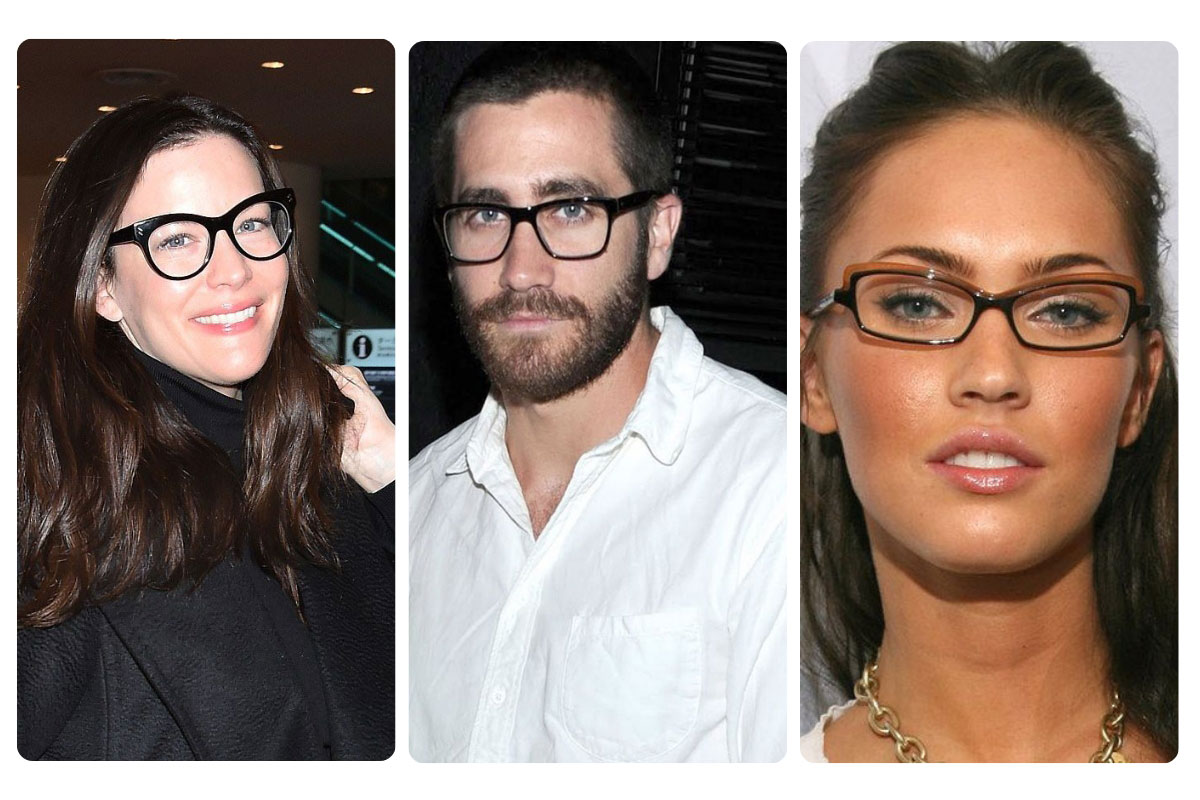 Liv Tyler, Jake Gyllenhaal, and Megan Fox are some of the celebs with long faces who have worn glasses in public or on the red carpet.
Still not sure if you have a long face?
If you're still unsure whether your face falls under this category, here is a trick to solve this your dilemma once and for all:

First, measure the length and width of your face. For the length, measure from the top of your forehead to the outer tip of your chin. For the width, measure from the outer side of your left cheek to your right cheek. If the length is greater than the width, congrats – you officially have a long face!

But what if you fit none of the above criteria? Not all hope is lost – at Mouqy, we have all kinds of frames to cater to any face shape. Take a look at our comprehensive guide in which we explore the different face shapes and the best types of glasses for each one!

Other considerations when choosing glasses for long faces
Aside from selecting the most flattering frame shapes, there are a few specific design elements you can take into account when choosing your pair.

If you want to stand out, thick acetate frames make a great fashion statement that have the added bonus of balancing out the length of your face.

What about colors? Luckily for long-faced individuals, you can go wild with decorative frames that showcase your personality. These colors will bring focus to your eyes and play up your bold and confident side.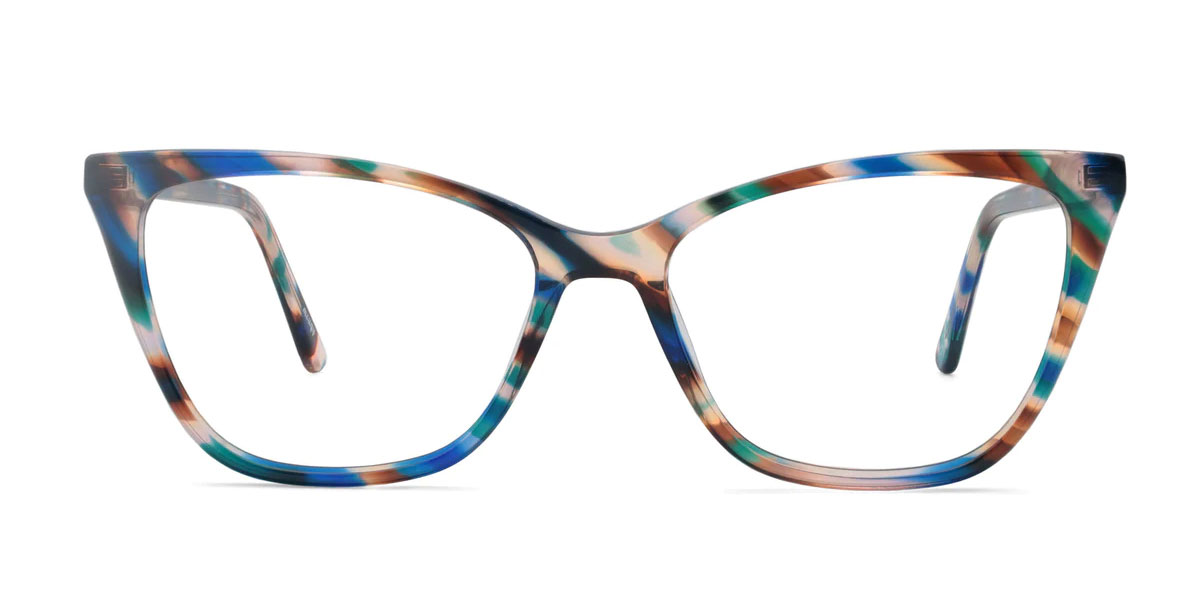 Make an entrance with Mouqy's cat eye
Vow
glasses in blue.
Making sure your glasses fit your face properly
So, you've found the right design for you. Now it's time to test whether your favorite pair can also be comfortable for all-day wear.

We know how difficult it can be to find a pair of glasses that sits comfortably on your nose bridge without slipping off. To ensure that yours fits this criteria, find out how to get your glasses measurements before making your final purchase!

Still wondering how to find the perfect frames?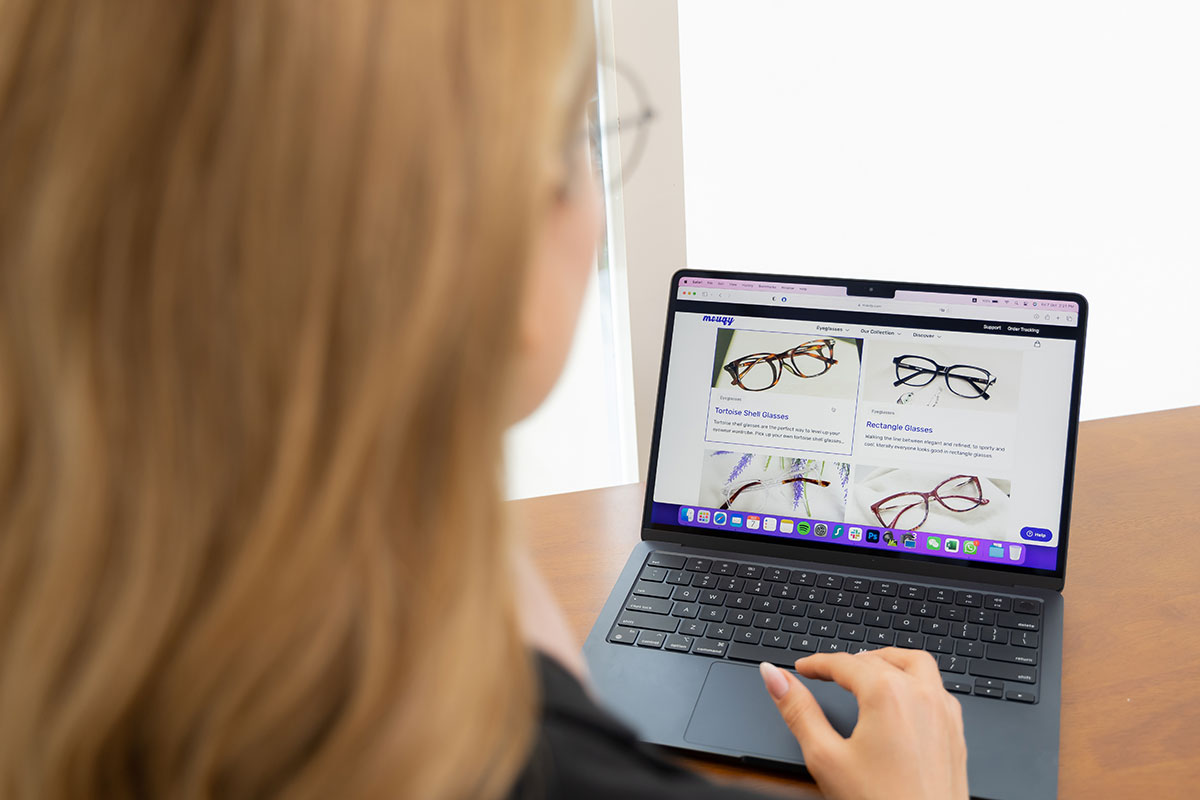 Choosing the perfect pair doesn't have to be overwhelming, especially when you can virtually try on any design from home.

Curious to try other designs on Mouqy but want to know how you look in them before you commit? Enter our unique virtual try-on feature that allows you to explore every frame (even the ones we told you to avoid) from the comfort of your home!

Seeing is believing, so give it a go!

Frequently asked questions
1. What shape of glasses goes with a long face?

Rectangular frames go best with a long face. Anyone with a long face will look more refined and sharper in these angular frames as their corners balance out your proportions. We also recommend choosing frames that are wider than your cheekbone area for a fuller look.

2. Do cat eye glasses suit a long face?

Yes, cat eye glasses are great for long faces! It's a versatile design that suits many face shapes. These flattering frames with their slight pointy corners and round bottom edges can make long faces appear wider and more attractive.

3. Do square or round glasses go better with a long face?

Square frames are better than round glasses due to their geometric shape that contrasts perfectly with long faces. Pick square glasses that are slightly oversized for a well-balanced look.