Ever wondered what the 'art hoe' aesthetic taking over social media is all about?

If your answer is yes, this article is your sign to immerse yourself in its captivating world.

In short, it's a fashion trend that unapologetically celebrates creativity and individuality. It's a fascinating blend of color palettes, patterns, and unconventional sartorial choices.

Glasses are an essential part of nailing this aesthetic, so aside from delving into what makes someone an 'art hoe', this article will also share some eyewear recommendations to help you out.

Get ready to unleash your inner artist!

Art hoe aesthetic – where creativity and artsy style converge
Before anything else, what exactly is the art hoe aesthetic?

Let's delve into its origins and defining characteristics.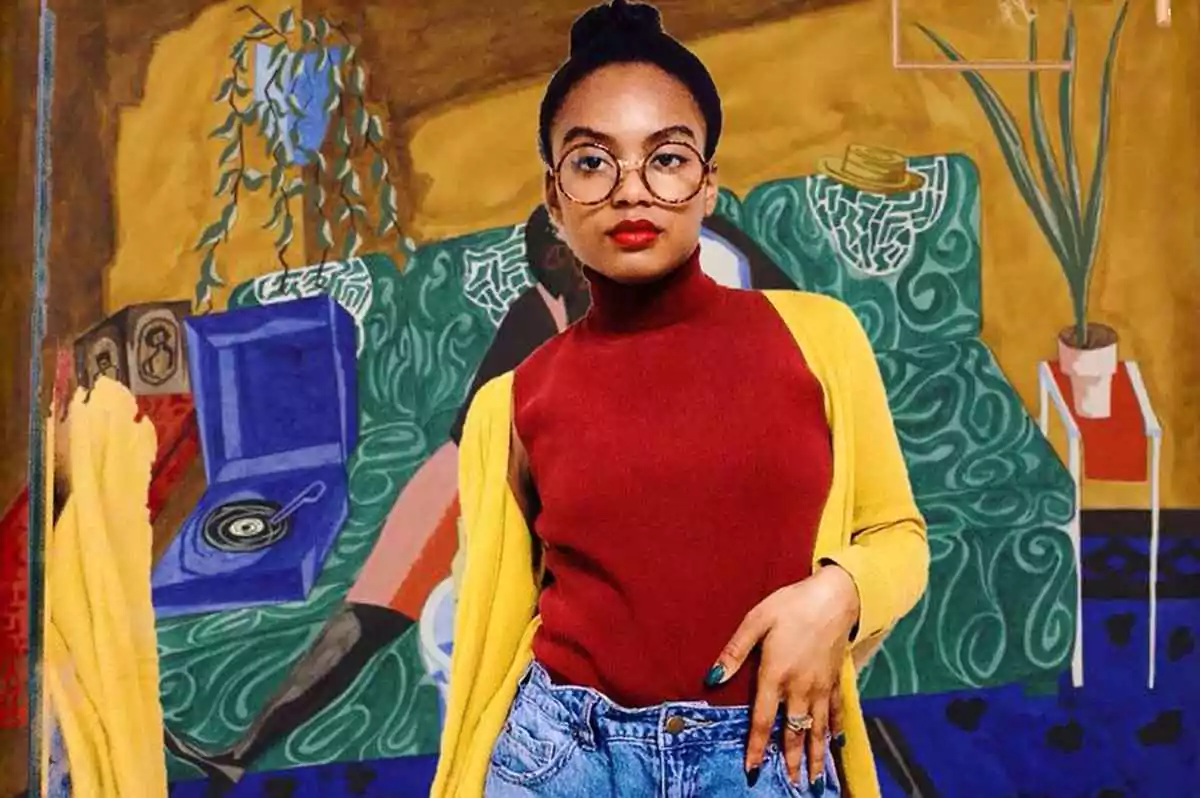 The art hoe aesthetic features lively, diverse combinations of colors, patterns, and textures. Source: Widewalls

The term "art hoe" originated from an art movement that gained popularity on social media platforms, particularly Tumblr, in the early 2010s.

Lively, diverse combinations of colors, patterns, and textures characterize the art hoe aesthetic.

It blends vintage and contemporary elements to create visually striking ensembles.

This aesthetic celebrates diversity, inclusivity, and a passion for the arts, empowering individuals to express themselves through personal style choices.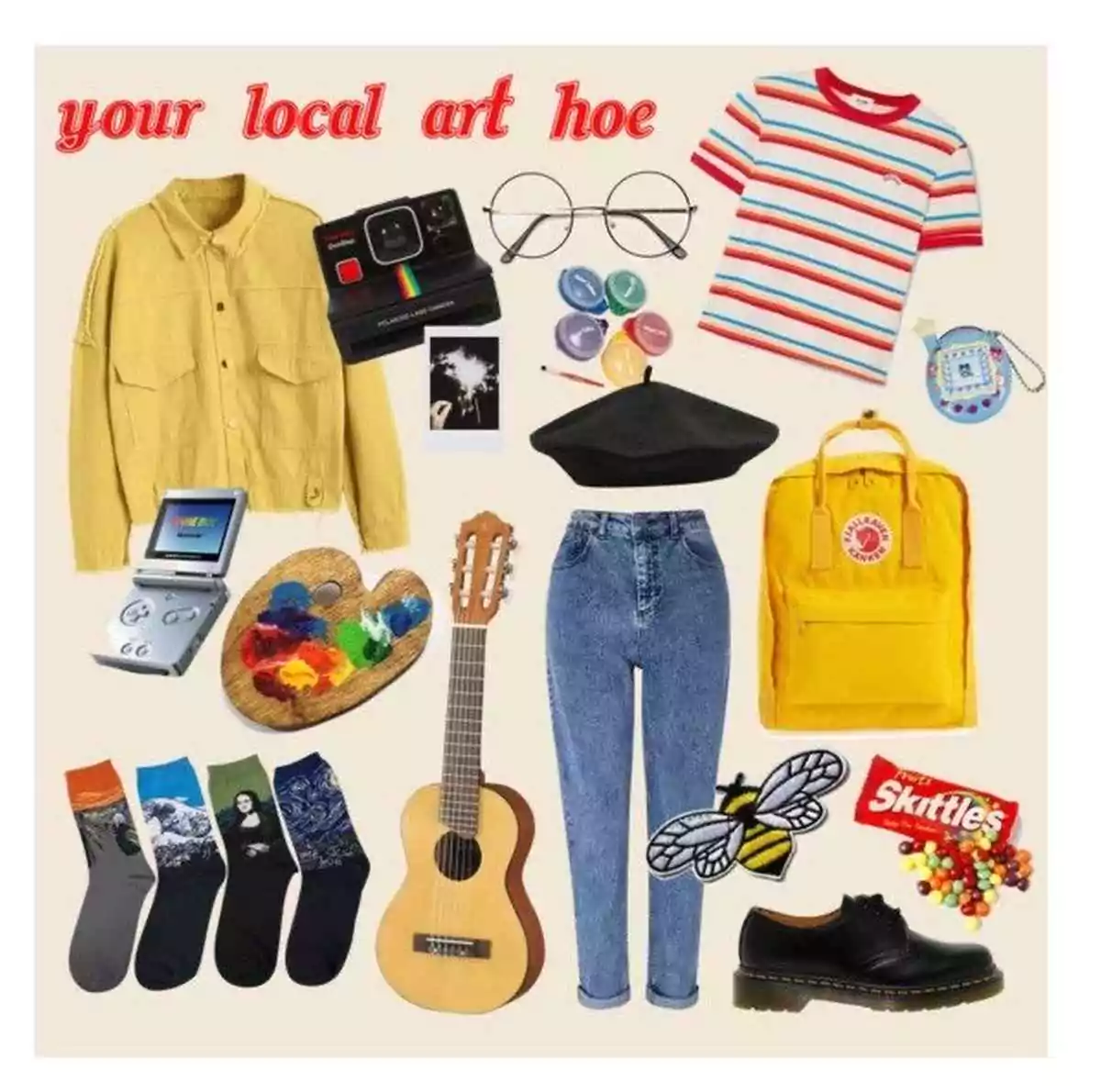 With the art hoe aesthetic, individuals channel their artistic spirit through their fashion. Source: Tumblr

In terms of clothes, layering is key, as this allows you to skillfully mix different textures and patterns to curate a harmonious and visually intriguing look.

Some standard art hoe pieces include mom jeans, overalls, graphic tees, striped shirts, and chunky cardigans.

Mustard yellow, known for its warm and vibrant appeal, often finds its way into the art hoe aesthetic.

Footwear options include Vans, Converse sneakers, Doc Martens, or Mary Janes.

Art supplies and paint can even be incorporated as accessories to emphasize the creative spirit of the aesthetic.

Aside from apparel, hairstyles also play a significant role in completing the art hoe aesthetic.

Many of its followers use natural textures and styles for a low-maintenance yet effortlessly cool look.

Think voluminous afros, cascading curls, or messy buns adorned with colorful hair clips or floral accents.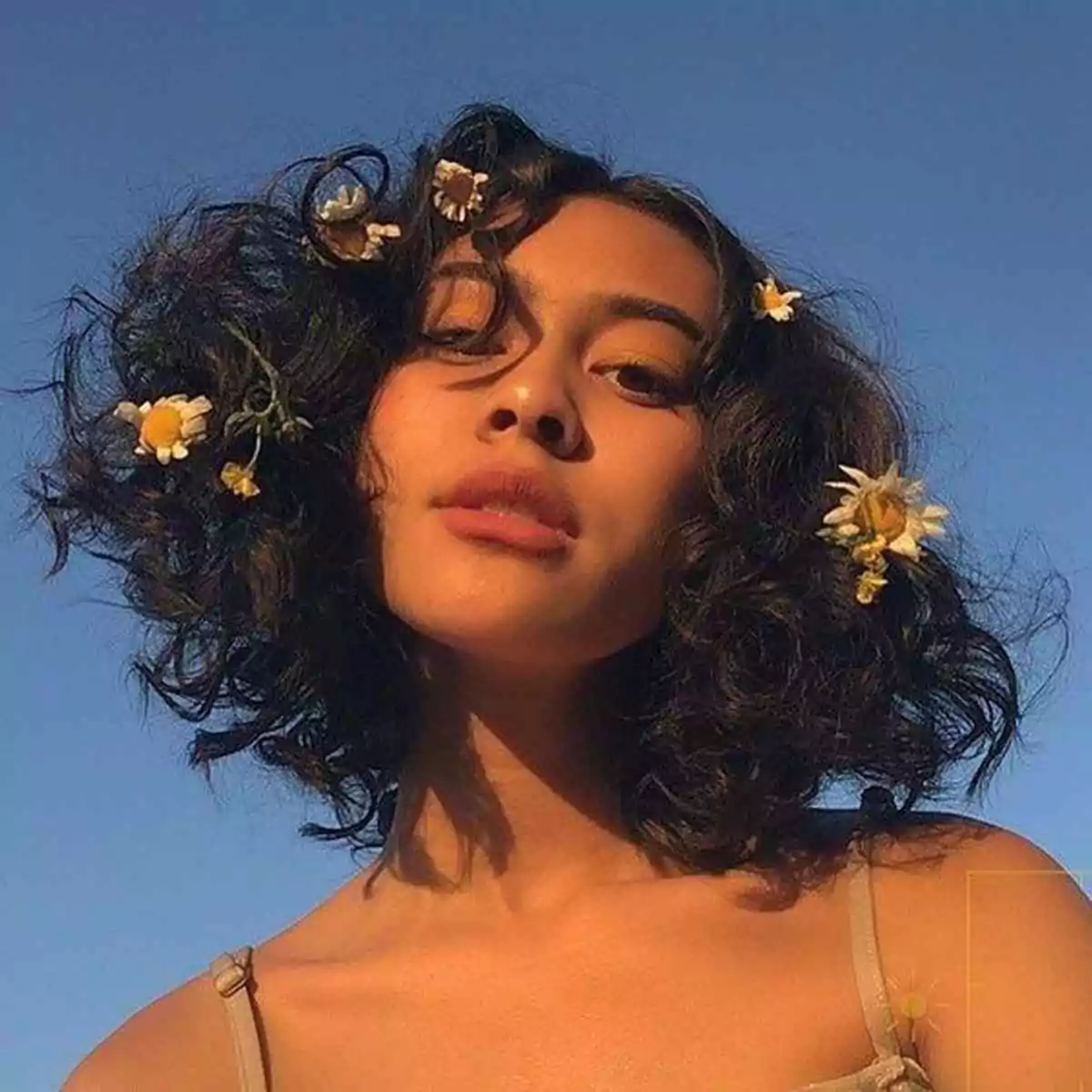 Voluminous hair with floral accents embrace the art hoe aesthetic's essence of nature and creativity. Source: Pinterest
When it comes to makeup, the art hoe aesthetic favors a natural and minimalist look.

This can be achieved with a dewy, radiant complexion, soft eyeshadows, defined lashes, and subtle lip shades.

Real-life inspirations for the art hoe aesthetic
The art hoe aesthetic has made its mark on the fashion world and pop culture, thanks to a diverse host of influential figures who have embraced this creative style.

1. Amandla Stenberg
Amandla Stenberg, one of the unofficial faces of the art hoe aesthetic, wears oversized square pink-tinted frames. Source: Pinterest

Popularly known for their roles in films like "The Hunger Games" and "The Hate U Give," Amandla is a talented actor as well as an influential fashion icon.

Her fearlessness in embracing and expressing herself has become synonymous with the art hoe aesthetic.

2. Babeo Baggins (B.B)
Babeo Baggins (B.B) showcases the rebellious side of the art hoe aesthetic with round metal frames and a mullet. Source: IQ.Wiki

The musician and artist is another well-known name associated with the art hoe aesthetic.

Their style is a fusion of whimsical charm and retro vibes, often featuring vibrant and unconventional outfits that push the boundaries of fashion norms.

3. Willow Smith
Willow Smith has always pushed the fashion envelope with looks like this where she pairs full-rimmed black glasses with a belt worn as a choker. Source: Elle
Singer and actor Willow Smith has been a driving force in pushing alternative styles to the mainstream, including the art hoe aesthetic.

Whether it's her playful use of colors, eye-catching accessories, or unexpected outfit combinations, Willow Smith keeps finding ways to inspire others to embrace their artistic sensibilities.

Glasses that embody the art hoe aesthetic
1. Round glasses

Crafted with a metal frame and adorned with a black-gold finish, Abby makes geeky chic look elegant.

Pair them with light wash high-waisted mom jeans, a graphic tee, and chunky vintage-inspired sneakers for a relaxed yet stylish look.

The mustard yellow April frames embody the playful and vibrant spirit of the art hoe aesthetic.

To take that playfulness up a notch, pair a flowy bohemian-inspired maxi skirt with a fitted black turtleneck.

Complete the look with ankle boots and accessorize with oversized hoop earrings and layered necklaces.

Winnie is one of those designs that puts a fresh twist on the classic round design.

Crafted from red acetate, this full-rimmed frame exudes a modern and quirky vibe.

Wear them with high-waisted black skinny jeans, an oversized statement tee, and go for either platform boots or chunky sneakers.

2. Tortoiseshell glasses

The Hipster glasses are not just eyewear, but a statement piece that adds a touch of artistic flair to your ensemble.

The pink and black tortoiseshell print elevates this pair above your run-of-the-mill tortoiseshell pair.

Make these frames pop with a flowing midi dress with abstract patterns and Mary Janes.

Then, stack some delicate and bold rings on top of each other.


The Jocose eyeglasses showcase an eye-catching blue tortoiseshell print with eye-catching flecks of yellow and red.

For a fail-proof outfit, wear high-waisted black jeans, a loose-fitting white blouse with subtle artistic details, an oversized neutral-toned cardigan, and white sneakers.

Keep accessories minimal so the eyeglasses can shine as the ensemble's centerpiece.

3. Browline glasses
The Opulance exudes refined elegance with its minimalist clear upper frame and sleek metal construction.

Pair them with a tailored blazer, high-waisted trousers, and a crisp white shirt for a sophisticated, effortlessly chic look.

The Fair glasses offer a touch of playfulness and uniqueness to your everyday wear.

The most interesting detail of this pair is the browline accent in a stunning pastel pink hue, giving it just the right amount of art hoe-worthy artistic flair.

Wear a leather jacket over a linen blouse and pair them with ripped jeans for a look that's edgy and feminine all at once.
The Brainy pair is designed to bring out your art academician side, what with its no-frills, no-fuss black browline rim.

Pair them with a blazer worn over a flowy floral dress, brogues, and a chunky scarf for a charming, art history lecturer-esque look.
Embracing the art hoe aesthetic
While there are certain pieces that define the art hoe aesthetic, ultimately it's about embracing your artistic inclinations and wearing your passions on our sleeves — literally.

It's also about breaking free from conventional fashion norms and embracing a style that reflects your unique personality.

Whether you're drawn to the vintage-inspired charm of round glasses, the timeless elegance of tortoiseshell frames, or the sophisticated allure of browline glasses, there's a pair of eyewear waiting to elevate your art hoe aesthetic.

The eye candy doesn't end here! Be sure to get more inspiration from our full range of aesthetic glasses right here on Mouqy.