Clear glasses have become a popular fashion statement, and it's easy to see why. For starters, they can add an element of sophistication or fun to any outfit.

But how do you actually pull off this trend without looking like you're trying too hard? In this style guide, we'll show you how to wear clear glasses with confidence.

How to pick the right pair of clear glasses for you
The key to nailing this trend is selecting the right shape to flatter your face shape. The right shape of glasses can enhance your features and complement your entire look.

To find the perfect match, look for a pair that creates balance among your features. For example, if you have a round face, opt for angular or square glasses to add definition.

These transparent square Hype frames made of acetate are durable and comfortable, making them perfect for daily use. What's more, they're stylish and can give rounder features more dimension.


Alternatively, if your face is more angular (e.g. square, triangle, or diamond), go for round or oval glasses to soften the edges. Take these gorgeous transparent Kingly frames for instance. The curves will add some softness to a sharper face shape instantly.


And for heart-shaped faces, you can do both angular and rounder frames, as well as two-toned frames to accentuate your features. This fun pink pair here checks both boxes with its rectangular frame and two-toned design.


Regardless of what your face shape is, all it takes is choosing the right pair of clear glasses to transform your look from ordinary to extraordinary.

Tips for styling clear glasses
1. Go for outfits with a lighter palette

While it can be tempting to opt for darker shades to contrast with your glasses, going for pastel colors and lighter hues can make your overall look more cohesive. It also lets your glasses stand out without clashing with bold colors.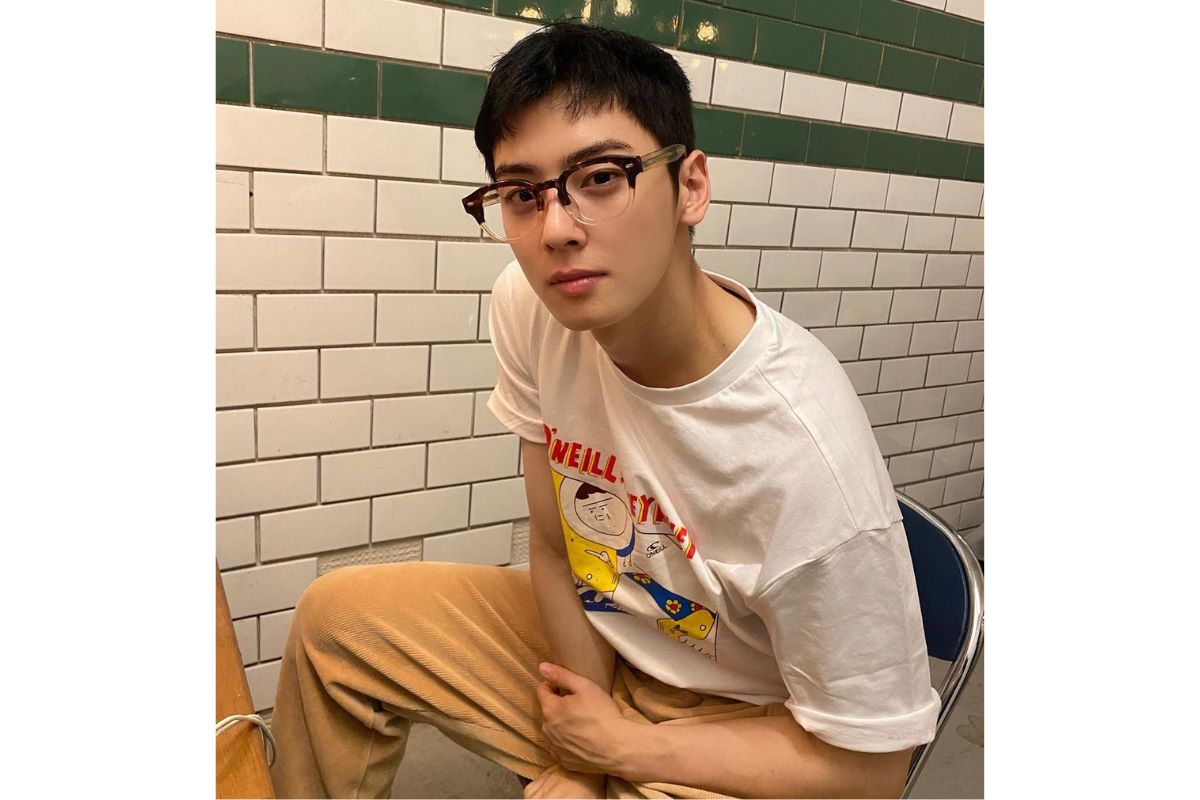 K-pop star Cha Eun Woo sports two-tone clear glasses with a white graphic tee and some light-colored corduroy pants. Source: Kpopmap

For a simple yet chic look, try pairing clear glasses with a crisp white shirt and light wash jeans. Alternatively, you could wear a pastel dress with clear glasses to add a touch of sophistication.

You can even take it a step further by accessorizing with delicate jewelry or a statement bag. Just be careful not to go too matchy-matchy, or you might look like a walking Easter egg.

The goal is to create a subtle, effortless ensemble that shows off your sense of style without looking all over the place.

2. Keep your makeup neutral

If you want to rock clear glasses and look fantastic while doing it, avoid louder makeup colors and go for a more subdued, natural look that accentuates the transparent minimalism of your glasses rather than compete with them.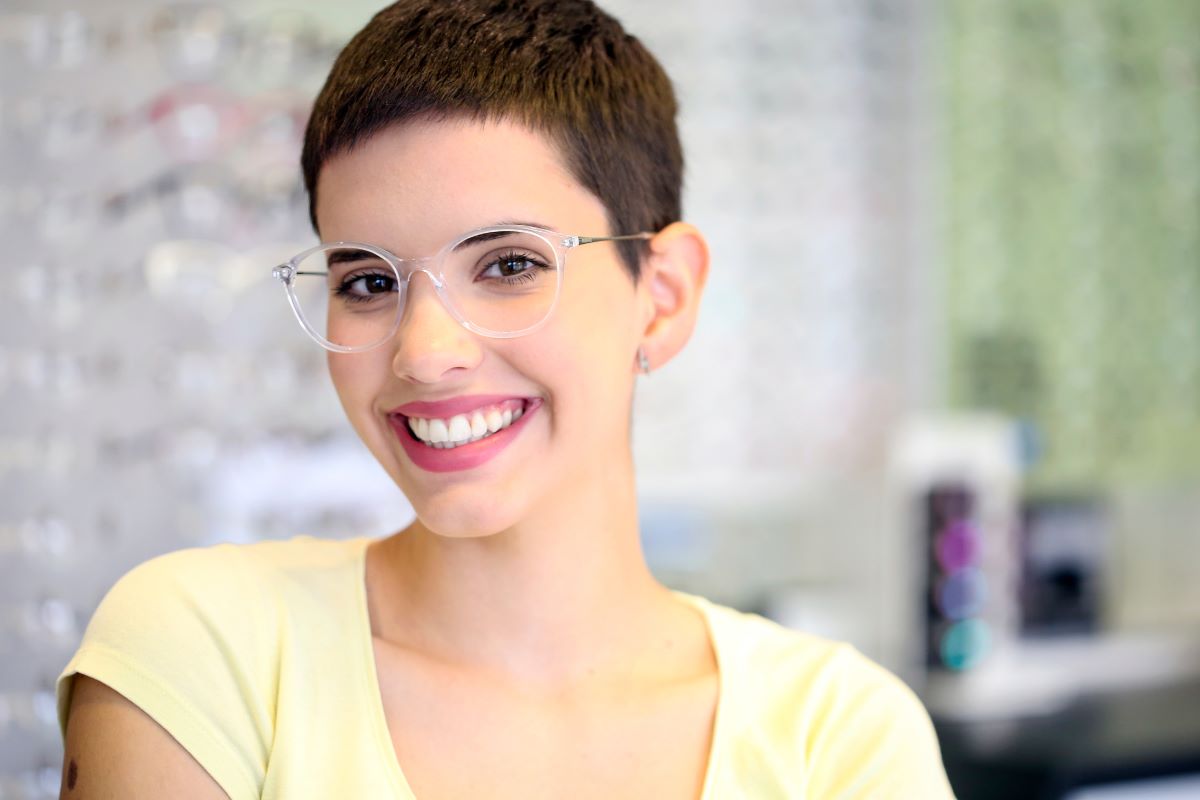 A more subdued, natural makeup look complements the transparent minimalism of your glasses.

Heavy makeup like bold red lips, smoky eyes, or contouring can easily steal the spotlight from your transparent frames, leading to an unbalanced and overwhelming look.

Instead, opt for soft, natural colors that complement your features. Think light, dewy foundation, diffused blush, and neutral lip colors. If you do want to add a pop of color, try a subtle cat-eye or a light wash of shimmery eyeshadow.

With clear glasses, the goal is to accentuate your natural beauty, not overpower it.

3. Pair glasses with a statement-making hat or cap

When it comes to clear glasses, incorporating a hat into your outfit is a fail-safe way to add some flair. Together, they're an unbeatable duo.

Unlike other glasses, transparent frames won't compete with your hat for attention, making it easy to rock your favorite headwear and still keep your look balanced.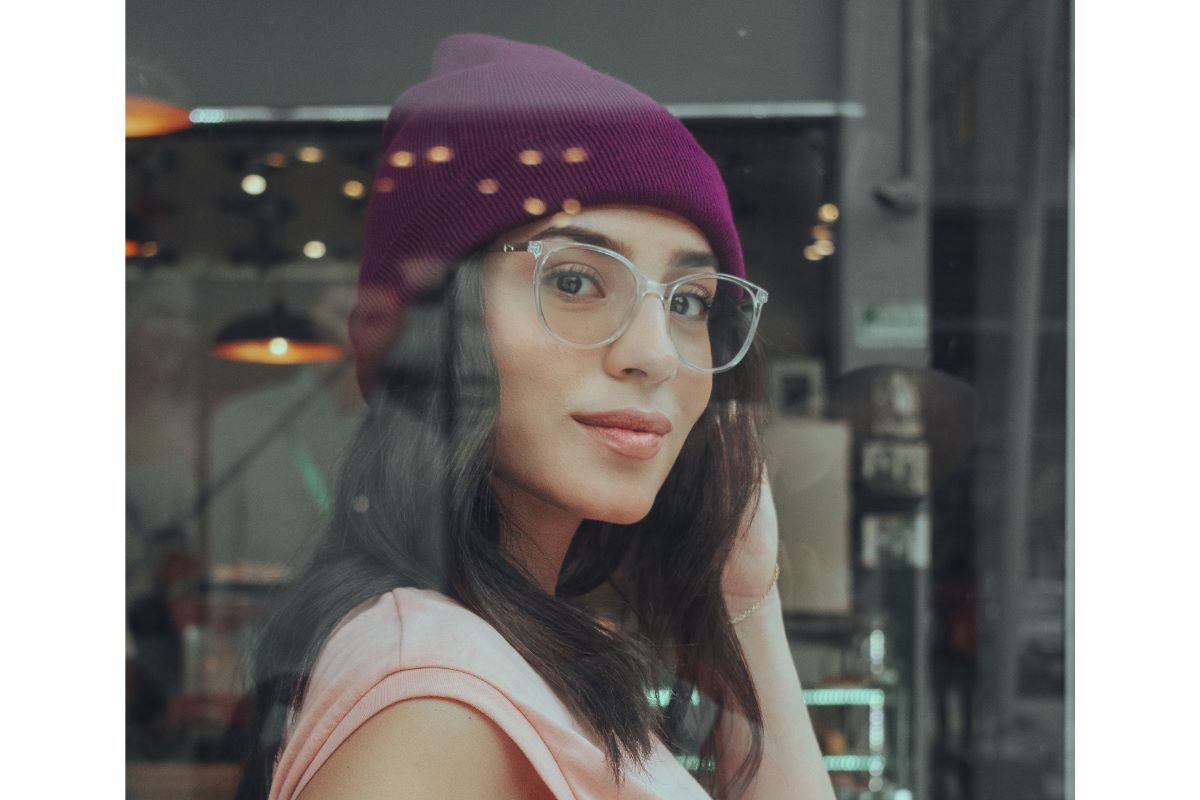 You can always rock your favorite headwear when you have transparent glasses on, as the latter won't compete with the former like other glasses might.

So whether it's a retro fedora, a trendy snapback, or a cool beanie, go ahead and top off your outfit with a statement-making hat to take your clear glasses game to new heights.

Clear glasses for every face shape
As we mentioned, your face shape can help you find the best pair of clear glasses for you. Here are some designs to get you inspired.

Retro with a dash of modernness, the lightweight and durable round Bobby frame is great for square or diamond face shapes.


If you have an oval or round face, these Orient frames in light pink are for you. This style is flattering on faces with softer, curvier features. Plus, the alternative color will lend you that cool factor.


Is your face more heart-shaped? Then, you can be a trendsetter and rock this pair of oval two-tone Ginkgo in tortoiseshell print.


This stylish Ivory frame gives off an aura of retro elegance and looks amazing on a triangle-shaped face. It adds width to the forehead and balances out the stronger jawline of this face shape.

Anyone can rock clear glasses!
A fun and versatile accessory, clear glasses are for everyone.

To make the most out of this trend, remember to choose a shape that flatters your face shape and keep your outfits on the lighter side of hues. For a playful touch, try pairing your clear glasses with a statement-making hat or cap for a playful touch. And lastly, when it comes to your makeup, remember to keep it neutral to avoid taking attention away from your glasses.

For more clear glasses, check out our full collection here.