Did you know that tortoiseshell glasses go all the way back to the 13th century? That makes them one of the most enduring styles of glasses.

Despite their popularity, figuring out how to wear tortoiseshell glasses can be a challenge. If that's the case for you, this style guide will help you embrace this timeless accessory with confidence.

In this article, we'll cover everything from selecting the right frame size to matching them with complementary outfits. You'll walk away feeling inspired and ready to rock those tortoiseshell specs like a pro.

How to pick the perfect pair of tortoiseshell glasses
With so many tortoiseshell variants out there, it helps to narrow down your choices by considering all the following factors:

1. Go with your favorite colors

Pulling something off requires confidence, and what could make you feel more confident than wearing something you feel good in? That's why it helps to pick a pair of tortoiseshell glasses in your favorite color. Whether you're a fan of vibrant hues or muted tones, there's a design out there for everyone.

If you prefer a minimalist look, a classic brown tortoiseshell frame is sure to do the trick. On the other hand, if you're a bold dresser, opt for a brighter-colored tortoiseshell frame that shows off your personality, like these pink floral Florist frames by Mouqy.


And if you're feeling indecisive, frames with a mixture of colors such as gray, white, and black is the perfect way to add some personality to your outfit while still being versatile.

2. Consider your hair color

If you have lighter-colored hair such as blonde or light brown, go for frames with caramel or honey tones. These shades will complement your hair color and give you a fresh, youthful look.

If you have darker-colored hair such as deep brown or black, opt for tortoiseshell frames with black accents like this Bravo pair. This will create a striking contrast that highlights your features beautifully.


Alternatively, redheads should opt for a warm-toned tortoiseshell frame to add some extra dimension to their hair color.

3. Consider your eye color

If you have blue or green eyes, frames with warmer shades of brown like this Gentle design will create a beautiful contrast that makes your eye color pop.


Brown eyes, on the other hand, look stunning with tortoiseshell frames that have cooler tones of green or black. And if you have hazel eyes, lucky you! Hazel eyes have a unique blend of colors that can be complemented by a wide variety of tortoiseshell frames.

Just remember to choose a frame color that doesn't overpower your eye color but rather enhances its natural beauty. After all, the goal is to draw attention to your eyes, not hide them behind your glasses.

4. Consider your complexion

If you have fair skin, go for frames with lighter shades of tortoiseshell, such as honey or caramel. This will create a soft and delicate contrast that complements your natural complexion.

Darker shades of tortoiseshell such as black or dark brown will be your best bet if you have medium-toned skin. A pair like Cozy will create a striking contrast and bring out the warmth in your skin tone.


For darker skin tones, choose a tortoiseshell frame with richer and more vibrant tones, such as amber or green. These shades will add a touch of radiance to your complexion.

5. Consider your face shape

One's face shape is one of the most essential factors in picking the right tortoiseshell glasses. If you have a round face, square-shaped frames are perfect for creating angles and adding structure to your face.

If you have a square face, round or oval frames will soften the angles and complement your features beautifully. For those with heart-shaped faces, frames that balance out the different widths of your face, such as cat-eye and half-rim styles, are your best bet.


As a rule of thumb, the right frame shape should balance and complement the curves and angles of your face. It should ideally also highlight your best features and create a flattering overall look.

Top tips for styling tortoiseshell glasses
Once you've picked out your tortoiseshell glasses, it's time to learn how to make the most of them through your outfits and accessories.

Choose outfits that complement the primary colors of your tortoiseshell print

If your glasses feature warm shades of brown and amber, consider pairing them with similar warm hues in your clothing. Earthy tones like olive, rust, and mustard are a good place to start.

On the other hand, if your glasses have cooler tones like black and gray, choose complementary colors such as navy, charcoal, or white. Doing this pulls your outfit together and creates a cohesive look.

Avoid clothes or accessories with busy prints

While it can be tempting to go all out with bold prints and patterns, you might want to consider toning it down when styling your tortoiseshell glasses.

Clothes or accessories with busy prints like zebra or polka dots may distract from or even clash with your tortoiseshell glasses. When in doubt, go for solid colors or stripes to create a more subtle, put-together look.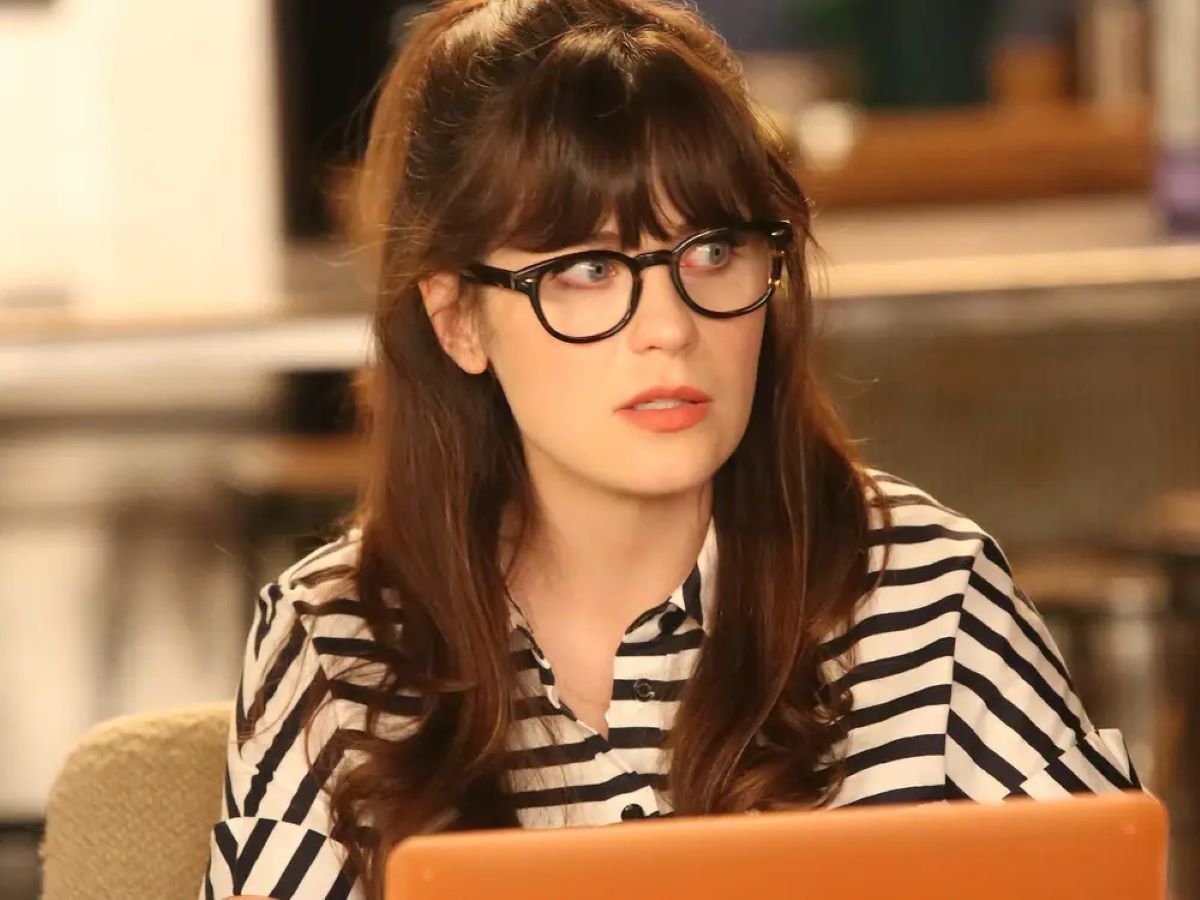 American actress Zooey Deschanel wears a simple black-and-white striped shirt with her tortoiseshell glasses. Source: Yahoo

Remember, it's all about finding a balance between your outfit and your accessories. You want your tortoiseshell glasses to be the standout element of your outfit and not just another pattern in the mix.

Go for a classic elegant makeup look

Tortoiseshell glasses are inherently retro, so what makeup look would go more hand-in-hand with them than a classic elegant one? Think red lips, defined brows, and thick mascara. For more drama, add some falsies or smokey eyeshadow in shades of brown, black, and gray.

Pick jewelry according to the tones of your tortoiseshell glasses

When it comes to accessorizing your tortoiseshell glasses, you can really get creative. The key is to pick jewelry pieces that match the tones of your frames.

For warmer-toned tortoiseshell glasses, gold jewelry with earthy undertones or gemstones that resemble the warm shades of the frame will bring out its subtle beauty.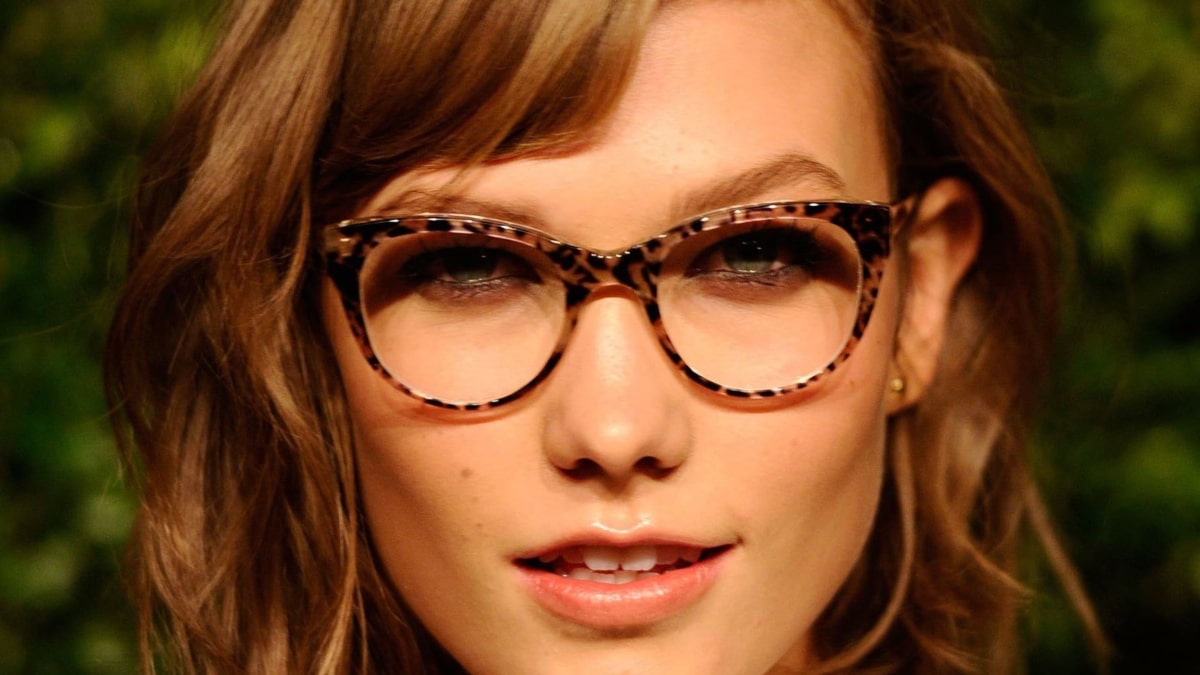 Supermodel Karlie Kloss dons warm-colored tortoiseshell frames with gold stud earrings and a gold necklace. Source: Yahoo

On the other hand, silver jewelry is perfect for cooler-toned frames and will add a touch of luxury to any look.

Celebrities in tortoiseshell glasses
There's a lot of love for tortoiseshell glasses among the stars, and they all have their own unique ways of styling them to fit their personality.

Here, Hollywood actor and funnyman Ryan Reynolds has paired his round tortoiseshell glasses with a messy coif and gray cotton shirt, making for a casual, laidback look.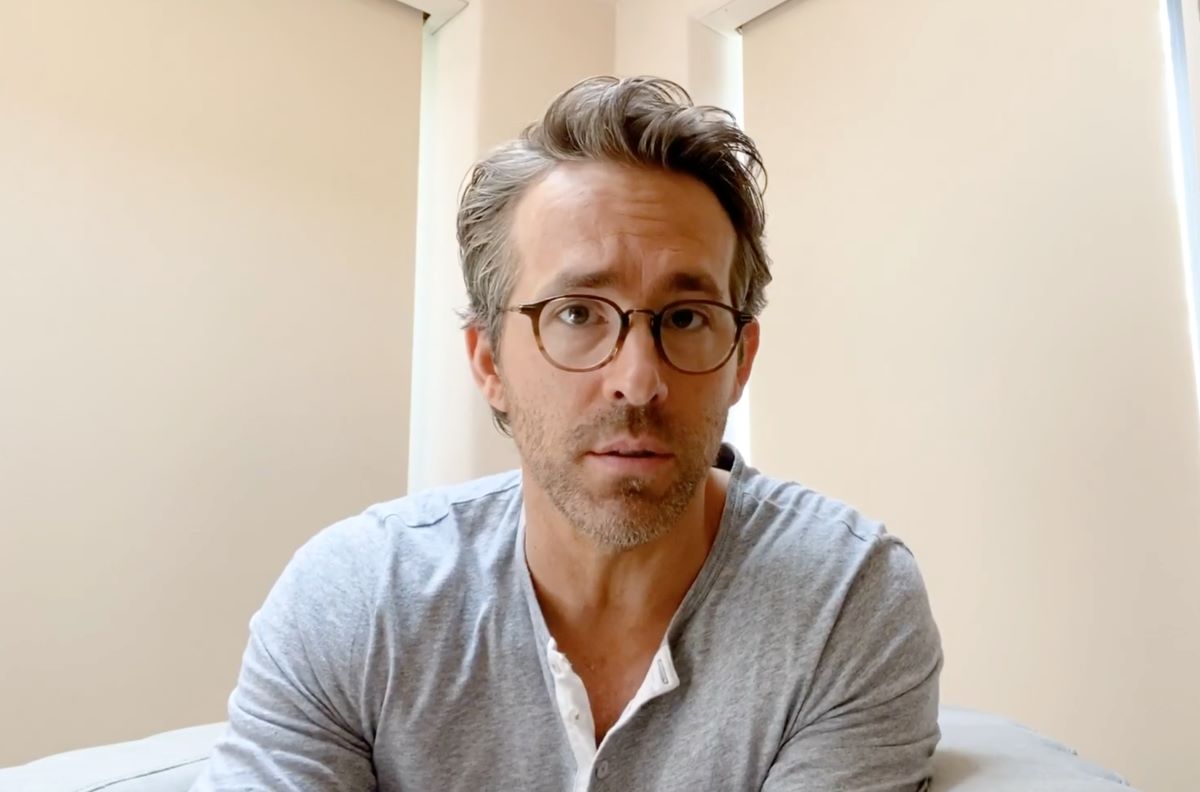 Ryan Reynolds manages to work tortoiseshell glasses into an everyday look with a tousled coif and gray cotton shirt. Source: Victoria Buzz

Get the look with:

The Magnus frames in standard tortoiseshell print (with sunglasses clip-on!):

Actress Salma Hayek goes for a classic look by wearing her gradient tortoiseshell frames with a coral lip, loose updo, and houndstooth coat.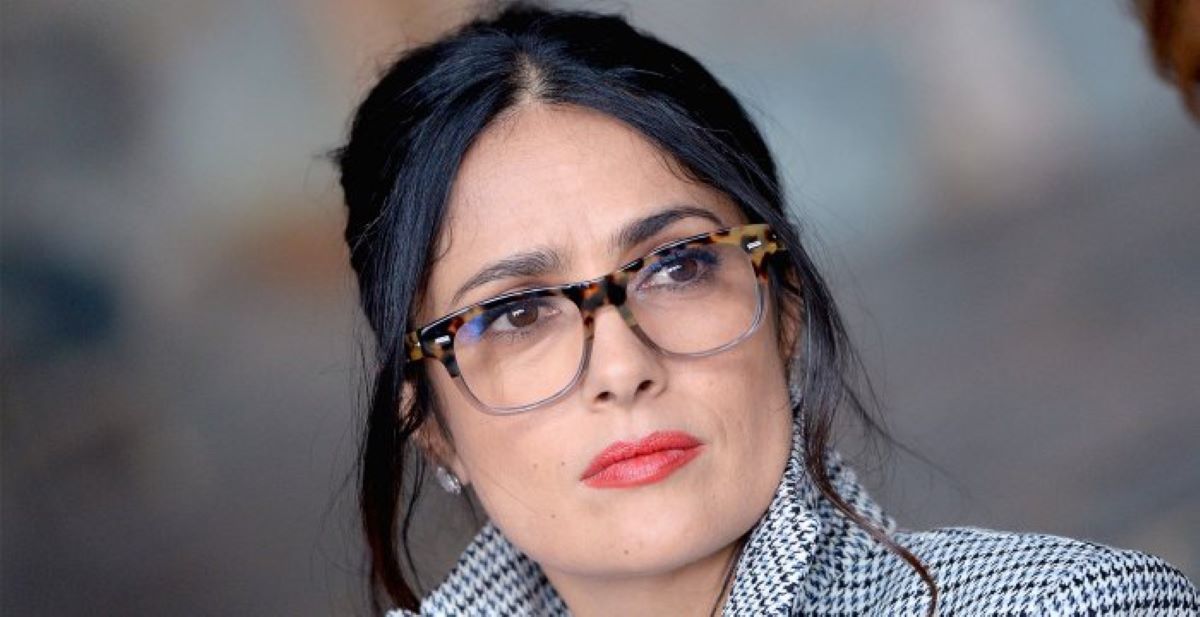 Salma Hayek demonstrates a classic tortoiseshell outfit by wearing her gradient pair with a coral lip and houndstooth coat. Source: AARP

Get the look with:

The Cherry frames in gradient tortoiseshell print:

To show just how versatile tortoiseshell can be, here's Lupita Nyong'o rocking bright green tortoiseshell sunglasses with green trousers and a blue-green striped top. Though not the most conventional tortoiseshell ensemble, it's refreshing and still feels effortlessly chic.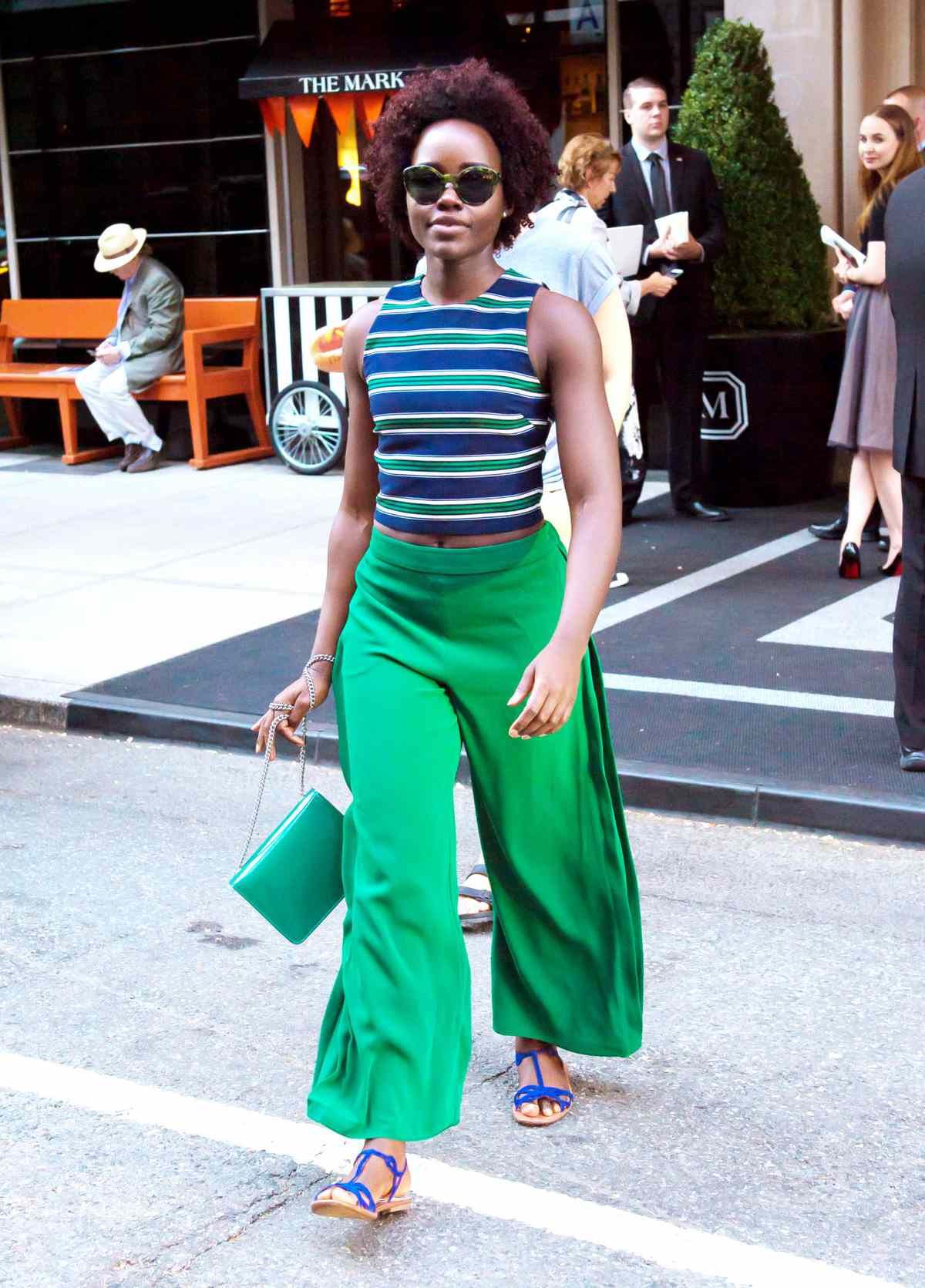 Lupita Nyong'o gives tortoiseshell glasses a new lease on life by wearing them in a bright green print, paired with a blue-green striped top and green trousers. Source: Essence

Get the look with:

The Vivian with a geometric frame in green tortoiseshell print:
All it really takes is confidence
At the end of the day, fashion is all about having confidence and having fun.

So whether you choose to go for a classic elegant look or make a bold statement with bright jewelry, remember that there are really no rules when it comes to wearing tortoiseshell glasses — except to be creative and make them uniquely you.

For more tortoiseshell splendor, head over here to see our full collection.