If you've got a smaller face, you know the struggle of finding glasses that flatter your petite features. But fear not; we're here to help you overcome that challenge!

From trendy cat-eye frames to sleek rectangular designs, let's explore the top 10 glasses styles that can suit small faces. Discover a world of eyewear options that complement your petite facial structures.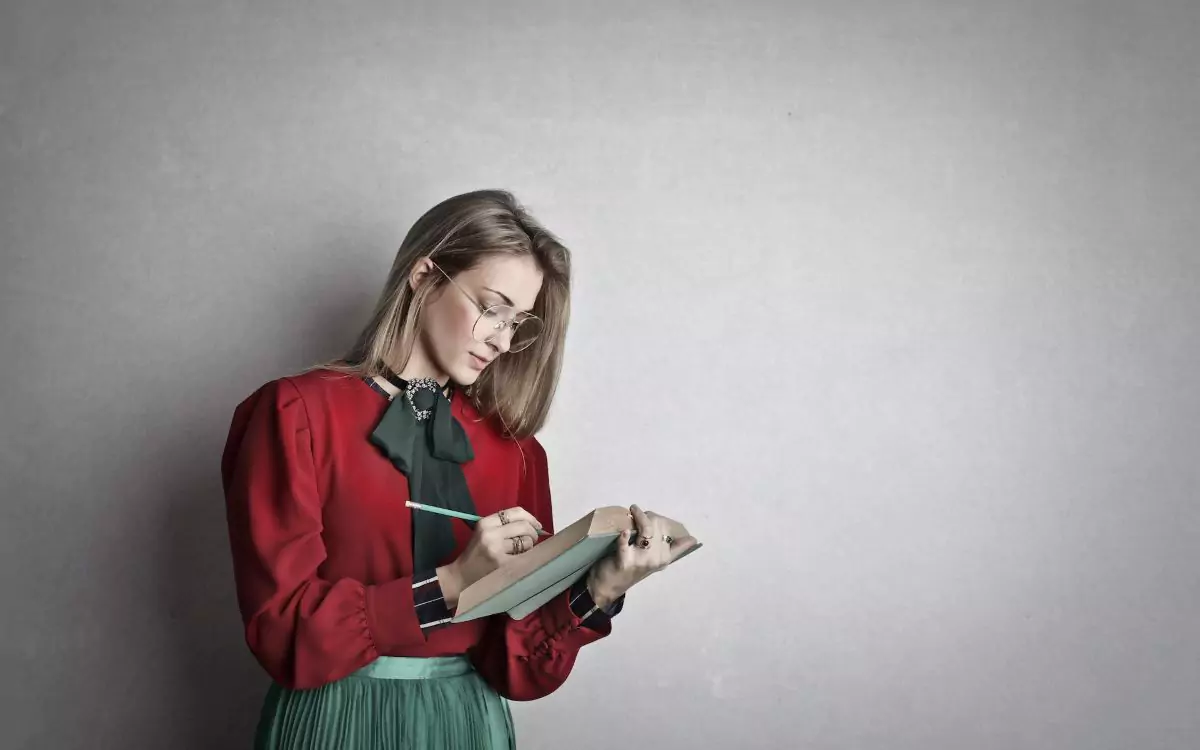 If frames tend to look larger on your face and frequently slide off your nose, it could indicate that you have a small face.
How to recognize if you have a small face
Do you often struggle to find glasses that don't overwhelm your face? Here are some telltale signs:

Most frames look too big on your face

When you try on glasses, do they tend to appear oversized or disproportionate? If most frames overwhelm your features, you may have a smaller face.

The glasses you've worn up until now always slide off your nose

If you've constantly struggled with ill-fitting glasses slipping down your nose, it could be because your facial structure is petite. A small face often means a narrower bridge, making finding frames with a secure fit harder.

All your facial features are petite

Take a closer look at your facial features. Are your nose, lips, and eyes naturally smaller in proportion to the rest of your face? If so, this may indicate that you have a small face.

Narrow faces can also be considered small

A narrow face is often synonymous with having a petite face. If your face has more of a slim and elongated shape rather than a wide one, consider exploring frame styles specifically designed for small faces.

Let's take real-life inspiration from a few celebrities, and how their choice of glasses accentuates their petite features:


Style icon Audrey Hepburn donned elegant white-rimmed cat-eye frames during an outdoor trip. Source: The Times

Hollywood legend Audrey Hepburn was known for her timeless elegance. Her choice of glasses played a significant role in enhancing her signature look. Often seen sporting cat-eye frames, Hepburn's glasses perfectly complemented her feminine and sophisticated look.


These round tortoiseshell glasses Natalie Portman wore in an upcoming 'Dear Abby-Ann Landers' biopic complement her petite face. (
The Playlist
)

Natalie Portman, the versatile and talented actress, plays the roles of twin sisters Abigail Van Buren and Ann Landers in the upcoming film 'Dear Abby-Ann Landers'. Her round tortoiseshell glasses capture the sophisticated and intelligent persona of the iconic advice columnists.


Korean actor Nam Joo Hyuk wears thin titanium round frames that enhance his narrow facial structure. Source: Koreaboo

Nam Joo Hyuk, a South Korean actor and model, has captured the hearts of audiences with his performances in popular k-dramas and films such as "Weightlifting Fairy Kim Bok-joo," "Cheese in the Trap," and "The School Nurse Files." Embodying his boyish charm, he has been seen sporting delicate frames that perfectly accentuated his style.


Mila Kunis effortlessly proves how clear square white frames can complement her face shape. Source: Twitter

Off-camera, Mila Kunis embraces a pair of clear glasses that perfectly complement her petite facial structure, showcasing a modern and minimalist aesthetic. Although she doesn't wear glasses in her on-screen roles, these frames add a stylish touch to her overall look.

Glasses that look great on a small face
When it comes to finding glasses that flatter a small face, certain styles are particularly well-suited to complement your features:

Rectangular frames

Rectangular frames give a flattering balance by creating a contrast between the angular shape of the glasses and the softness of a small face.


With its stylish black rectangular frames and silver temples, the Serenity glasses add a touch of elegance to your look.

Oval frames

Oval frames are versatile and universally flattering, making them an excellent choice for small faces. They work by highlighting the face's natural curves for a well-balanced look.


Add a touch of polish to any look with the Mie glasses. The elegant oval shape and tortoiseshell design give your petite features a refined and classy look.

Cat-eye frames

For retro-inspired glamour, cat-eye frames are your best bet. The upswept outer corners create an elongated effect especially on the eyes and cheekbones.


Embrace the iconic style of Audrey Hepburn with our Audrey frames. These frames feature a subtle cat-eye shape in a light blue color for a chic and feminine aesthetic.

Thin plastic or acetate frames

Because of their lightweight nature, plastic or acetate frames don't overshadow your facial features. Their slim design helps maintain the proportion and scale of the frames to suit smaller facial features better.


Not only do these Brad frames provide an instantly on-trend look, but their sleek design won't overshadow your delicate facial features.

Thin titanium and metal frames

Thin titanium and metal frames complement small faces by offering a minimalist aesthetic. These frames give a refined look without adding unnecessary bulk or weight.


The Wildflower glasses exude understated sophistication with their sleek black metal frames that seamlessly blend with the natural contours of your face.

Semi-rimless frames

Semi-rimless creates a light and open appearance to subtly accentuate your facial features.


Add a touch of glamour to your look with the contemporary Sapphire frames. These rich brown semi-rimless glasses feature diamond accents on the temples for a stylish yet refined appearance.

Light-colored frames

Light-colored frames create a soft and subtle contrast against your face, allowing your natural beauty to shine through.


Adorned with soft pastel tones, the Dawn glasses create a delicate and feminine aesthetic.

Clear frames

Clear glasses act as a frame to enhance your petite facial features without any distractions.


The minimalist aesthetic of the George frames creates a visually light, unobtrusive look.

Semi-rimless rectangle glasses with lower lens height

The rectangular shape of the glasses adds structure and definition to your face, while the lower lens height ensures that your delicate features are not overwhelmed.


The Classy glasses give a balanced proportion to smaller face shapes while exuding a bold and confident appearance.

Oval glasses with lower lens height

Similar to the previous frame, the lower lens height gives a more proportionate look while the soft oval shape complements the contours of a petite facial structure.


With its sleek upper rim and reduced lens height, the Victor glasses create a balanced look for those with slender facial structures.

Other factors to consider in choosing glasses
1. Hair color

If you have lighter hair, frames in warm tones like gold, beige, or subtle pastel shades can complement and enhance your natural hair color. On the other hand, if you have darker hair, these colors can create a visually striking contrast that draws attention to your features.

2. Skin tone

Your skin tone can help determine what frame colors are more flattering. Warm skin tones tend to pair well with earthy tones, such as tortoiseshell, or warm metals like gold. Cool skin tones can be complemented by frames in silver or black tones.

3. Eye color

The color of your eyes can also influence your choice of frame color. Using contrasting colors can accentuate your eyes, while complementary colors can achieve a well-balanced appearance.

4. Face shape

Each face shape has its unique characteristics that can be accentuated by specific frame styles. Oval faces are versatile and can experiment with various shapes, while round faces benefit from angular frames to add definition. Square faces usually go with curved or round frames for a softer look, and heart-shaped faces often gravitate towards wider top frames. As for diamond-shaped faces, many prefer oval or cat-eye frames to highlight their more prominent cheekbones.

5. Lens type and material

When choosing glasses, you'll also want to consider the lens type and material. Different lens options, such as single vision or progressive lenses, can fulfill your specific vision needs. What's more, high-index lenses or lens materials like polycarbonate can offer various benefits in terms of durability, weight, and clarity.

Discover the perfect eyewear for smaller facial features
Selecting the perfect glasses for a small face is all about understanding the right style that suits you and embracing your unique features.

Don't let the size of your face limit your eyewear options! There are so many frames out there that can accentuate your features and help you feel confident in every situation.

When choosing glasses for a small face, pay attention to the frame shape, size, and color. There are also other factors to consider, such as your hair color, skin tone, eye color, face shape, as well as the type of lens you need.

For a quick shortcut, check out our curated collection of glasses for small faces — whether you prefer a sophisticated look or a bold fashion statement, you'll find the perfect pair to suit your unique features and personality!