Looking for a great Father's Day gift? Glasses might be just what you're looking for!

Apart from vision protection and clarity, they can also upgrade your dad's style. In this article, we'll show you how to pick out the best glasses for your dad and recommend some top-tier dad-friendly designs. Let's begin!

Why glasses make a great father's day gift
Glasses make an excellent Father's Day gift for several reasons.

Firstly, they're practical and can be used every day. Secondly, giving someone glasses shows that you care about their well-being, especially if you've noticed they have trouble with their vision.

Thirdly, with so many glasses out there, you're sure to find one that matches their personality and tastes. Picking out a pair that has them written all over it shows you pay attention to what they like.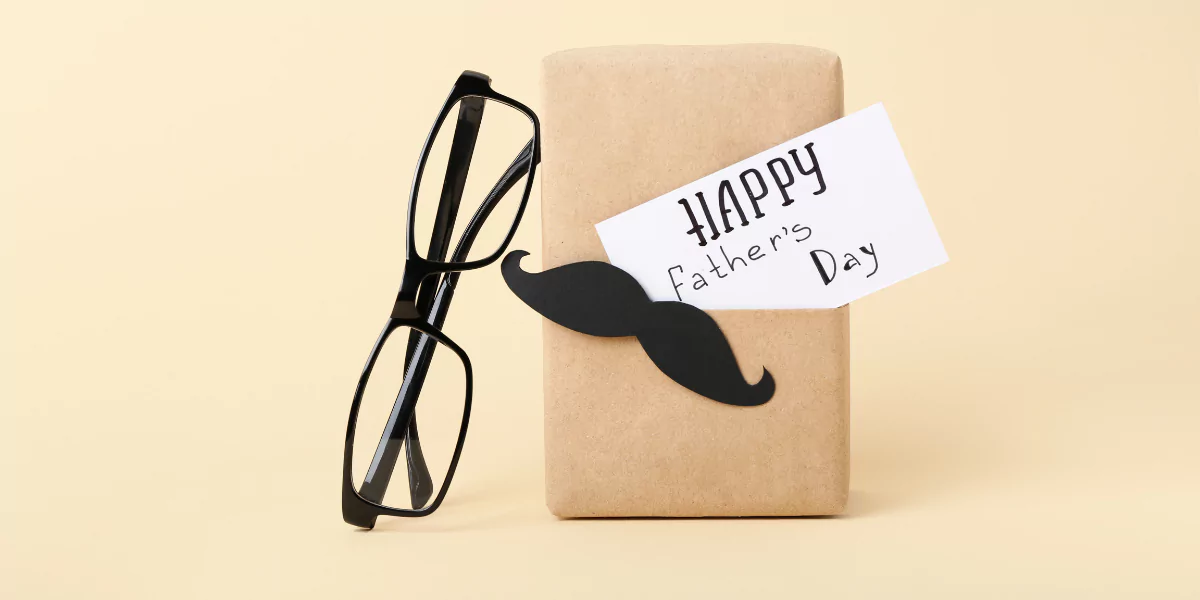 Glasses make an excellent Father's Day gift because they're practical and show your thoughtfulness.

Remember, Father's Day isn't just for your dad. It can also be for any father figure in your life, like a brother, friend, or spouse.

Our top glasses picks for different types of dads
Glasses are meant to be worn all the time, so it's vital to choose one based on your dad's individual style. Here are some of the most common dad aesthetics, along with some ideas for glasses that go with them.

For the retro dad

If your dad loves vintage styles, consider getting him glasses with a retro vibe. When in doubt, look for frames with a bold shape or a classic tortoiseshell pattern.

These square glasses from Mouqy personify retro chic, thanks to their tortoiseshell print and horn-rimmed frames.

For the classic dad

For the dad who prefers a timeless and refined look, go for glasses with a clean and simple design. Choose neutral colors like brown, black, or silver, and look for sleek and understated frames.

Featuring a sleek matte finish, these square frames will always be in vogue. The black frames and simple lines make it a versatile accessory for any setting.

For the rock star dad

Does your dad like all things cool and edgy? Bring out the rock star within with glasses that stand out from the crowd. Look for frames that exude cool, like aviators or bold black frames, to give him that rock 'n' roll edge.

These sleek aviators boast a subtle but nonetheless eye-catching detail in their silver bridge, and the black frames make it easy to pair with whatever dad feels like throwing on that day. Not to mention, they're made with lightweight metal, making them comfortable to wear all day.

For the intellectual/Bookworm dad

If your dad enjoys spending hours lost in books, glasses with a scholarly appeal would be perfect for him. Consider round or rectangular frames in classic colors like black or tortoiseshell to complement his love for academia.

Surprise your dad with these stylish glasses that communicate intelligence and sophistication. Featuring a classic black finish and a TR semi-rimless frame, this pair accentuates the browline while giving the wearer a dash of elegance.

For the practical dad

Some dads put practicality above all else. For them, that means glasses that are durable, lightweight, and comfortable to wear. To achieve that, choose frames made from sturdy materials like titanium or acetate and ensure they have features like spring hinges for added flexibility.

Crafted in Korea using premium B-Titanium, these frames offer unrivaled flexibility, durability, and lightweight comfort. The unique round design also makes for a head-turning look that makes your wearer look distinguished yet chic.

How to pick the right glasses for father's day
1. Consider lens options and his vision needs

When choosing glasses for Father's Day, it's essential to consider the lenses and your dad's vision needs. After all, glasses are primarily meant to improve vision.

There are three main types of lenses: single, bifocal, and progressive.

Single lenses are for people who need glasses for either shortsightedness or farsightedness.

Bifocal lenses have two sections, with one for distance and one for near vision.

Progressives, on the other hand, are multifocal lenses that provide a seamless transition between vision from different distances, and eliminate the visible line of the bifocal lens.

Speaking of lens types, Mouqy carries all three, so you can get lenses in the precise prescription that you need.

In addition to the lens type, you might also want to consider extra coatings. For example, a blue light filter can help reduce eye strain from digital screens. Tints can provide UV protection, and an anti-reflective coating can minimize glare and improve clarity.

If you're unsure, it's always a good idea to consult an optometrist or optician who can help you make the best choice.

2. Think about frame materials

It's also important to consider the frame materials as they significantly impact the comfort, fit, durability, and style of the glasses.

Acetate, metal, plastic, and titanium are some of the most common materials.

Acetate is a lightweight and versatile option that comes in various colors and patterns.

Metal frames are durable and lightweight, on top of looking sleek.

Plastic frames are affordable and come in a myriad of designs and colors.

Titanium frames are the most durable and lightweight out of all the options here, although it can bump up the price tag.

To figure out what material you should get, consider your dad's routine, how often he'll wear the glasses, and his style preferences.

If he leads an active life, titanium frames might be the way to go. On a budget? Plastic or acetate frames can offer decent durability without breaking the bank.

3. Take into account dad's personal style

Glasses are a big part of someone's look, so you want to pick something that truly reflects your dad's personality and makes them feel confident.

Take a moment to think about your recipient's preferred style, whether it's casual, minimalist, modern, or retro. If available, look at past photos of them wearing glasses or consider what their favorite celebrities or public figures usually wear as inspiration.

To start you off, here are some celebrity dads for some style inspiration.

Our favourite celebrity dad glasses styles
Ryan Reynolds: The epitome of timeless style

When it comes to A-list actors who embody timeless style, Ryan Reynolds is undoubtedly at the top of the list. Known for his simple yet sophisticated fashion choices, he effortlessly pulls off three-piece suits and black velvet tuxedos for glitzy red carpet events. And his style is clearly seen in his choice of eyewear — simple and classic D-shaped frames in neutral colors like black and tortoiseshell.


Ryan Reynolds pairs timeless browline glasses with a classic tan coat, trousers, and a brown plaid shirt with a matching pocket square. Source: Yahoo

To copy Ryan's look, check out the square tortoise Quote frames:

Daniel Craig: Mastering rugged fashion with style

While many think of James Bond's sleek suits when they think of Daniel Craig, in reality the star dons a more rugged look that is no less stylish. When he's off the red carpet, he opts for well-fitted jeans, textured sweaters, and the occasional denim jacket. Craig has the ability to blend classic and contemporary elements, like wearing classic aviators with the modern style of denim on denim.


Daniel Craig sports effortlessly cool aviators to complete his denim on denim ensemble.
Source: JUST JARED

See the aviator brown Burgundy frames to get his look:

3. Robert Downey Jr.: Modern, bold, and unapologetically stylish

Fearless when it comes to fashion, Robert Downey Jr. embraces contemporary trends and combines classic elements with a unique twist. From popularizing daring accessories like tinted glasses to stepping out in bold suits, he consistently exudes confidence and individuality. He also unapologetically rocks what some may call out-of-the box eyewear, which often include tinted lenses and gradient frames.


RDJ confidently rocks tinted tortoiseshell glasses with a tiger-striped plaid coat, plum scarf, and lilac vest and pants. Source: Reuters

For the look, try the rectangle tortoise Vogue frames:

Finding the perfect eyeglasses for father's day
To select the perfect pair of eyeglasses for Father's Day, it's worth considering the lens options, frame materials, personal style, and vision needs.

Glasses make a meaningful and memorable gift for Father's Day because they not only improve vision but also showcase your thoughtfulness and care. Every time your dad has them on, they can be a heartwarming reminder of your love and appreciation.

The style inspiration doesn't end here! If you want to know more about men's eyewear, you can read up on all the designs that are currently trending here. Happy shopping and a fantastic Father's Day to all the amazing dads out there!