Full-rim, half-rim, or rimless? We aren't talking about drinking glasses, but eyeglasses for seeing (though both are important for making a good impression in a social setting!)

It can be daunting to figure out whether your next pair of glasses should have a full frame, half frame, or be entirely frameless.

Not to worry, because we're here to break down the differences and highlight the best styles for each rim type.
What are full-rim glasses?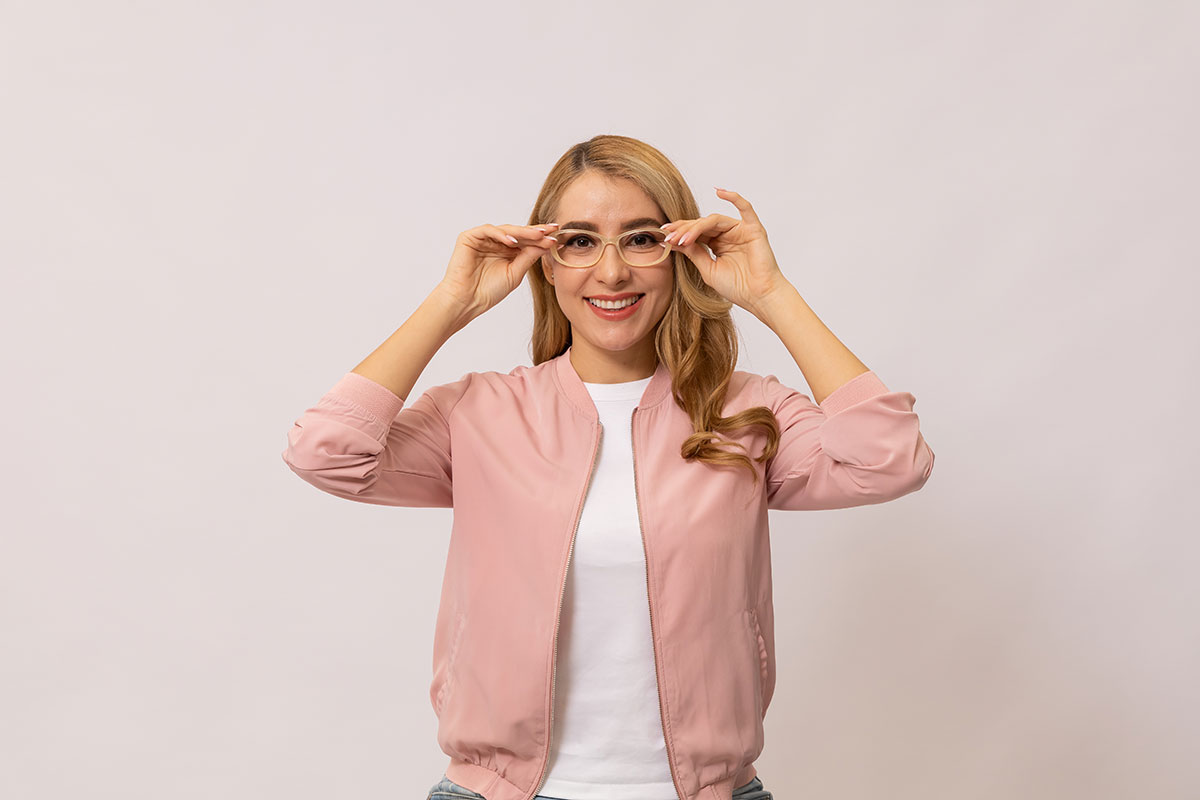 Full-rimmed glasses go all the way around the lens.

Let's start by understanding what full-rim glasses are.

Full-rim glasses (also known as full-frame glasses) are lenses surrounded by either a metal, acetate, or plastic frame. Unlike most fashion trends, full-rim glasses are a look that will never go out of style.

One of the most well-known examples are the architect glasses made famous by world-renowned architect Le Corbusier in the early 20th century that later regained popularity thanks to one of the world's most beloved fictional characters, Harry Potter.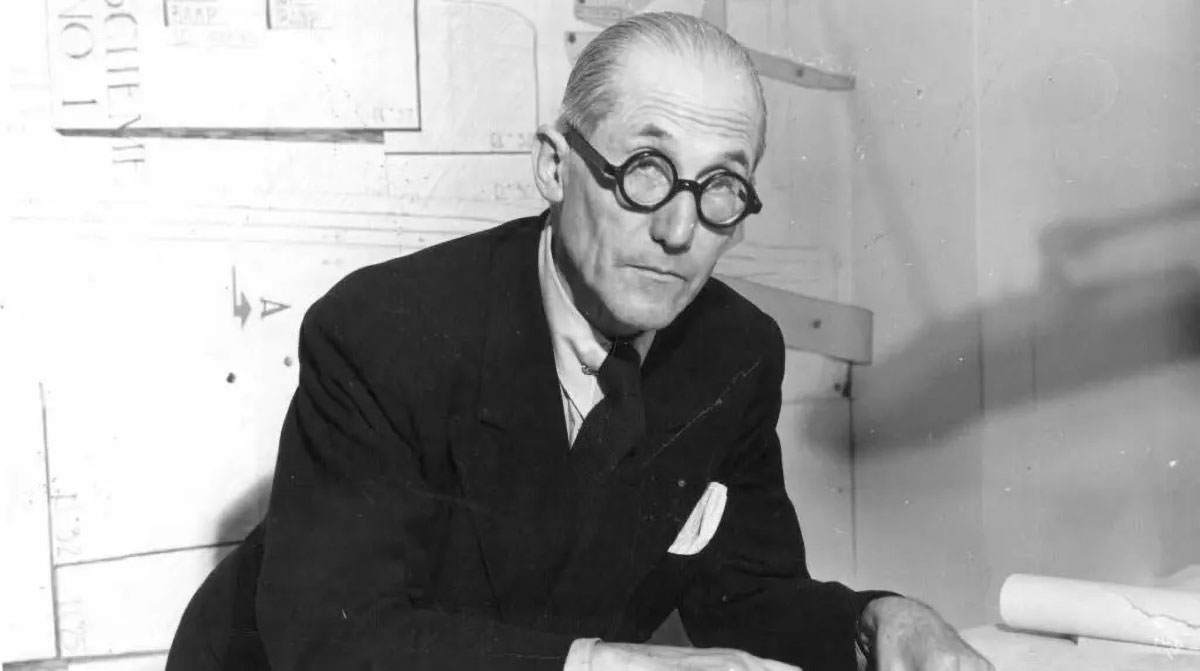 Le Corbusier in his signature round spectacles.

Full-rim glasses are also the safest choice among all rim types due to their durability. The frames act as a protective shield around the lenses, making it suitable for individuals with an active lifestyle. This also explains why safety glasses are full-rim!

Furthermore, they go well with thick lenses, so if you need a pair of high-prescription glasses, go for the full rim.

The only downside to full-rim is the weight of the frame. Heavier frames may slide down more easily compared to rimless or half-rim glasses. However, if you end up opting for high-index lenses and a titanium frame, you will barely feel the weight of it!

What are half-rim glasses?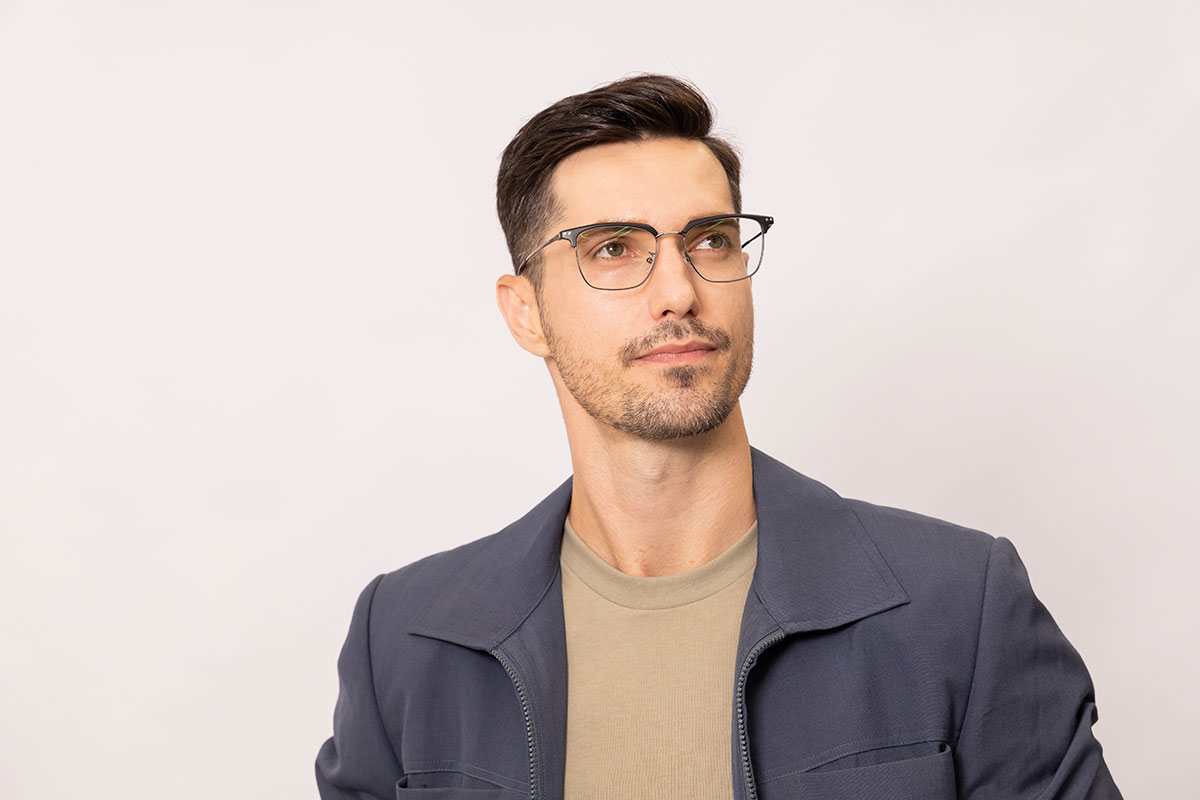 Half rim glasses offer a lighter look.

Half-rim glasses (also known as semi-rim or half-frame glasses) have a top-heavy upper frame that leaves the bottom part of the lenses exposed. Wearers can also change up the design and have the frames cover only the bottom portion of the lenses, although this style is less common.

Half-rim frames are designed to reduce the weight of the glasses as the frames are often the heaviest part. They are suitable for students and working adults who need a lightweight and comfortable pair for everyday wear. On top of that, they are great for individuals with diamond or triangle face shapes.

That said, semi-rim glasses are more vulnerable than full-frame glasses as half of the lens will be exposed. Although most lenses today can withstand a good amount of pressure, you still need to handle them with care.

What are rimless glasses?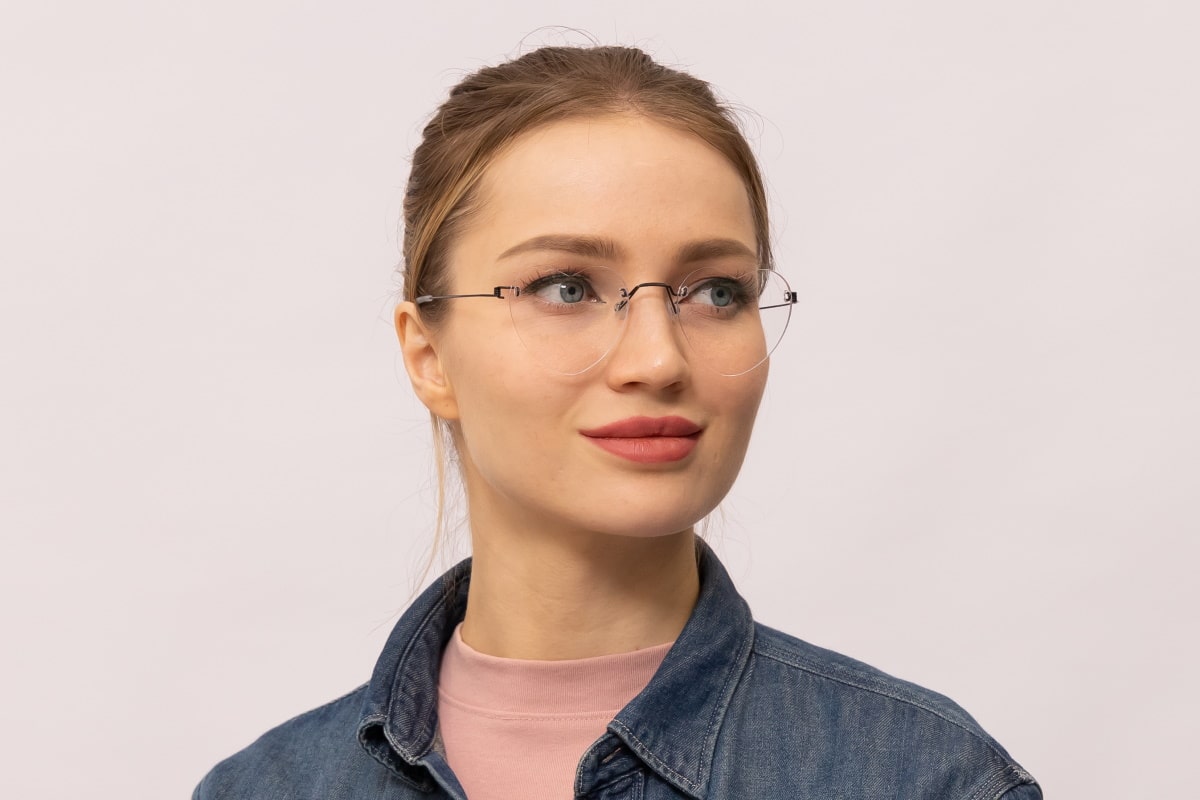 Rimless frames can give you the most minimalist look.

If you feel that full-frame glasses may obstruct your peripheral vision, then rimless glasses are for you.

Rimless glasses (or frameless glasses) come with either a thin metal, plastic, or titanium frame that is light and flexible. Hence, they're less likely to break. They do not have a surrounding frame, which means that your lenses will be mounted directly onto your nose bridge and temples.

It creates the most minimalist look out of the three rim types, and emphasizes your natural features while correcting your vision.

One of the benefits of rimless glasses is their weight. It is so lightweight that you might find yourself touching your face multiple times to check if your glasses are still there!

Aside from that, getting a pair of frameless glasses is helpful if you're overwhelmed by all the choices of frame designs out there.

One big drawback is that your lenses may be more susceptible to damage and scratches, as they don't have frames to protect them.

If you really want the look of rimless glasses though, don't let this be a dealbreaker. We have high index or polycarbonate lenses that are more resistant to everyday wear and tear.

It is worth noting, however, that these lenses can be on the pricier side, so be sure to weigh various rim and lens types against your budget.

Full-rim vs half-rim vs rimless glasses
Still can't decide which rim type you want? Let's make some comparisons:

| | | | |
| --- | --- | --- | --- |
| | Full-rim | Half-rim | Rimless |
| Aesthetic | Classic and stylish | Trendy and casual | Bright and minimalist |
| Comfort | Heaviest and the least comfortable among the three | Strikes the right balance between comfort and durability | Lightest and most comfortable |
| Durability | Most durable due to thick frames | Decent durability | Least durable |
Our favorite full-rim trends right now
Full-rim glasses can come in various sizes, from a thick and black frame (like Taylor Swift's!) to a thin, metallic frame like the kind worn by your favorite K-pop idols.

Here are our top picks:

Classic tortoiseshell glasses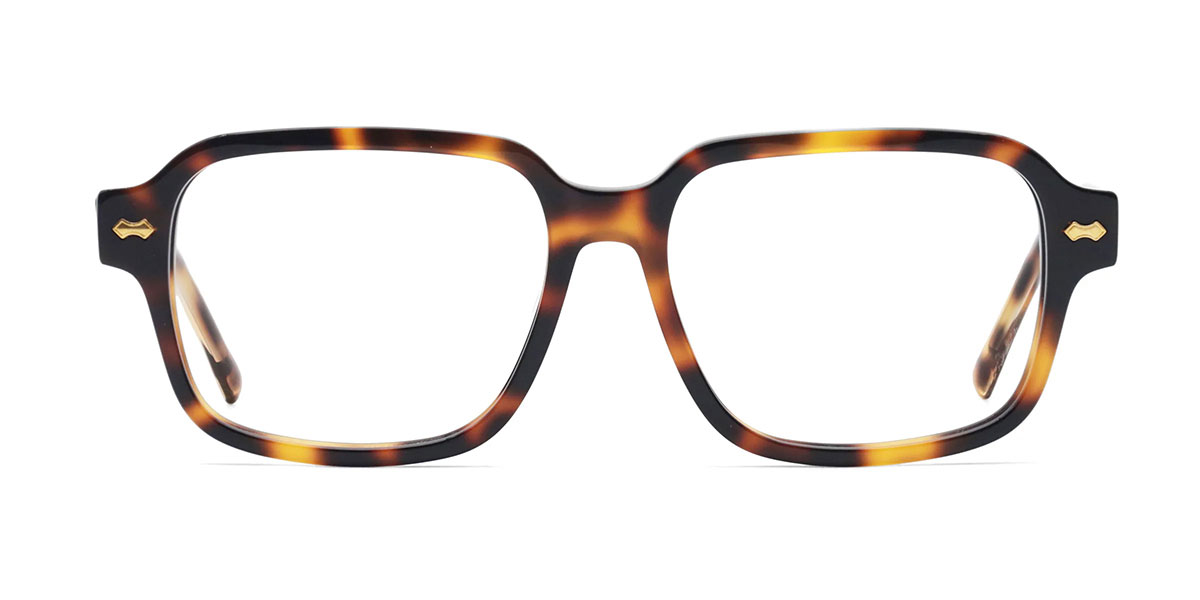 Mouqy's tortoiseshell rectangular
Vogue
frames.

This classic retro-inspired design will complement any outfit you have without looking overly tacky. Its rectangular tortoiseshell design is a timeless one that works well with both men and women with round, oval, heart, or triangle face shapes.

Geometric metallic glasses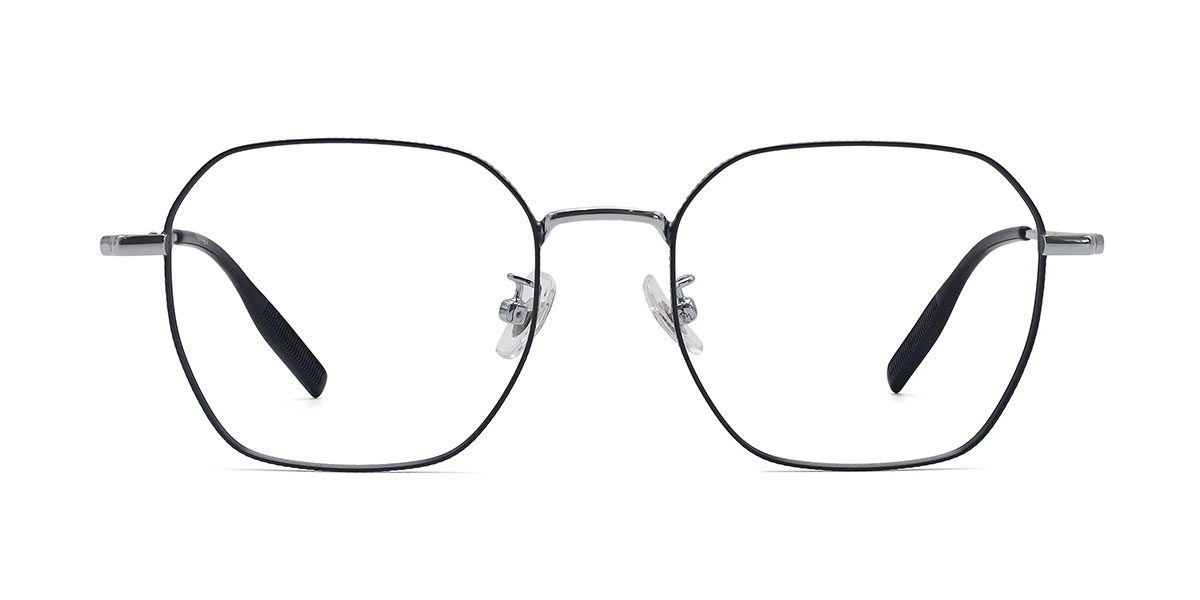 Mouqy's black and silver geometric
Fabulous
frames.

One of the top trends in eyewear lately is a thin geometric frame that subtly enhances your features. With frames made out of high-quality titanium, you'll have lightweight glasses that give you all-day comfort.

For our Fabulous frames, you can even choose between a sleek metallic black-silver or rose gold hue to pair with your outfits. This geometric pair goes well with individuals with oval and round face shapes.

Round black glasses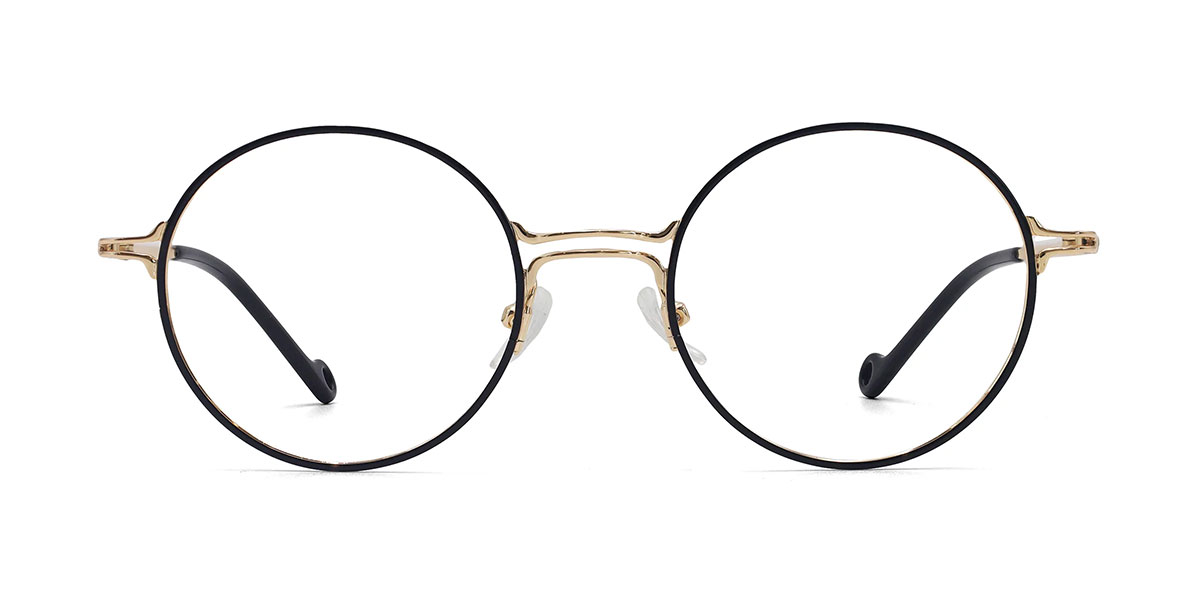 Mouqy's black and gold round
Occasion
frames.

Get the Harry Potter look with a modern twist! These round black frames come with a gold nose bridge and temples for an elevated take on a classic look. They'll also feel extra comfortable with their silicone nose pads and temple tips.

This round pair goes well with square and diamond-shaped faces.

Our favorite half-rim trends right now
If work-life balance could be represented by a pair of glasses, it would be a half-rim! These frame designs can be easily taken from the workplace to the bar for after-work drinks.

Black rectangular half-frame glasses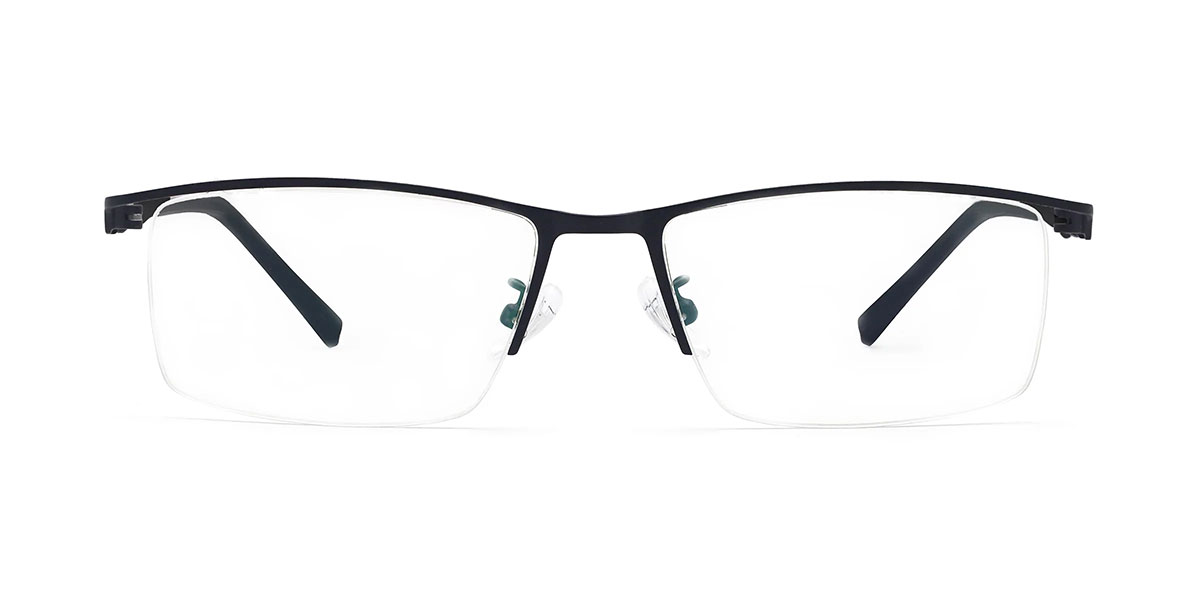 Mouqy's black rectangular semi-rimless
Justice
frames.

The Justice pair matches any skin tone thanks to its classic full black or silver & black frames that have the bonus of accentuating your browline for a more elegant look.

The design is also gender-neutral, and it suits those with a round, oval, heart-shaped, or triangular face best.

Tortoiseshell oval glasses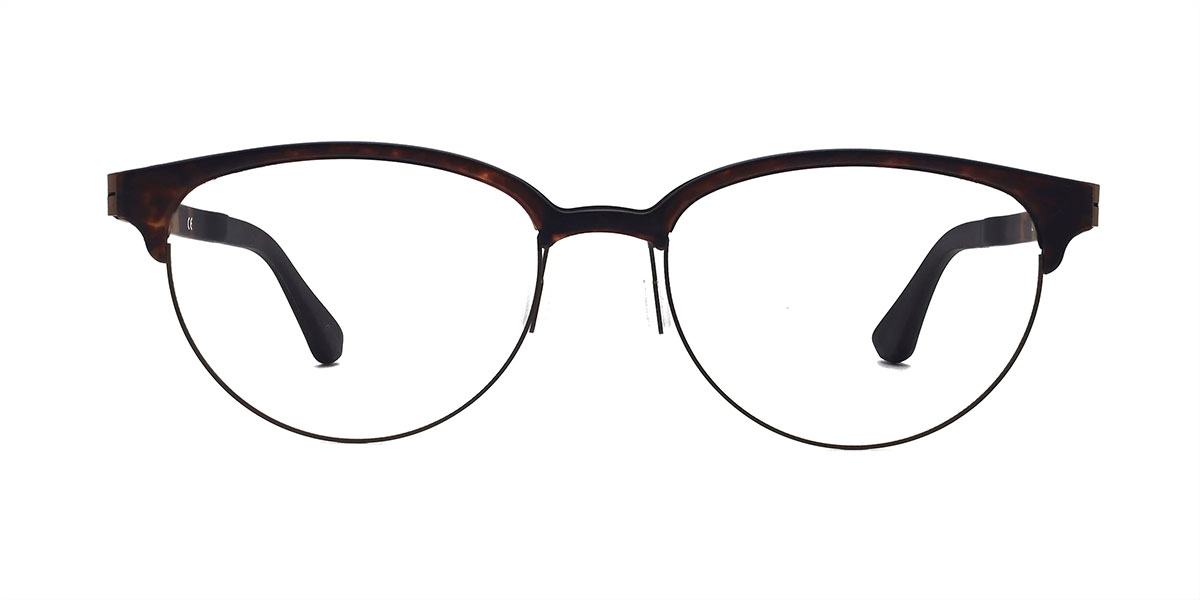 Mouqy's tortoiseshell oval
Victor
frames.

Despite its masculine name, the Victor frames exude a subtly feminine aura thanks to the almost cat-eye-like frames and tortoiseshell color. Unique design aside, they are made with thermoplastic (TR) which makes them as durable as they are flexible.

Oval frames complement square, heart, and diamond face shapes the best.

Gold rectangular glasses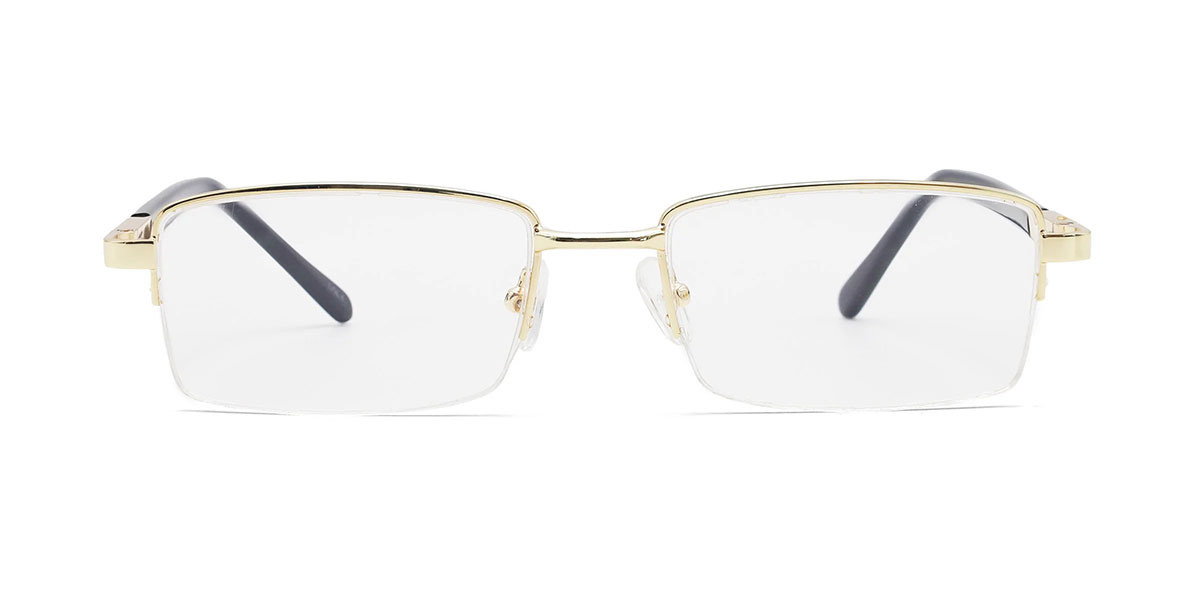 You'll look and feel brilliant in these stunning gold semi-rimless eyeglasses. If your aesthetic is elegant luxury, these frames will help you achieve it without breaking the bank.

Rectangular frames go well with most face shapes, so even if you're not sure what shape you have, these are more than likely to flatter your features.

Our favorite rimless trends right now
Light as a feather and minimalist, rimless pairs are more in demand now than ever. Here are some of our picks:

Silver oval glasses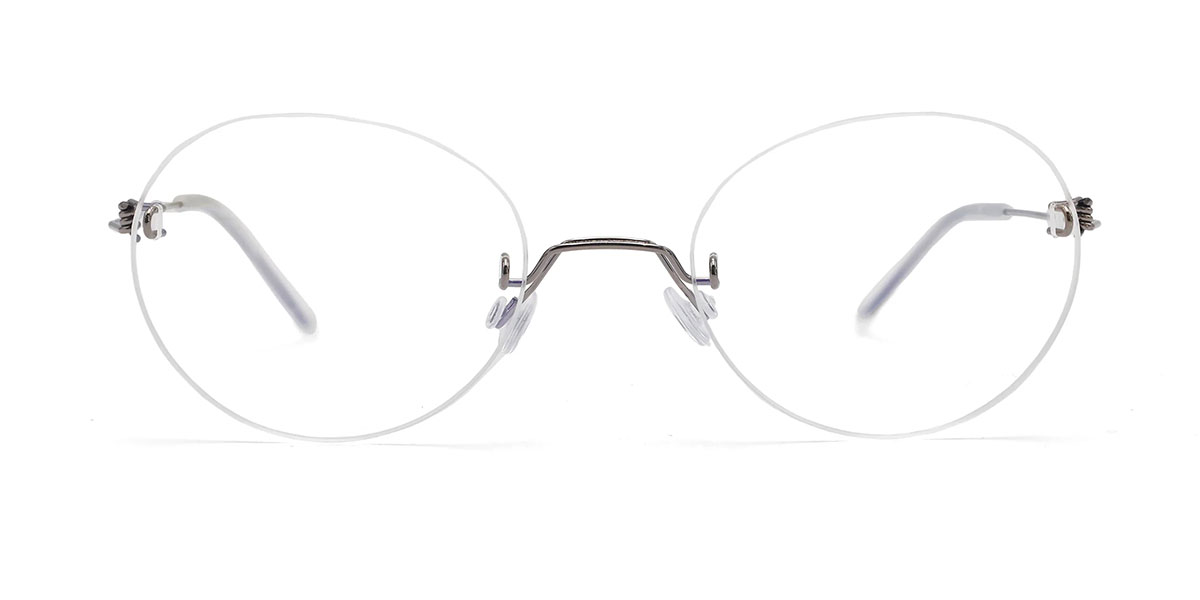 Brighten up your look and play up your natural features with this pair of oval eyeglasses.

Even on days where you go without a stitch of makeup, you can still leave the house feeling confident when you have these frames on. If you've decided on rimless and your face shape is square, heart, or diamond, this might just be the one.

Black geometric glasses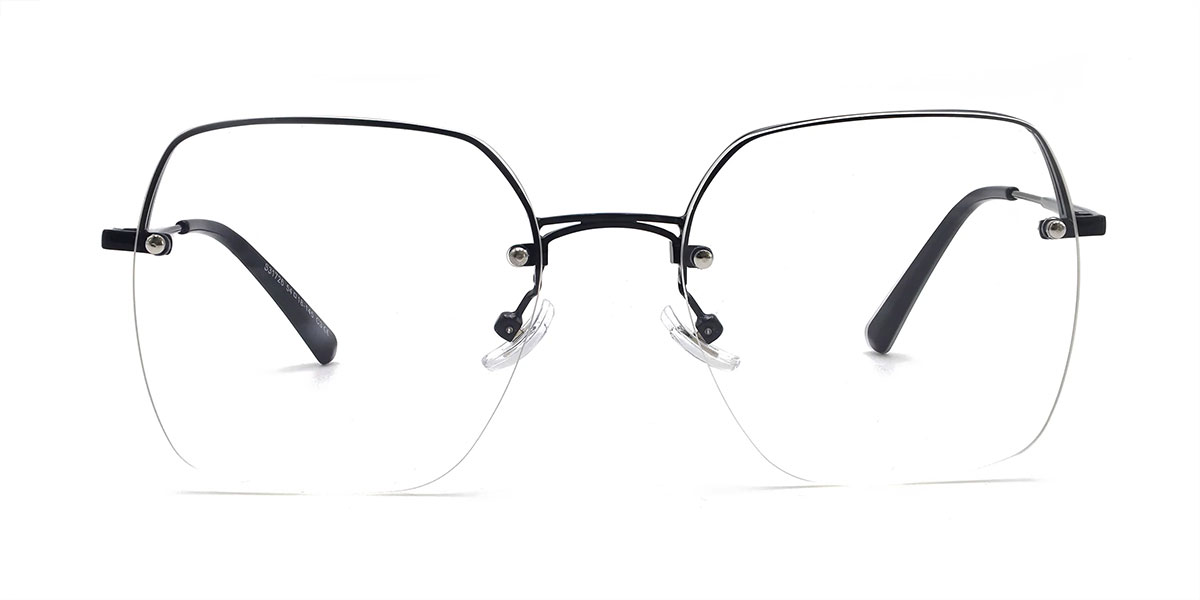 Mouqy's black geometric
Carol
frames.

Wait, aren't these half-rims? Not this pair! These frames give the illusion of semi-rimless eyeglasses as they are actually behind the lenses instead of being on top of them.

Featuring black metallic temple arms, these frames have an edge to them that's perfect for wearers who want their rimless glasses to stand out.

How to choose the right type of rim
Getting glasses is one thing, and deciding on the design is a whole other matter. When it comes to rim type, the most important factors to consider apart from how it looks are how it would feel on you. That's why comfort and durability are equally important.

We hope some of these designs caught your eye, because now you can try them on without even leaving the house! Our virtual try-on feature enables you to try all of the frames mentioned above — and many more — from wherever you are.

If you like the idea of glasses but are still on the fence about whether you need them, be sure to find out whether you have any of the nine signs that point towards 'yes'.